Casper Ware: 5 NCAA Tournament Predictions for Long Beach State Star
March 14, 2012

Eric Francis/Getty Images
The NCAA Tournament is a great cultural event not only for the gambling, viewing parties and hookie all involved, but for propelling lesser-known athletes like Long Beach State's Casper Ware to the forefront of sporting news.
Ware, a two-time Big West Conference Player of the Year, jumped into the national consciousness by abusing UC Santa Barbra for 33 points, six assists and four rebounds in a 77-64 Big West Tournament title win.
Listed at 5'10", Ware was able to knock down eight three-pointers to keep his 49ers safety in control the entire game.
Ware and his 49ers (25-8) are a No. 12 seed in the West Region and will face No. 5 New Mexico (27-6) to open the tournament. If they win, Long Beach State will face the victor of the No. 4 Louisville/No. 13 Davidson.
Here are five predictions for Ware in this upcoming NCAA Tournament:
1. Ware Scores 25 Points Against New Mexico
Ware is a big-time player who comes in ready for big-time games.
In the Big West Conference Tournament, Ware averaged 22 points and 3.7 assists through three games. Those numbers are up from his seasonal averages of 17.4 points and 3.3 assists.
The Lobos have a tough defense, but Ware has done well against top competition. Ware averaged 19.7 points and 4.5 assists in nine games against tournament teams this year.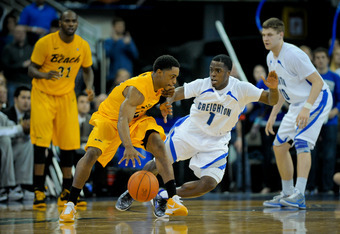 Eric Francis/Getty Images
As this could be Ware's last game as a 49er, he will put everything on the line and score at least 25 points.
2. Ware Leads Long Beach State to an Upset Over New Mexico
The 49ers are a good basketball team, and Ware has the ability to lead them to an upset.
Against the North Carolina Tar Heels, the small guard had 29 points and five assists, keeping the game close in an 84-78 loss. 
The Tar Heels are a way tougher opponent than New Mexico, and the stakes are higher in the NCAA Tournament than the regular season.
Expect Ware and the 49ers to play inspired basketball against the Lobos.
3. Louisville Contains Ware in the Second Round
After dispensing of the Lobos, Ware and the 49ers will face Big East Tournament Champion Louisville (26-9) in Round 2.
The Cardinals have a tough defense where opponents shoot just 38 percent from the floor. Louisville guards Russ Smith (2.4 steals per game) and Peyton Siva (1.8 spg) help lead the Cardinals with the fifth-most steals in the nation. 
When Seton Hall and Louisville played in the Big East Tournament, there were 39 deflections when Siva was pressing up top.
Ware will have a tough time scoring 15 points against a more aggressive Louisville defense.
4. Ware, 49ers Lose to Louisville
The Cardinals are a top defensive team, and defense is vital in winning NCAA Tournament games.
Long Beach State and Ware are a good offensive group, but they will be physically drained after giving a top performance against New Mexico a couple days before.
Rick Petino and his Cardinals will likely press constantly in the second half in a close game, making it difficult for Ware to establish the 49ers offense.
Saturday should be Ware's last game as a 49er.
5. Tournament Performance Leads to NBA Draft Interest
Ware has definitely turned some scouts' heads with his stellar play in the Big West and against top competition.
Playing a couple games on the national stage could bode well for Ware's NBA draft prospects, as the Long Beach State star is a long shot to be picked.
Ware's play should increase his pre-draft workouts and might land him a late-second-round selection.