NBA Trade Rumors: Mike D'Antoni Resignation Ends All Carmelo Anthony Trade Talk
March 15, 2012

Chris Trotman/Getty Images
It was only a matter of time before James Dolan and Glen Grunwald put an end to the Mike D'Antoni-Carmelo Anthony marriage that never worked.
Adrian Wojnarowski of Yahoo! Sports reported yesterday the Knicks coach resigned because of "conflicting visions" of the team's future.
D'Antoni never wanted to make the famous Carmelo trade, and Melo never wanted to play in his system. The Knicks were always doomed but hid it because of the fanbase's desire to succeed.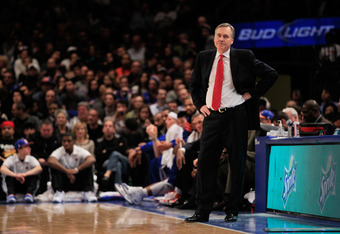 Chris Trotman/Getty Images
The Knicks' high point this season, more commonly known as Linsanity, was only made possible by Melo's absence on the court. Say what you will about teams actually game-planning for Jeremy Lin nowadays, the Knicks have been remarkably worse with both players in the lineup.
That isn't going to change, though—replacing D'Antoni with Mike Woodson is the only thing that is changing.
And if you don't remember, SI's Chris Mannix foreshadows exactly what that means:
Woodson's offense in Atlanta was isolation-heavy (remember the Iso-Joe?). Fits right into how 'Melo likes to play.

— Chris Mannix (@ChrisMannixSI) March 14, 2012
"I don't want to be traded," Anthony said Wednesday morning. "I don't know where that foolishness came from, so let's put a cap on that and make (sure) this the last time I hear about that."
With Woodson at the helm, it is without question the last time we'll hear about it.
Losing was never what Melo wanted, but a coach that bought into his style of play is something he's long desired. How it'll work remains to be seen with all the pieces the Knicks have acquired over the past year, but what we do know is that the old system wasn't working.
After the painstaking effort the Knicks went through last season to acquire Melo, there was no way he'd be outlasted by D'Antoni at the Garden.
However, we also know one other thing: Melo cannot hide anymore behind D'Antoni's system not being right for him.
The Knicks are the Melo's for the next 24 games, for better or worse.