UEFA Champions League: Can Bayern Munich Challenge Barcelona and Real Madrid?
March 14, 2012

Call him fearless or call him foolish. Basel's Heiko Vogel might just have been prophetic.
Unfortunately so, really, both for him and his Basel team. In the run-up this week to the Swiss champions' showdown with Bayern Munich in the Champions League Round of 16, Vogel tempted fate and the wrath of the football gods.
It didn't turn out well.
"The margin of victory does not impress me," Vogel said, referring to Bayern's 7-1 thrashing of Hoffenheim in the Bundesliga over the weekend. "I have absolutely no fear that Bayern will score seven goals in one game (against us)."
Maybe Vogel should have been afraid. Bayern scored early to level the tie—Basel had won the first leg 1-0 in Switzerland three weeks before—then punched in two more by halftime and sauntered to a 7-0 victory Tuesday at the Allianz Arena.
The win was both impressive and important for Bayern. Despite struggling all season to dethrone defending champions Borussia Dortmund domestically, Bayern now find themselves in the last eight of the Champions League after posting one of the competition's best performances this season.
And while Vogel might not have feared Bayern before the beating his team received Tuesday in Munich, there's now reason to wonder whether Barcelona and Real Madrid should do just that.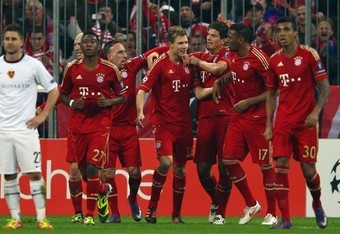 Few of the Champions League's other remaining teams will cause Spain's big two many worries. APOEL Nicosia have played the part of Cypriot Cinderella this season, but their run surely must end soon. Marseille needed a stoppage-time goal to knock off reeling Inter, and Benfica struggled to see off the sloppy challenge of Zenit St. Petersburg.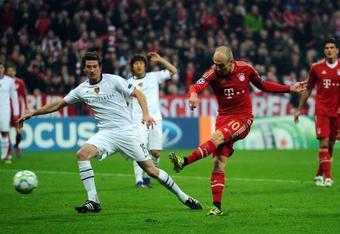 That leaves Bayern, AC Milan and Chelsea left to challenge Spanish hegemony. All three have weaknesses. Chelsea, despite their thrilling comeback win over Napoli, still have significant issues, and AC Milan were exposed last week at the Emirates.
The same could be said of Bayern, of course, after their loss recently against Bayer Leverkusen—the same team Barcelona beat 7-1 behind Lionel Messi's five goals. But since then, Bayern have looked like a different team.
Always organized, the Bavarians overturned their deficit against Basel by taking advantage of Basel's questionable tactics. In the process, they even managed a bit of attacking flair.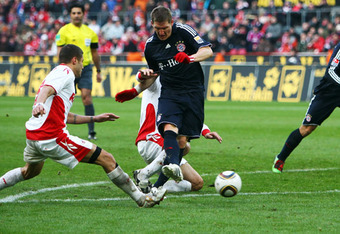 Efficiency and organization, two typically German traits, seasoned with creativity and quick movement throughout the squad—that should be Bayern's recipe against Barcelona and Real. And with this squad, the Germans may have the players to do it.
Mario Gomez scores goals by bunches, and wide midfielders Franck Ribery and (especially) Arjen Robben are currently showing great form. With quick, incisive runs down the flanks and into the middle, Ribery and Robben give Bayern a degree of width and creativity that could be vital against Barcelona.
Add to that the impending return of midfield maestro Bastian Schweinsteiger to full fitness from injury—he appeared as a second-half substitute against Basel—and Bayern's chances are boosted even more. The German midfielder has earned valuable experience against Barca's Spanish contingent, and in general his presence makes Bayern a better team.
Against Real or Barca, "better" might not be enough. Bayern would likely have to play a perfect game and hope a break or two goes their way.
Done right, though, Bayern might prove one of Vogel's players prophetic as well.
"It's certainly possible," Basel defender Phillipp Degen told Goal.com. "Bayern are capable of beating any team. Only Barcelona could be quite difficult, but even they are beatable."