March Madness 2012 Predictions: Scariest Teams Nobody Wants to Play
March 14, 2012

Chris Graythen/Getty Images
Anything can happen in March. Teams that were seemingly dead in the regular season find their second wind. Other teams come in hot and stay hot. These are teams that will ruin your bracket with upsets and give headaches to top seeded teams.
Of course, everyone knows to fear teams like Kentucky and North Carolina. No one will want to play them. They have been feared all year. Here are some teams that may be flying under the radar but will scare top teams in their region.
Wichita State, South Region 5 seed
The Wichita State Shockers are a tough nut to crack. They haven't played particularly well against tournament teams (4-3) and they lost to Illinois State in their conference tournament. 
But the Shockers are 10th in the KenPom rankings and have one of the most efficient offenses in the nation. Seven players play over 20 minutes per game and none play more than 30. Talk about depth.
This is the prototypical mid-major that can make noise in March. Led by seniors Joe Ragland and Garrett Stutz, they have experience and the confidence that they can run with anyone. President Obama picked their opponent, VCU, to beat them in the first round. If you follow the President's predictions, watch out.
Belmont, Midwest Region 14 seed
Like Wichita State, Belmont is a squad full of upperclassmen and has one of the best offenses in the nation. With an average of 81.5 points per game (fourth in the nation), Belmont can keep up with any team.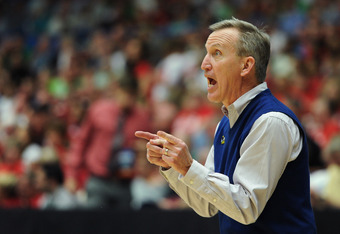 Harry How/Getty Images
That offensive dominance is a stark contrast to their first opponent, Georgetown. The Hoyas average 69.1 points per game (145th in the nation) and don't "wow" with any statistic. 
Don't get me wrong, Georgetown is the more talented team. But Belmont has a tenured coach (Rick Byrd is in his 26th season as Belmont head coach) and have the experience of being in the NCAA tournament. 
Belmont is riding a 14-game win streak compared to Georgetown's 9-5 record in that span.
Vanderbilt, East Region 5 seed
For a team that just knocked off the number one team in the nation, Vanderbilt isn't getting much love. They've got a tough bracket, starting with an underrated Harvard squad and then possibly playing Wisconsin in the Round of 32.
Vandy has the talent. They have size inside with Festus Ezeli and Lance Goulbourne, and have one of the best scoring tandems in the nation (John Jenkins and Jeffrey Taylor). They have been prone to upsets in the past, losing to Richmond last year and Murray State the year before.
But this team is oozing with confidence. Beating Kentucky in the SEC tournament was as emotional as you'll ever see head coach Kevin Stallings, and you can bet that he wants more. 
With Syracuse losing Fab Melo for the tournament, their 2-3 zone just got a lot easier to crack. With Vanderbilt's outside shooting prowess and size inside, Syracuse fans should be getting nervous.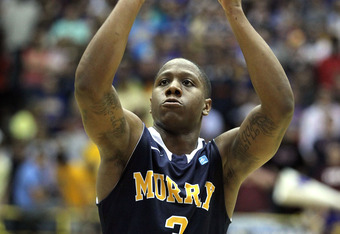 Andy Lyons/Getty Images
Murray State, West Region 6 seed
Murray State has lost fewer games than anyone in the tournament field. They are 4-0 against tournament teams. 
But most people are considering them to only reach the Round of 32 in the NCAA tournament. Their strength of schedule was 170th in the nation according to Warren Nolan, and they are 237th in rebounds per game at 33.3 per game.
Here's why Murray State is a scary team: Isaiah Canaan. He's cold-blooded from deep (47.3 percent) and is one of the top 25 scorers in the nation at 19.2 points per game. He could have a Stephen Curry-type performance and lead Murray State to the Sweet 16 and beyond.
If you see your team draw one of these dandies in the Big Dance, be prepared for a slug-fest. These teams have experience, depth and tremendous scoring capability: A recipe for success in the NCAA tournament.