MLB Trade Scenarios: 12 Pitchers Contenders Will Target at the Trade Deadline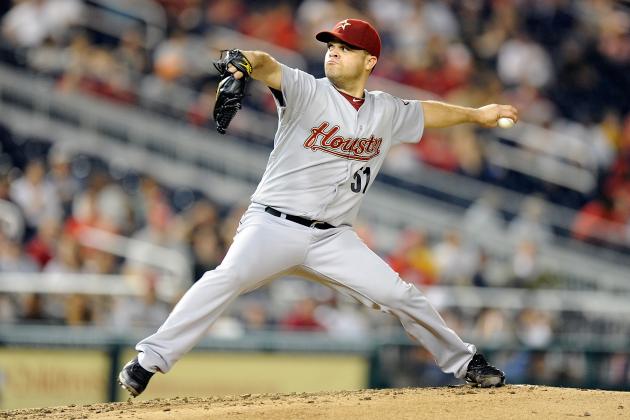 Greg Fiume/Getty Images

Each season, there is a flurry of activity in Major League Baseball as the league approaches its trade deadline.
Contenders are trying to acquire a final piece that could help put their team over the hurdle and push them into the playoffs. Those out of the hunt may be looking to trade their top talent in an effort to start a rebuilding phase, gathering top prospects in return for their stud pitcher.
Here are 12 possible targets that contenders may target this season at the trade deadline.
Begin Slideshow

»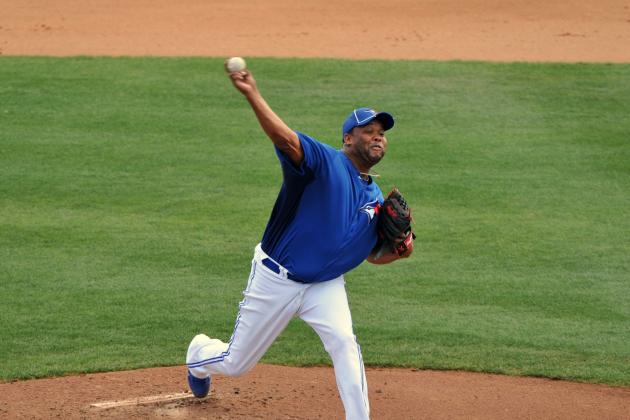 Al Messerschmidt/Getty Images

Last season, Francisco Cordero closed games out for the Cincinnati Reds and was fairly successful at it. However, after the Reds made it clear they were looking to go a different direction and signed Ryan Madson, Cordero had to move on.
Cordero threw 69.2 innings with a 2.45 ERA and 37 saves last season. He was accumulated a 5.43 K/9 and a 1.91 K/BB ratio.
Now with the Toronto Blue Jays, Cordero is currently slated to set-up for Sergio Santos. As he is a setup man, Toronto may be willing to part with him at the deadline if they aren't in the race for the playoffs.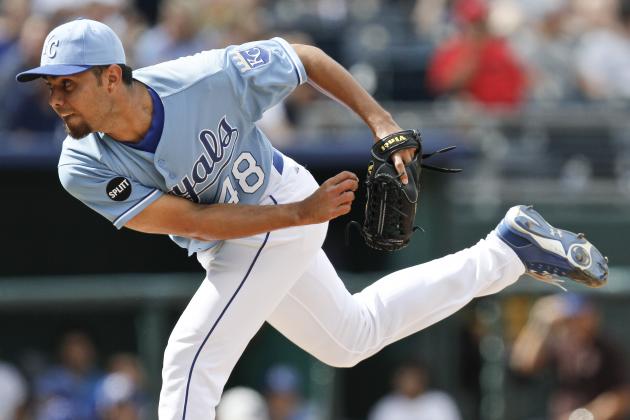 Ed Zurga/Getty Images

Last year saw Joakim Soria struggle through his worst statistical season of his career.
Soria pitched 60.1 innings with a 4.03 ERA and 28 saves. His average against was much higher last season at .259, whereas his career average is sitting at a nice .210. His career ERA is a 2.40, so his 4.03 last season was much higher as well.
Soria has a relatively team-friendly contract on the books, where he is set to earn $6 million this season and has club options of $8 million and $8.75 million for 2013 and 2014 respectively.
With young hurler Aaron Crow waiting in the wings, the Royals may decide to move Soria at the deadline in order to grab some top prospects to help build their team more.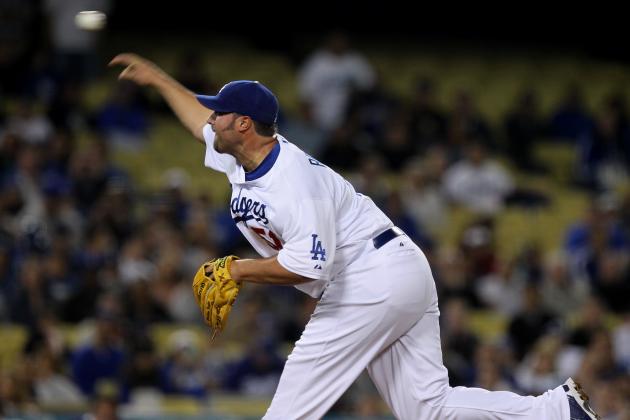 Stephen Dunn/Getty Images

Jonathan Broxton used to be one of the most dominate relievers in all of baseball. However, he was bit by the injury bug and his career was derailed.
He signed a one-year deal with the Royals this offseason worth $4 million that includes up to $1 million in incentives based on games pitched.
His last good season was in 2009, where he pitched 76 innings with a 2.61 ERA and 36 saves. Most impressive though were his 13.5 K/9 and 3.93 K/BB ratios. The last two seasons he has struggled, posting a 4.04 ERA over 62.1 innings in 2010 and a 5.68 ERA over only 12.2 innings in an injury-shortened season in 2011.
He will be setting up for the Royals this season. If he is healthy at the deadline and can return to his previous form, the Royals may trade him to try and get something for him, rather than letting him walk at the end of the season for nothing.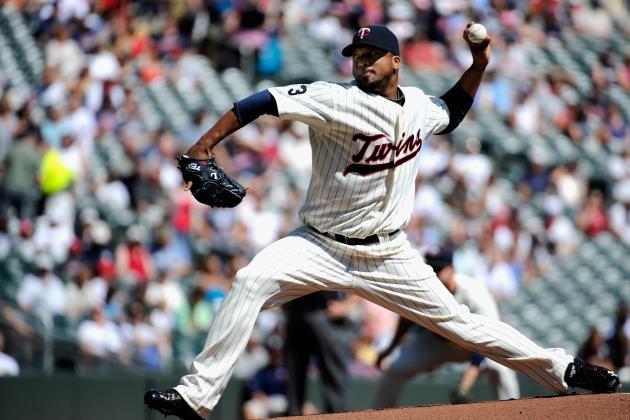 Hannah Foslien/Getty Images

Once regarded as one of the top young lefties in the game, Francisco Liriano has been one of the most frustratingly inconsistent players in the last few seasons.
Last season, Liriano earned a 9-10 record over 134.1 innings with a 5.09 ERA and 112 strikeouts. His walks ballooned to a career-high 75, cranking his BB/9 up to 5.02, and his strikeouts were down, dipping to 7.5 K/9.
The previous year was a much better statistical season, as he earned a 14-10 record over 191.2 innings with a 3.62 ERA, 201 strikeouts and 58 walks. This put his BB/9 at 2.72 and K/9 at 9.44, much better in both categories than last season.
If Liriano improves off of last season, teams may be more willing to take a chance on him at the deadline.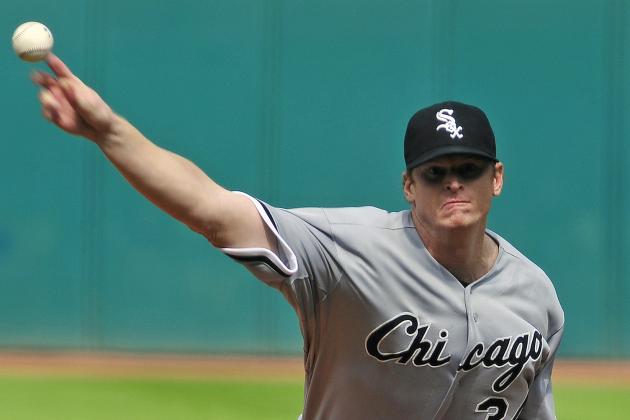 Jason Miller/Getty Images

Gavin Floyd of the Chicago White Sox is another player that contenders may target at the trade deadline.
In fact, according to Danny Knobler of CBSSports.com, there are recent reports of interest in Floyd from the Blue Jays after the Red Sox and Orioles interested over the winter.
Floyd can be a solid No. 3 or No. 4 starter for a contender. Last season, Floyd had a 12-13 record over 193.2 innings with a 4.37 ERA.
Unfortunately, according to ESPN's Buster Olney, the price tag on Floyd this winter was huge. This will make it much harder for the White Sox to trade their starter for prospects.
If the White Sox lower their demands for Floyd, look for contenders to target him at the deadline.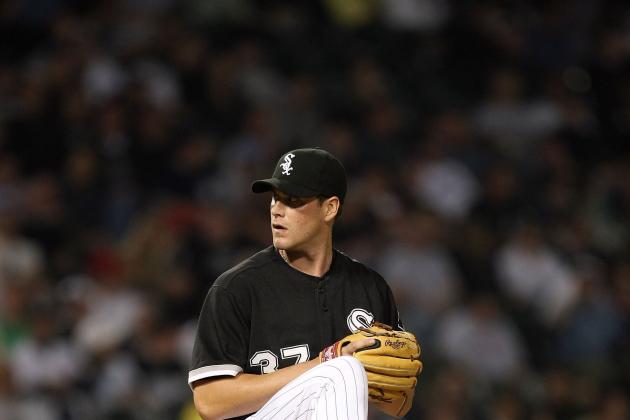 Jonathan Daniel/Getty Images

Lefty reliever Matt Thornton may be targeted at the trade deadline this season.
Currently projected to be the closer for the White Sox under new manager Robin Ventura, Thornton may be a hot commodity if he experiences success this season.
Teams are always looking for a lefty that can get out lefty batters. Last season, Thornton had a .260 BAA versus lefties and was even effective against right-handed hitters with a .252 BAA.
Thornton is due to make $5.5 million in 2012 and 2013, with a club option of $6 million for '14.
Contenders may target Thornton as a cost-effective reliever at the deadline.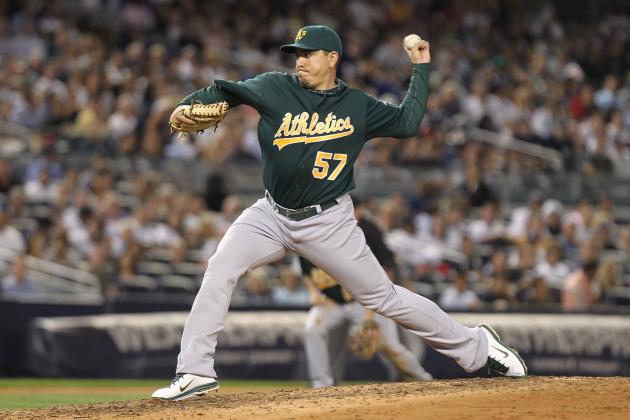 Nick Laham/Getty Images

Teams looking for a lefty may also target Brian Fuentes of the Oakland Athletics this season at the trade deadline.
The former Rockies closer appeared in 67 games last season, pitching 58.1 innings with a 3.70 ERA. He held a nice .237 BAA, making him effective down the stretch for contenders.
With the A's appearing to be in rebuilding mode yet again, there is the chance they will send Fuentes packing at the deadline if they are offered the right deal.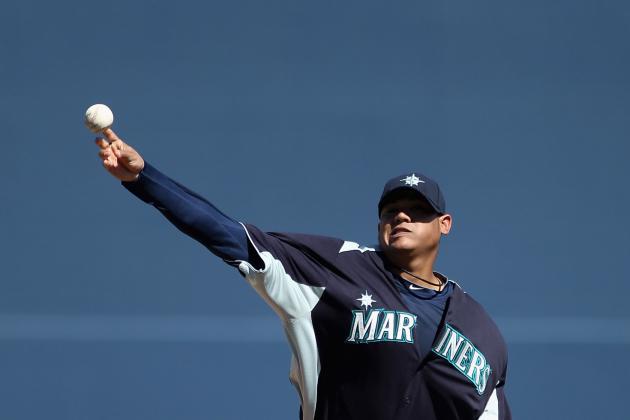 Christian Petersen/Getty Images

It never fails.
Every season, you hear of a team trying to contact the Seattle Mariners and asking about the availability of Felix Hernandez. Every phone call results in the same answer—he is not available.
You can't blame teams for trying. King Felix is a bona fide ace that any team would love to have lead their rotation. The only way a team is prying him away from Seattle is if they sell the entire farm and even that is not likely enough.
That doesn't mean contenders won't try to get him at the deadline, though.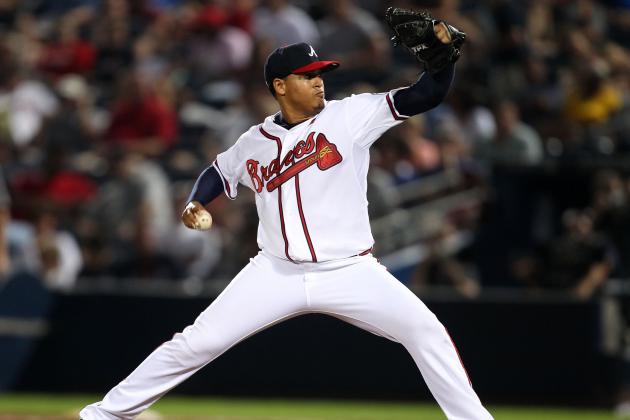 Mike Zarrilli/Getty Images

One of the two members of the Atlanta Braves that is most likely to be traded this season is Jair Jurrjens.
His name was floating around trade rumors all offseason and that is not expected to change during the season either. Come mid-summer when the trade deadline rolls around, contenders may revisit talks with the Braves to try to acquire the righty.
When Jurrjens is healthy, he can be a very effective pitcher. Last season, he earned a 13-6 record over 152 innings with a 2.96 ERA. Most teams would love to add that kind of stat line to their team, especially from a young 26-year-old in Jurrjens.
With plenty of arms waiting in Triple-A, the Braves may be willing to part to him.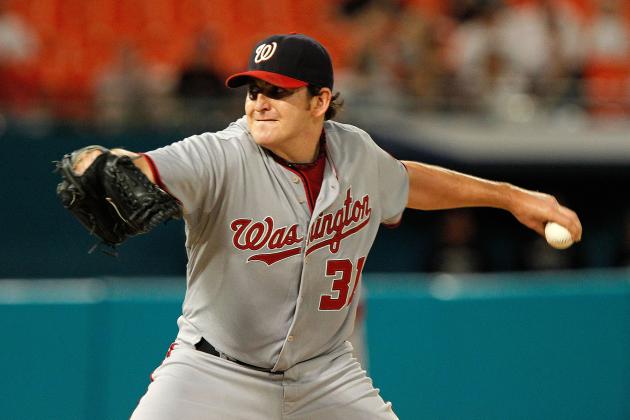 Mike Ehrmann/Getty Images

John Lannan all of a sudden doesn't have a guaranteed spot in the Nationals' rotation, which could lead to him being targeted at the trade deadline.
Lannan is a formidable back-of-the-rotation starter that could help solidify a team for a playoff push. Last season, Lannan had a 10-13 record with a 3.70 ERA over 184.2 innings. He is also predominately a ground-ball pitcher, as he has a career 1.80 GO/AO ratio and 52.8 percent ground ball percentage.
Lannan is already receiving interest from teams according to Danny Knobler of CBS Sports. If he is still with the Nationals at the deadline, look for a contender to acquire him.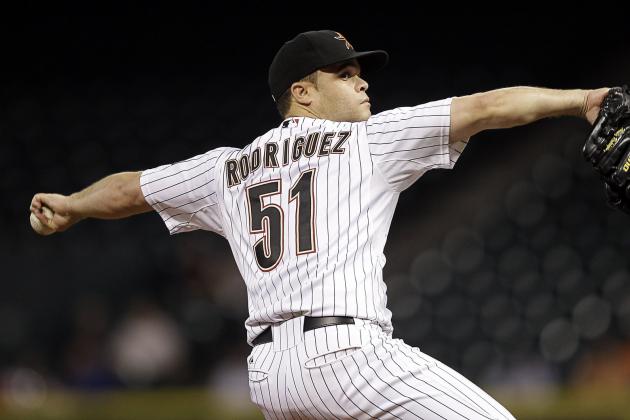 Bob Levey/Getty Images

One of the more likely candidates to change teams at the deadline this season is Wandy Rodriguez of the Houston Astros.
With Houston heading into full-blown rebuilding mode, there are only a few big contracts remaining on the major league roster. Rodriguez is one of them.
The career Astro almost saw a different uniform last season at the deadline, with many reported parties interested in acquiring him.
Rodriguez has seen an ERA below 4.00 in each of the last four seasons, with the highest during that period being 3.60 in 2010. He has also been durable, pitching at least 191 innings in each of the last three seasons.
Rodriguez will earn $10 million in 2012, $13 million in '13 and has a $13 million club option for '14. Look for the Astros to shop him heavily at the trade deadline.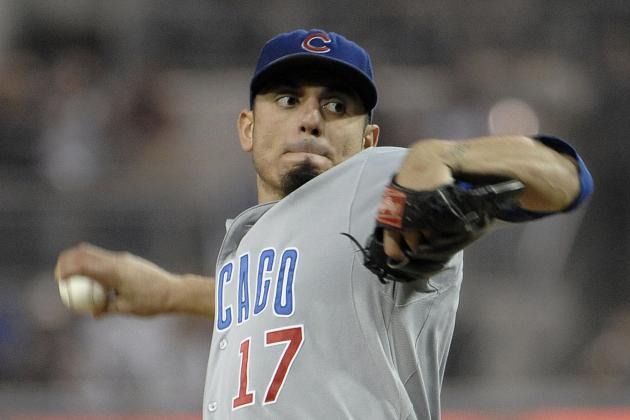 Denis Poroy/Getty Images

If he doesn't sign a long-term contract prior to the deadline, a popular target will be Matt Garza.
With the Chicago Cubs in full-blown rebuild mode under new president Theo Epstein and GM Jed Hoyer, it is likely all their pricey veterans will be available for acquisition at the deadline.
After the bounty the Cubs gave up for Garza, it is likely they will want something similar from a team to acquire the ace.
Garza had a career year last season, earning a 10-10 record with a 3.32 ERA over 198 innings. He gathered 197 strikeouts and 63 walks, earning him a 8.95 K/9 ratio and 3.13 K/BB ratio.
With his ability to pitch deep into games and shutdown offenses, look for Garza to be a popular target at the deadline.