NCAA Bracket 2012 Predictions: The South Region, Pick-by-Pick Analysis
March 14, 2012

Jonathan Daniel/Getty Images
John Calapari has to be fumed at the committee's decision to give the No. 1 overall seed the toughest bracket. To pair Kentucky with No. 2 Duke, No. 3 Baylor, No. 4 Indiana, No. 5 Wichita State and even No. 6 UNLV isn't anything to shake a stick at. Considering the other options, the lack of incompetence has to be documented. 
Enough about that, this is about the bracket we have, today. The South region is STACKED with talent so the games will just be that much better, right? If Calapari is going to get his first title, he's going to have to earn it, right? 
With that considered, perhaps we should put those previously mentioned documents in the shredder. These games are awesome! 
Round of 64 
No. 1 Kentucky over No. 16 MVSU/West KY 
Kentucky fields 5-star ball boys that could handle this one. 
No. 8 Iowa State over No. 9 Connecticut 
Iowa State Cyclones coach Fred Hoiberg made his intentions clear when he took over the reigns. To make a quick turnaround, he was to employ a strategy of bringing in established transfers and fuse the parts into his barrage of gunners with a passing big man offense. The transfers: Royce White (Minnesota), Scott Christopherson (Marquette), Chris Babb (Penn State) and Chris Allen (Michigan State) have blended together quite nicely to bring Iowa State back to prominence.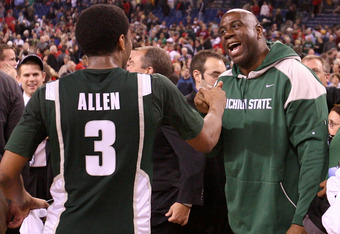 Chris Chambers/Getty Images
Now, they've been given the tumultuous task of knocking off the defending champs. This isn't one of Connecticut's most intimidating teams. They've had to slug down the month of February without coach Jim Calhoun. His return to the bench was enough for the Huskies to eek their way into the tournament, after suppressing their 12-1 start. 
Royce White has had an amazing season, pretty much reviving the Wilt Chamberlin Point-Center position with 13 points, nine rebounds, five assists, one steal and one block on 52 percent shooting. Since all Iowa State guards can shoot (much like Hoiberg once did) the inside-out offense works quite effectively. The trick is to hit the shots. 
Connecticut is dangerous, because they have top-level talent, but it's hard to believe they'll put it together to do much damage. If Iowa State misses their shots, the Huskies could move on to face Kentucky, where even their top-level talent is out matched at every position. 
It's not the year of the repeat. The last time a defending champion even made it to the Sweet 16, was Florida in 2008. 
No. 5 Wichita State over No. 12 VCU 
Here we go again, here's another example of a team happy to be in the tournament, in VCU, although, wasn't that the sentiment last year when they were a play-in game turn Final Four team? This year, they lost four starters and were able to still make the tournament. They are pesky.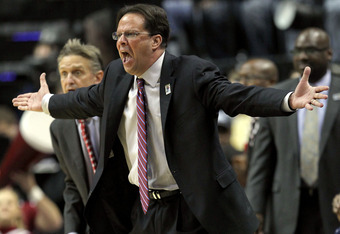 Andy Lyons/Getty Images
Wichita State is the Final Four caliber team here. 
No. 4 Indiana over No. 13 New Mexico State 
Wendell McKines is a force to be reckoned with on the inside for New Mexico State. Indiana counters with depth and the ability to shoot the three from multiple positions. They have three guys (Hulls, Watford, Sheehey) that shoot 40 percent or better and a couple of guys (Roth and Elston) that pick their spots at above 50 percent off the bench. 
Thomas Crean, a disciple of Tom Izzo, will have Indiana ready, willing and able to stand their ground against an Aggie team that thrives on imposing their will on the inside—with authority. 
This game should have all the intensity of a prison league roller-hockey game. 
No. 6 UNLV over No. 11 Colorado 
Colorado enters the tournament with its impressive Pac-12 tournament win, against the not so impressive Pac-12. You know it's bad when you're in the tournament, in a major conference, and the only win you sport against tournament competition is California.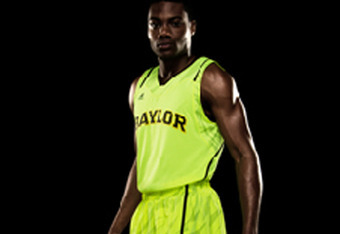 Then again, how many times does the tournament defy logic. That's the only way you'd pick Colorado, betting on Murphy's Law. 
No. 3 Baylor over No. 14 So Dakota St. 
My prediction is this game goes into 72 OT's and eventually the committee decides to pick a winner based on the brightest jerseys. 
Seriously, S-Dakota has some gunners. Besides Nate Wolters, the 6'4 Jr., averaging 21 points, five rebounds, six assists and almost two steals, there are four more guys that have taken 97 or more threes at better than 40 percent efficiency. 
This Baylor team suffers from effort narcolepsy. I'm not sure it's predicated deliberately, but it happens all the time. I'm AM quite sure the bright yellow jerseys were a conscious decision to keep Baylor awake, because there is no other explanation for this collection of athletes to produce such catawampus results.      
No. 10 Xavier over No. 7 Notre Dame  
This is the best and worst game of the tournament. Xavier has the ability to be a Final Four contender, but throughout the season have played to a miniscule smidgen of their potential. Obviously, the college version of "the Malice in the Palace" has been a gigantic distraction.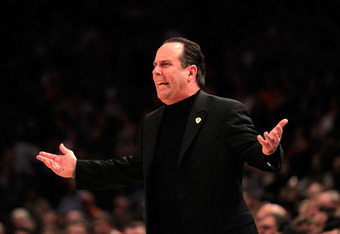 Chris Trotman/Getty Images
I can't remember when Notre Dame showed up in the tournament. Plain and simple the Irish haven't been a threat in the tournament during the Mike Brey era. Brey needs to prove himself eventually with a tournament win or two. Excuse him in 2012 as he's done a fantastic job getting ND to the dance this year, losing his best player Tim Abromaitis in the second game of his season. 
Xavier is still a mess, but I have to believe seniors Tu Holloway (17pts, 3.7reb, 5.2asst, 1.6stl) and Kenny Frease (7-foot center decked in the mêlée) will have one last push, like a mother in labor, to have a shot at Duke and tournament glory. 
No. 2 Duke over No. 15 Lehigh 
You'd have to BE high to mess this up. 
Round of 32 
No. 1 Kentucky over No. 8 Iowa State 
All that interior defense of Kentucky goes to waste against Iowa State. It's an interesting matchup, because Iowa State will unintentionally avoid Kentucky's strength's and have a punchers chance with a barrage of threes. It's what makes the tournament special, but I believe John Calapari will be ready for it. He certainly isn't going to adapt Virginia's "Pack Line" formation and will be able to do whatever he wants on the offensive end.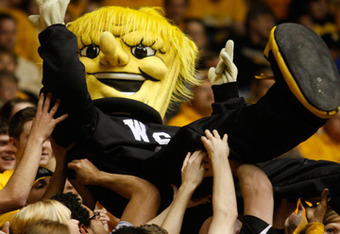 No. 5 Wichita State over No. 4 Indiana 
This is a very efficient and high power Wichita State team. They run a four-guard with one seven-footer offense, but it isn't simply a firing squad out there like, say, Iowa State. Some of these guys possess those And-1 skills like bench sensation David Kyles, or the seven-footer himself Garrett Stutz who not only will get double-doubles, but will hurt your from the foul line, converting 82-percent of his freebies. Their point guard Joe Ragland is ultra-quick and ridiculously effective as a three-point shooter hitting over 50-percent of his threes. He didn't take five either (it was actually 117). 
Indiana has a great deal of similar pieces. Cody Zeller (younger brother to UNC's Tyler) and Stutz should be an entertaining match in the post. The stat to watch is probably foul trouble between those two pieces, as neither team has a suitable replacement. 
The injury to Indiana veteran play-maker Verdell Jones III was nothing short of a "tsssssss…" let the air out of the tires moment. Odds are Crean will have the Hoosiers ready to play, but they are on their heels for this matchup. Tough draw. Good to have Indiana back though, basketball is a much better place with candy-cane red pants and a student section chanting Jack White beats. Rock.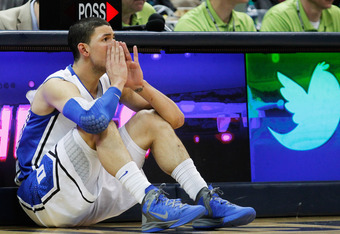 Streeter Lecka/Getty Images
No. 3 Baylor over No. 6 UNLV 
This time around Baylor will not get by on only their jerseys. They will have to prove they can play, but thankfully for Baylor fans, they CAN play. I believe Baylor to be the most athletic team in the country in teams of bigger, faster, longer, stronger and skilled. Their ability to confuse teams by switching zones is pertinent in a game like this as well, because there will be possessions they force UNLV to run a half-court set. 
I haven't been on UNLV's beat, but it doesn't look like they've been the same team since beating North Carolina by 10, which is the only loss Carolina suffered by more than a basket all season. Then, they were shellacked to the court by New Mexico after blowing an 18-point lead to TCU. It appears as Chace Stanback is maimed, with an injury to his knee. That looms large over the Rebels, who will indeed run—out of gas.    
No. 2 Duke over No. 10 Xavier 
Duke-Xavier presents an intriguing backcourt matchup. I think this Duke team is vulnerable to the upset, but you really can't let them hang around. Austin Rivers and Seth Curry are liable to catch fire in the clutch and make you pay for your negligence. Just ask Tyler Zellar who just stood there and let Rivers bury a three in his face in the closing seconds of a classic Duke-Carolina game. 
(My favorite part about that play was the communication. Seth Curry was with a hand up funneling sound, giving Rivers the countdown of the clock, while on Carolina's side, nobody was saying anything. Otherwise, Zellar would have taken a step or two forward and made Rivers use time on a contested lower percentage dribble drive. This is the Coach K advantage.) 
I don't think Xavier has enough character to pull it off. They have the talent, but they will have to come out swinging to knock out Coach K, even with a team ripe for picking and slightly lacking in star power.
Sweet 16 
No. 1 Kentucky over No. 5 Wichita State 
Wichita State has the firepower to pull this upset—they certainly have the outside shooting to knock Kentucky on their heels. 
The issue is a horrific matchup for WSU, in which (6'5, 209) Ben Smith would have to guard NBA caliber (6'9, 252) Terrance Jones. Kentucky can just pull from the reserves and find a barrage of near seven-footers with freakish skills to plug-in, much like scrolling through the album covers section of your I-pod. It's as basic as a Bon Jovi medley. 
The Shockers can hang athletically in the backcourt, but the simple size factor is going to be a problem. All the sudden, drives to the lane that have been easy all year will be turned away by the length of Anthony Davis. Perimeter looks that were uncontested all year now feature a hand in the face. Then, the shockers start to sweat in the agony of adversity. 
Kentucky is not unbeatable, but a team is going to need SOME degree of size. More than one guy over 6'5 isn't going to cut it. 
Either way, the real winners are the viewers of Wichita State's mascot. WuShock is a college sports gem. A true masterpiece. 
No. 3 Baylor over No. 2 Duke 
I'm excited for this one. I fully expect my voice to sound like Dick Vitale's by the time I get to watch this one. A win here, will require Baylor to play a complete game. They're not going to be able to just spring in a straight line and out athlete Duke, because that's a given. They're going to have to make shots and make a concerted effort to check the perimeter. 
They can do it. The key to success in this game could be the depth of Baylor. Four guys off the bench log double-digit minutes and on the other side of the ball, nobody if certain how effective Ryan Kelly, Duke's most versatile player, will be (as he fights the injury bug). A number of Baylor's pinnacle players, would be Kelly's responsibility. Even if he can play, they're going to need someone fleet of foot to stay with Perry Jones III and Quincy Miller. 
Can someone explain to me why the Plumlee's are so well received? I've seen position rankings that value Mason Plumlee over Draymond Green? How is that possible? I think the Plumlee's are good, but not great. They are versatile, but not strong. They are a liability against a team like Baylor. 
A focused Baylor team could run Duke out of the gym if Curry, Dawkins, and/or Rivers don't hit shots. They need two of three to be efficient to have a shot. 
This is the year Baylor lives up to expectations! 
Elite Eight 
No. 1 Kentucky over No. 3 Baylor 
This game for Baylor seems eerily similar to the position John Calipari's Wildcats were in last year against Ohio State, only with an extra ladder rung being it's for the Final Four.  Everybody thought Kentucky had the talent to knock off the favored Buckeyes, but not many had the guts to call it. I want to call Baylor here, because it makes me angry to have to pick Kentucky to win it all and look at my bracket with John Calapari's team on it throughout the next three weeks. I'm almost going to be more pissed if they lose—if that makes sense? 
Kentucky brought in four 5-star freshman this year, just another day in the life of Kentucky basketball, right? The presence of Davis will force Baylor to shoot from the outside more than they're used to. When you're Baylor, you shoot outside when you want to, but Kentucky will be one of the few teams that can dictate their actions. 
Sigh. Odds are with Kentucky. I just think anything else is unwarranted. 
John Calapari going back to the Final Four has only one positive I can think of. We're that much closer to raising the odds that John Cougar Mellencamp gets that much coveted Oscar, making Kevin Malone a very rich man. 
I know what you're thinking!? You want more Zerfas analysis! Believe it or not, I covered all four regions of the tournament. All the links are posted on my blog, named after my hero: http://ryanczerfas.blogspot.com/2012/03/2012-ncaa-bracket-predictions-pick-by.html