Detroit Lions 2012 Free Agency: The Case for Carolina Panthers' Geoff Schwartz
March 13, 2012

Handout/Getty Images
It is no secret that the Detroit Lions are battling to clear cap room at the moment. The team has already renegotiated contracts with Nate Burleson, Matthew Stafford and Ndamukong Suh, and are reportedly deep in discussions with Calvin Johnson to extend his contract and avoid the $22 million cap figure he currently carries.
These cap room issues are going to keep the Detroit Lions away from marquee free agents like Cortland Finnegan and Mario Williams, but that does not mean that free agency will involve scraping the bottom of the barrel for career backups and roster fillers.
There are plenty of potential starters, and even young stars, who are not given their due and will be able to be signed for small, cap space-friendly contracts. This is who the Lions will target this offseason, and the man with the biggest Honolulu Blue bull's-eye on his back should be former Carolina Panther Geoff Schwartz. 
The 26-year-old Schwartz should be very appealing to the Detroit Lions. He has been described as a poor man's Marshall Yanda by Pro Football focus, and when you look at his performances from 2010 at both right tackle and right guard you can see why. Despite playing two positions in his first year as a starter, he was given consideration for a reserve Pro Bowl berth by those who watched him play.
Why then, does this young player with genuine talent hit the open market? The answer is injuries. Schwartz missed the entire 2011 season due to a hip injury and the new coaching staff that was brought in by Ron Rivera has not seen him play live. Also, as a seventh-round pick in the 2008 draft, he lacks the draft pedigree and name recognition to be known around the league and to drive his price up.
On the field though, Schwartz has been superior to many highly drafted offensive linemen, including our own Gosder Cherilus. Despite being shuffled from right tackle and right guard after Week 7 of the 2010 season, Schwartz accumulated a +12.3 grade from Pro Football Focus for the season.
At guard he allowed pressure just once every 28 snaps. Although he was an inconsistent run blocker, he had great showings against Casey Hampton and the Atlanta Falcons that showed he has the potential to improve in that regard. 
His pass protecting prowess is rather surprising, given that coming out of college he was known to be a mauling run grader at right tackle and nothing more. This was in keeping with his great strength, imposing 6'6", 330-pound frame and the success that the Oregon Ducks had running the ball during his senior season.
While he has yet to recapture this facet of his college game, he has shown the ability to dominate in the running game, and with consistent playing time he may be able to iron out his inconsistencies. Nevertheless, even if he always is inconsistent in this area, it would be a small sacrifice for a right tackle who can take pass rushers out of the game with his great anchor strength, long arms and good range to set the edge.
This brings us to the Detroit Lions. As you all should know, the Lions offensive line needs an overhaul, and both right guard and right tackle are positions where new blood needs to be brought in.
At guard, Stephen Peterman is old and a woeful run blocker who is being paid far too much. He is a prime candidate to be cut to find some salary cap room, and with no viable replacement behind him unless Detroit spends an early pick on a guard, they need someone to fill that hole.
At right tackle, the Lions incumbent starter Gosder Cherilus has massively underperformed since he was taken in the middle of the first round in 2008. The man mountain from Boston College has totally failed to become a serviceable run blocker, and is an inconsistent pass rusher who can look assured and completely lost in the space of play. However, he still has another year left on his contract, so fans can still hold out hope that he will "get it" in a contract year.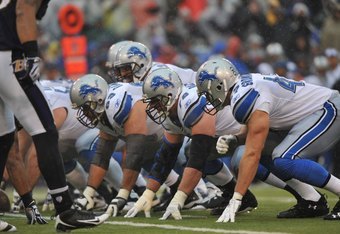 Larry French/Getty Images
Therefore, bringing in some serious competition in the offseason seems to be a great idea. With the specter of replacement hanging over him, Cherilus may finally pay out on his potential. The best thing about this scenario is the Lions can then simply move Schwartz inside to guard if Cherilus plays well, rather than have him languish on the bench like other possible free-agent right tackles who could be brought in to compete with Cherilus.
Whether he plays right tackle or right guard, Schwartz would vastly improve Detroit's offensive line. His skills in pass protection would be very valuable in the Lions high-octane passing offense, and although he is not a great run blocker, he would still be an upgrade over whoever he replaced. When his youth is taken into account, he presents a seven-year fix to a position that needs to be upgraded. What's not to like?
The only remaining consideration is his price. Although it was never going to be high, news today from the Carolina Panthers camp may have dropped it further. Reports are that they have just re-signed their starting right guard from 2011, Geoff Hangartner, to a new deal. This deal, along with first rounder Jeff Otah at right tackle, means that Schwartz is unlikely to be given a starting berth at Carolina if he re-signs with them. It also implies that the Panthers do not value him that much.
This will put up many red flags for most teams, who generally think that if the players' current team does not want him then there must be some red flags associated with them. However, given that the current Panthers staff has only been in town for one season in which Schwartz was injured, they are not likely to have a great understanding of him.
Finally, because Schwartz was injured all season and does not have great name recognition, he is not going to command a large price tag. This would be especially the case if the Detroit Lions tried to sign him early in free agency. Schwartz is unlikely to expect a big pay day or a lot of interest this offseason, so if he was hit with a solid offer early in free agency then he would be likely to take it, especially on a playoff team on the rise and a guaranteed starting berth.
A deal in the range of (and possibly less than) five years and $15 million with $5 million guaranteed seems reasonable, and this would be a very minor hit to the Lions cap space, especially if the contract is back-loaded to the 2014 season when the new NFL TV deal begins. This is similar to the deal that Stephen Peterman got in 2009.
In conclusion, signing Geoff Schwartz makes too much sense for Detroit not to try and sign him. He would help solidify the right side of the offensive line, make Stephen Peterman expendable and push Gosder Cherilus. He would also be a cheap option who can start for a long time and mature into a top right tackle. In essence, he should be the Evan Mathis of 2012.