Atlanta Braves: 12 Most Intimidating Flamethrowers in Franchise History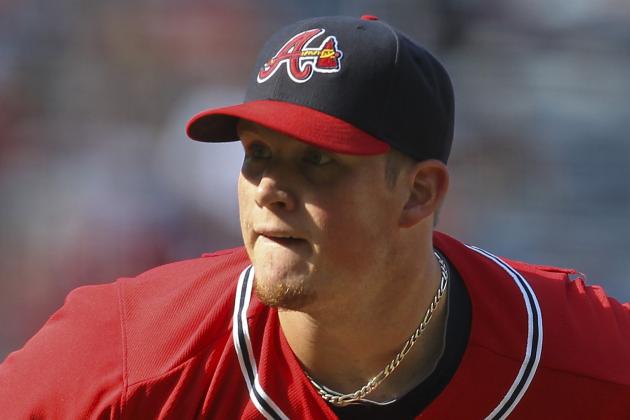 Daniel Shirey/Getty Images
Craig Kimbrel is one of the most intimidating pitchers in franchise history.
The Atlanta Braves are a team that is known for pitching. Part of that includes having some intimidating flamethrowers, especially within the last decade or so.
This article is a list of 12 of the most intimidating pitchers in the history of the franchise. Velocity data is only available as far back as 2002 on Fangraphs, so everything before that is more opinion than hard facts. To be eligible a player must have spent either a full season or parts of multiple seasons with the team or be a current Brave.
Begin Slideshow

»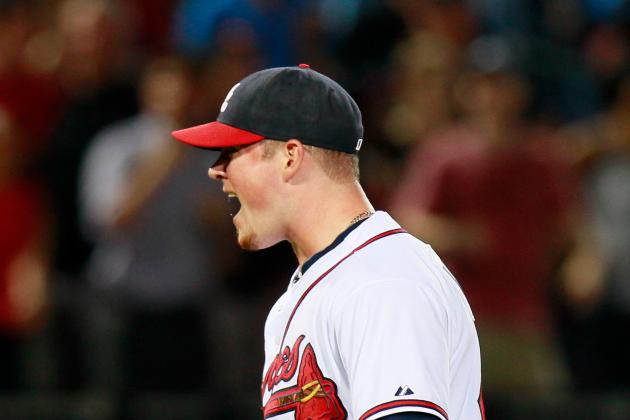 Kevin C. Cox/Getty Images
Batters are certainly intimidated by Kimbrel
Craig Kimbrel has only spent one full season and part of another in the big leagues, but it's safe to say that he has already become one of the most intimidating pitchers in Braves history. Kimbrel has racked up 167 strikeouts in a total of 97.2 innings, or a rate of 15.39 hitters per nine innings.
Kimbrel may be short at just 5'11", but his stuff is absolutely electric. Last year alone, his fastball velocity averaged 96.2 MPH. He also mixes in a hard slider that hits nearly 87 MPH to keep hitters off-balance.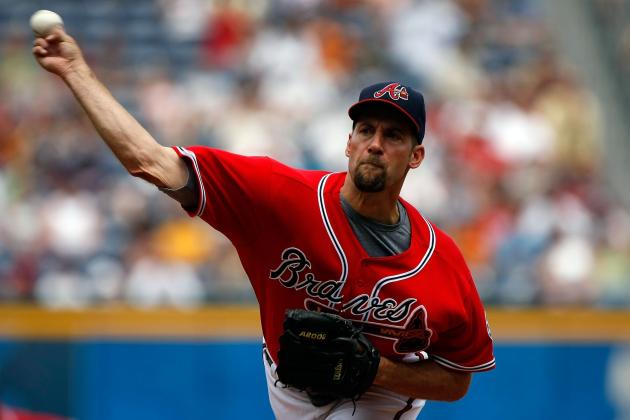 Chris Graythen/Getty Images
John Smoltz was a dynamic flamethrower.
Hard-throwing John Smoltz racked up a total of 213 victories and 154 saves during his long career that will likely bring him to Cooperstown. Smoltz not only won a Cy Young Award in 1996, but was possibly the best closer in the game from 2002 through 2004.
Smoltz average fastball in relief was over 95 MPH, though it did drop to 92 MPH when he moved back to the rotation as expected. Smoltz also had a hard slider that he threw often, which helped him to rack up a total of 3,084 strikeouts.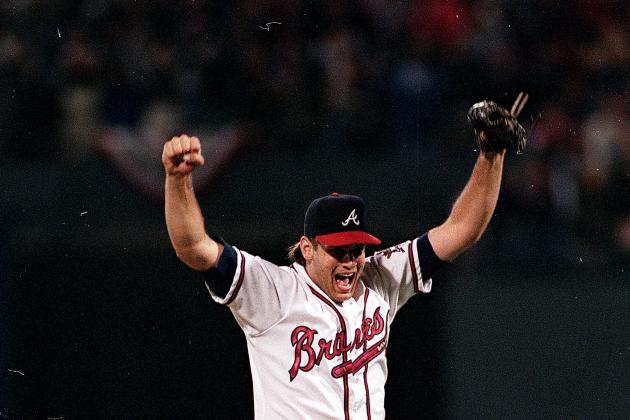 Rick Stewart/Getty Images
Before Craig Kimbrel came along, Mark Wohlers was a young flamethrowing closer.
From 1995 through 1997, Mark Wohlers was one of the best young closers in baseball, before he lost his ability to throw strikes. Wohlers started the 1998 season with seven saves in April before the wheels fell off.
But Wohlers was a flamethrower, averaging 10.2 strikeouts per nine innings as a Brave and racked up 282 in 211.1 innings during his peak years.
Even though his success was short-lived, Wohlers was an intimidating presence on the mound.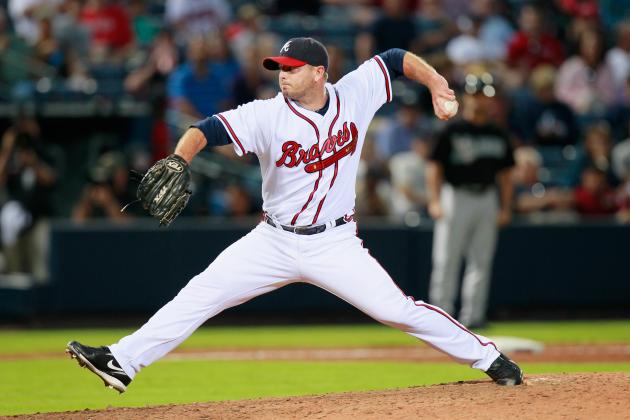 Kevin C. Cox/Getty Images
Billy Wagner retired at the top of his game after a big year with the Braves.
Billy Wagner only spent one year with the Braves, the final year in his long and great career. Despite turning 39 years old during the 2010 season, he went 7-2 with a 1.42 ERA and 37 saves while striking out 104 hitters in 69.1 innings. He was just dominating.
In spite of his age, Wagner remained an intimidating presence on the mound. His fastball averaged 95.7 MPH and he was able to hit the 100 MPH mark on the radar gun multiple times.
Even more importantly, he was able to help tutor young Craig Kimbrel, who did an excellent job as his successor.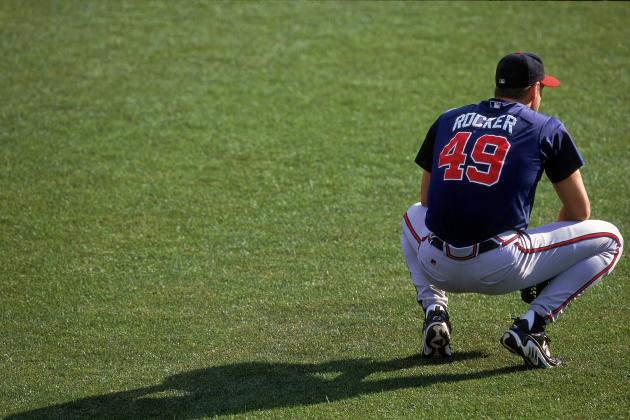 Ezra Shaw/Getty Images
An interview with Sports Illustrated and a loss of control quickly helped flamethrower John Rocker flame out.
Similar to Craig Kimbrel and Mark Wohlers, John Rocker was a young and very successful closer for the Braves.
In his first full season in the role, he went 4-5 with a 2.49 ERA and 38 saves with 104 strikeouts in 72.1 innings.
Rocker was among the most intimidating pitchers in the game for a short time, before making some very politically incorrect comments in a Sports Illustrated interview. After that interview, Rocker was never the same, as he struggled with control and was quickly traded.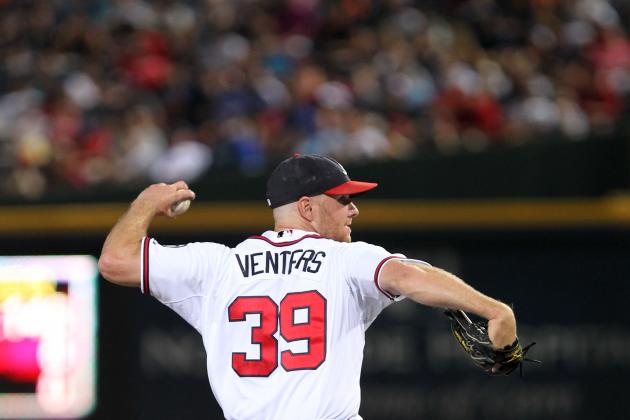 Joe Murphy/Getty Images
Jonny Venters is an intimidating left-handed setup man.
Jonny Venters has been in the league for two years and each year he has been on the short list of top setup men in the league.
Venters has pitched in 171 innings and has a 1.89 ERA with 189 strikeouts and 59 holds.
Venters has had that level of success because of his stuff. Last year his fastball averaged 95 MPH, which was complimented nicely by a hard slider that averaged just over 86 MPH. Venters is a flamethrower that dominates hitters with his stuff, causing opponents to hit just .186 against him.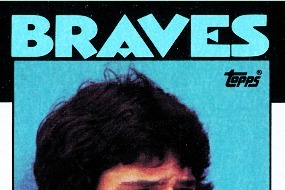 In addition to his stuff, Steve Bedrosian's appearance intimidated hitters.
Steve Bedrosian pitched in 14 big league seasons, eight of those coming in Atlanta. He was both a starter and a closer for the Braves, though his Cy Young Award season came as the closer for the Phillies.
The man known as "Bedrock" was one of the more intimidating flamethrowers of the '80s, as he amassed 161 saves during that decade and won a rare Cy Young Award for a closer.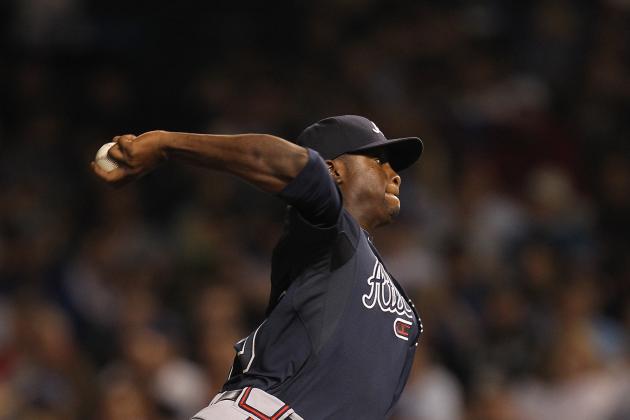 Jonathan Daniel/Getty Images
At age 20 Vizcaino's fastball nearly averaged 96 MPH.
Arodys Vizcaino is a 21-year-old with only 17.1 innings of big league experience, but I thought he belongs on this list.
Vizcaino, who started throughout his minor league career until the Braves decided they needed him to help their bullpen during the pennant race last year, had a 4.67 big league ERA in part due to getting hit hard in one game against the Dodgers.
The reason the Braves decided to use him in relief last year is simply because he has electric stuff. His big fastball played up out of the bullpen and averaged 95.9 MPH. Vizcaino is still harnessing his ability and may get another chance to start, so he could need more time in the minors before we get to see him again.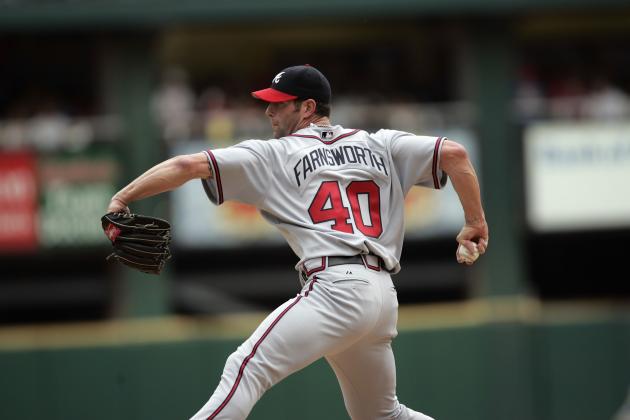 Dilip Vishwanat/Getty Images
Kyle Farnsworth struck out nearly 11 hitters per nine innings with the Braves.
Though Kyle Farnsworth has only pitched for a limited time with the Braves, he was an intimidating presence on the mound.
The Braves acquired him in mid-season deals in both 2005, to use as a closer, and 2010, to be a middle reliever. Farnsworth appeared in 49 games with a 3.42 ERA and 57 strikeouts in 47.1 innings.
Farnsworth's fastball averages 95.5 MPH in his career, and he also has a hard slider which he has started to throw less as he has developed a cutter in recent years. It's that type of velocity that has made Farnsworth an intimidating flamethrower.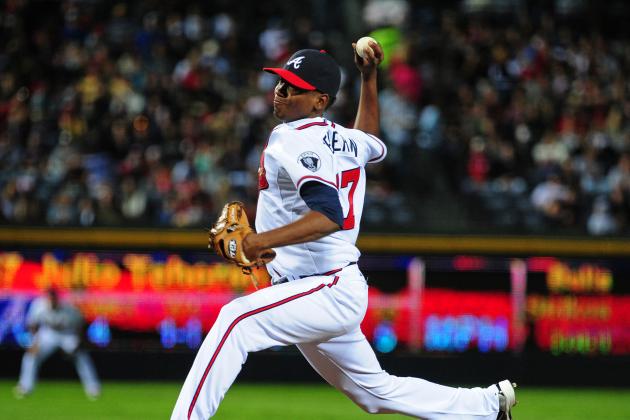 Scott Cunningham/Getty Images
Julio Teheran is a young flamethrower with a promising future.
Similar to Arodys Vizcaino, Julio Teheran is a youngster with limited experience but big stuff.
The 21-year-old dominated Triple-A last year before getting his chance to make his big league debut. Teheran made three starts and two relief appearances for the Braves. Although he had his ups and downs, he showed flashes of his potential.
Teheran averaged 93 MPH on his fastball, and we know the young Colombian can reach back and add a little bit more juice to that fastball. Teheran's big fastball will help him to be a front-of-the-rotation starter for the next decade.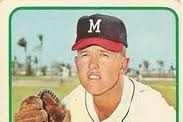 Denny Lemaster was a '60s flamethrower.
Denny Lemaster is a left-handed pitcher that spent 11 seasons in the big leagues, although he only spent 1966 and 1967 in a Braves uniform. He had a career 90-105 record, though he did manage to make the All-Star team as a Brave in 1967.
Though he only spent a short time with the Braves, he ranks fifth on the career strikeouts per nine inning list. The hard-throwing lefty was one of the team's most intimidating pitchers for a short time.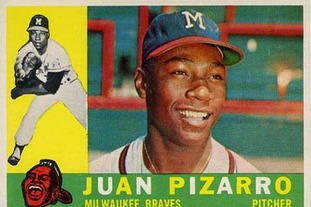 Juan Pizarro was the earliest flamethrower to make the list.
Juan Pizarro's 18-season career began with the Braves in 1957 and he spent four years with the team while they were in Milwaukee. Pizarro may have only gone 23-19 with a 3.93, but he was tough to hit at times.
Pizarro's 1959 season saw him post a strikeout per nine inning rate of 8.5. That mark still stands at 10th on the list of Top 10 rates in franchise history for a starter. Pizarro was known as a hard-thrower and part of why he was so intimidating was his lack of control.