5 Worst Philadelphia Eagles Free-Agent Pickups of the Andy Reid Era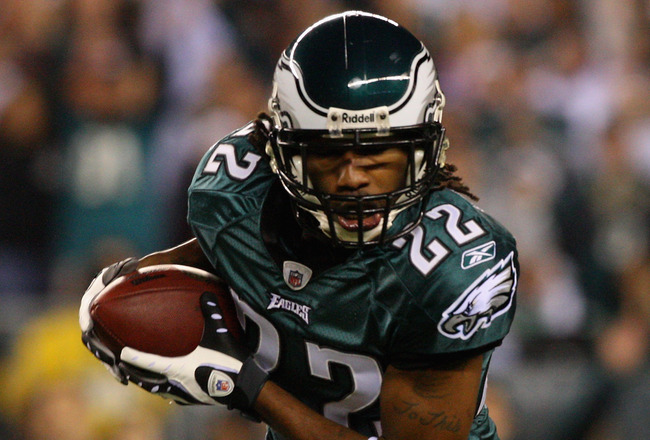 Jim McIsaac/Getty Images
Andy Reid has made his share of bad trades while running the show in Philadelphia. He traded for Terrell Owens in 2004 and that backfired horribly after one good season. A couple years later the Eagles traded for Donte Stallworth, who lasted one whole season in Philly.
Free agency has actually been pretty good for the Eagles as evidenced last year. Jason Babin, Cullen Jenkins and Nnamdi Asomugha all turned out to be great additions in 2011. Asante Samuel was a huge acquisition in 2008 as well.
But Andy Reid and the front office has had their share of bad free-agent signings. Here are the five worst free-agent blunders during the Andy Reid era.
5. Mike McMahon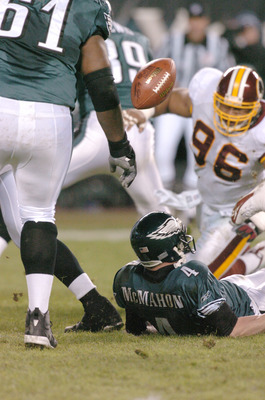 Brian Killian/Getty Images
Mike McMahon wasn't your typical big-time free-agent signing, but during the 2005 season he proved be an awful one nonetheless. He was familiar with Eagles offensive coordinator Marty Mornhinweg from their work together in Detroit. He wasn't brought into Philadelphia to be a starter or franchise quarterback, but he was expected to be a reliable backup should then starter Donovan McNabb get injured.
In 2005, McNabb did get injured and the Eagles relied on McMahon for the final seven starts. He went 2-5 as a starter with a quarterback rating of 55.2.
The Eagles brought in Jeff Garcia as a backup the following year and he went 5-1 as a starter when Donovan McNabb tore his ACL.
The signing of McMahon horribly backfired and forced Andy Reid to bring in a more proven backup quarterback in Jeff Garcia. Garcia would go on to save the Eagles' 2006 season after McMahon failed to do the same the season before.
4. Jarrad Page
Rich Schultz/Getty Images
Jarrad Page wasn't a breaking news type of free-agent signing either, but his effect on the team was pretty remarkable. I don't mean that in a good way whatsoever.
Page was signed during training camp during the 2011 season. He spent the previous four seasons as a quality starting safety with the Kansas City Chiefs and the New England Patriots. He looked more like an undrafted rookie with little football experience during his short season with the Eagles.
Page earned the starting strong safety spot in training camp, but was only able to hold down the position for five games. He struggled in pass coverage and open-field tackling, and was more of a liability on defense then he was any help.
3. Vince Young
Patrick McDermott/Getty Images
Vince Young was signed prior to the 2011 season as an insurance policy for the incredibly fragile Michael Vick. Before he even got a chance to throw a pass, he doomed the team in the eyes of most Eagles fans with his "Dream Team" comments.
Young did get his chance to prove himself as a starter for the Eagles in 2011, but he failed miserably and proved just how inconsistent he can be. He went 1-2 as a starter with his lone win coming from a great defensive effort from Juan Castillo's crew.
Young finished the 2011 season with a 57.9 completion percentage and nine interceptions in just three starts. He was signed to just a one-year contract, but his impact proved to be 100 percent negative in just a short time.
2. Stacy Andrews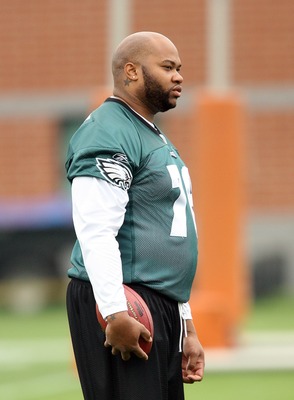 Hunter Martin/Getty Images
In February of 2009, the Eagles signed right guard Stacy Andrews to a six-year contract. He was supposed to form a dynamic duo on the right side of the offensive line alongside his brother, Shawn.
They never played together as Shawn couldn't stay healthy and was eventually released. Stacy wasn't any better as he was replaced in the starting lineup in Week 2 of the 2009 season by Max Jean-Gilles. Prior to the 2010 season, Stacy was traded to the Seattle Seahawks.
Anytime you get replaced in the lineup by Max Jean-Gilles, you are a free-agent bust.
1. Jevon Kearse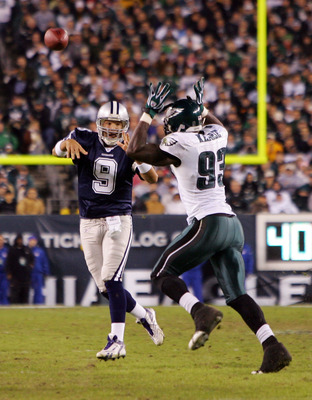 Jim McIsaac/Getty Images
Prior to the 2004 season, the Eagles were coming off three straights NFC title-game losses and had a very aggressive offseason plan. They traded for Terrell Owens and signed Jevon Kearse.
Kearse wasn't a liability on defense, but he did play well below the expectations of his contract.
In 2004, he signed an eight-year, $65 million dollar contract which included a $16 million dollar signing bonus. Kearse was released after he was replaced in the lineup by Juqua Parker late in the 2007 season.
He finished his Eagles career with 22 sacks while earning $29.2 million during his four seasons in Philly.
Keep Reading

Philadelphia Eagles: Like this team?