South Carolina Basketball: Darrin Horn Fired from South Carolina
March 13, 2012

Ethan Miller/Getty Images
South Carolina basketball will be looking for a new head coach after Darrin Horn was fired early Tuesday morning.
Horn went 60-63 during his four seasons in Columbia including three straight losing seasons after winning a share of the SEC East in his first year back in 2008-2009.
Things seemed to spiral out of control for Coach Darrin Horn this year as South Carolina finished with a 10-21 record overall and was dead last in the SEC with a 2-14 record.South Carolina's SEC record the past three seasons was 13-35.
Coach Horn guided USC to a berth in the NIT Tournament after the 2008-2009 season but lost in the first round to Davidson. Horn also failed to win an SEC Tournament game in his four seasons at South Carolina.
The chatter began to increase each week from the fanbase that they were upset with the direction of the basketball program. Athletic Director Eric Hyman listened, evaluated the program and decided it was time to go in another direction.
Here's what Hyman had to say about Horn this afternoon:
This was a very difficult decision.Darrin has done a good job in areas in which we place great value. Under his leadership our academics have improved immensely, he has run a program of integrity and his student-athletes have represented the university and department appropriately. However, we could not overlook other factors that led to this decision. In the world of college athletics, wins and losses and being competitive in the SEC had to be considered. Recruiting, player development and diminishing fan support also was considered when making a decision like this.

Our goal for our men's basketball program is the same as all of our athletics programs at South Carolina - to be a nationally-prominent program that battles for championships. With that in mind, we will begin a national search immediately to find the very best coach possible for the University of South Carolina.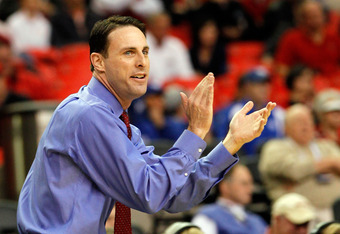 Kevin C. Cox/Getty Images
The positives with Darrin Horn was an improved academic focus within the men's basketball program. The players also stayed out of trouble for the most part and were in good-standing with the university and the community. These were definitely upgrades from the Dave Odom era but, in the end, it all came down to wins and losses. 

South Carolina will pay Darrin Horn $2.4 million as part of the buyout clause that was in his contract. He will also earn $800,000 for each year remaining on his contract. Horn had three years left before he was fired by the university today.
The search for a new head coach will begin immediately and while AD Eric Hyman mentioned no names, there are plenty of favorites already on the minds of Gamecock fans. Look for Wichita State's Gregg Marshall, VCU's Shaka Smart and Tennessee State's John Cooper to be early candidates for the open position.
There is currently no timetable for the hiring of the next basketball coach at South Carolina.