Semyon Varlamov's 38 Saves and Gabriel Landeskog Key Avs' Win, East Coast Next
March 13, 2012

After sweeping a home-and-home with Minnesota, the Avs lost to Nashville last Thursday, bringing their season record against the Preds to 0-2-1.  It was their first game after losing star Matt Duchene for an expected two-three weeks because of an ankle injury.
They will get their final shot to beat Nashville during the final game of the regular season next month.  The Avs rebounded nicely, however, with wins against Edmonton, in which Semyon Varlamov once again displayed his shootout dominance by keeping both Oilers shots out of the net, and Milan Hejduk and Peter Mueller both beat Edmonton goalie Nikolai Khabibulin high glove-side.
Monday night, rookie sensation Gabriel Landeskog almost saw his season-long games played streak end as he was hampered with the flu.  That morning, his temperature was over 100 degrees, yet he persevered and played in the game against the Ducks.  He had a big hit against Ducks defenseman Lubomír Višňovský early on, and he broke Peter Stastny's all-time franchise record for most shots by a rookie.
However, Landy's biggest feat of the night came in overtime when he took a pass from defenseman Matt Hunwick and ripped a slap shot past goalie Jonas Hiller for the win!
Varly played another huge game stopping 38 of 40 shots.  He is 7-2 in his last nine starts, with a 1.32 GAA and .955 save percentage.  If he continues to roll like that, the Avs will have a very good shot of making the postseason.
The Avs are a cool 4-1 in their last five games, 8-3 over the last 11 and 11-5-1 over the last 17.  While those stats are certainly nice, the other teams in the logjam to make the playoffs continue to win and keep themselves alive as well.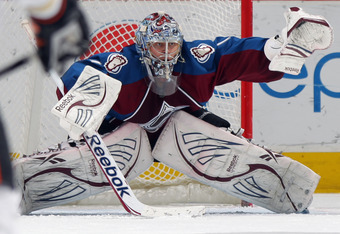 Doug Pensinger/Getty Images
The Avs need to keep their collective foot on the gas and keep racking up two points a night!
In both the Edmonton and Anaheim games, the Avs could not hold a one-goal third-period lead, which subsequently sent both games to extra time.  While the Avs did manage to win both games eventually, this is not a trend the Avs would like to continue and need to play good hockey all around for 60 full minutes to keep, build upon and maintain leads.  Bottom line, though, is that the wins must continue.
The Avs have 11 games remaining, fewer than any other team in the league.  Only four of which are at home with the other seven on the road.
The Avs will embark on a three-game road trip with their final set of back-to-back games of the season coming tomorrow night in Buffalo and Thursday in New Jersey.  The Avs will conclude their East Coast swing on Saturday against the New York Rangers, a team that has been among the league's best all season long.
The Avs will see three very good goaltenders on this trip including U.S. Olympic hero Ryan Miller, future Hall of Famer Martin Brodeur and Henrik Lundqvist, who is the likely favorite to win the Vezina this year.  Needless to say, the Avs will need to bring their A-game, and both Varly and Jiggy will have to be good when called upon.  I imagine Giguere gets one of the starts either tomorrow or Thursday.