NFL Free-Agent Rumors: Chicago Bears and 3 Teams That Must Land Reggie Wayne
March 13, 2012

Marc Serota/Getty Images
The Chicago Bears are just one of the teams that have to get Reggie Wayne this offseason. Other teams that will want to secure his services include the Miami Dolphins and Baltimore Ravens.
With the NFL Network reporting that Wayne will not wait for Manning to make his decision before he makes his own, it seems he will be the first big-name Colt to officially sign with another team this offseason.
Here is how it breaks down for each of the aforementioned teams.
Chicago Bears
The Bears are in desperate need of a target for their quarterback Jay Cutler. In the three seasons he has been in the Windy City, he has yet to be paired with a receiver that can match his talent level.
The Bears have already been rumored to go after Chargers' Pro Bowl receiver Vincent Jackson, but it is likely he will stay in San Diego. Other interests are in the Giants' Mario Manningham, but he can be inconsistent at times.
Wayne would give them not only an excellent wideout, but also some veteran leadership that would be able to help along the other young players in the group.
Miami Dolphins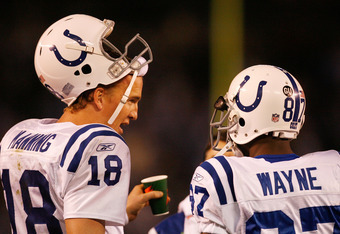 Harry How/Getty Images
The Dolphins are one of the few places where Wayne has actually expressed interest in playing himself in a move that would see Manning follow him to South Beach:
I could see it. I'm definitely not opposed to it, you know?  He's a great worker, and I consider myself a great worker.  And when you put great workers together, good things happen.  Me being in his trail going to Miami?  I would love it.  I would definitely love it.  I am totally available.  My phone is working.  Make sure you put that out there, my phone is working.  I paid my bills ahead of time, just so we have no problems.  So I am ready for anything that comes right now.
If Miami is serious about trying to get Manning to join them, then the best move they could possibly  make would be in bringing in Wayne first.
A guy whose entire career has been defined through an amazing amount of attention to detail and routine will be happy to see a familiar face flanking him.
Baltimore Ravens
Baltimore's need for receivers was never more evident than when Lee Evans dropped the go-ahead touchdown against the Patriots in the AFC Championship. What was once their shortcoming is now the focal point of a team that should have been in the Super Bowl.
ESPN's Jamison Hensley rules out that the possibility of Wayne going to Baltimore, citing that they are not looking for a top-tier receiver. However, things can change and Wayne seems to be a good fit.
This is already a team that is approaching the era of rebuilding. With the likes of Ed Reed and Ray Lewis nearing the end of their careers, a defense that once carried them will soon be gone.
If they would like to give those guys one more chance at another Super Bowl, Wayne would provide the best short-term option on the market.
Follow me on Twitter: @thecriterionman