The Iona Gaels will help open up the NCAA Men's Basketball Tournament Tuesday night in Dayton, Ohio, culminating a five-year building process by possibly playing before the President and his guest: the Prime Minster of England.
This is the end of a building cycle that started a year after the Jeff Ruland coaching era at Iona back in 2007. The Gaels made the NCAA tournament in 2006 then had a disastrous season the next year. Kevin Willard came in to rebuild the program, and brought in Rashon Dwight and Alejo Rodriquez who graduated last year and Scott Machado, Jermel Jenkins and Trinty Fields; this year's four-year seniors.
Last year Mike Glover came in from junior college and was an immediate force in the Metro Atlantic Athletic Conference. The sure-handed forward Randy Desouvre transferred in as well from Monroe College and Kyle Smyth matured into a solid defensive forward who could also shoot the three.
Then this past year Lamont "Momo" Jones transferred in from Arizona and was given a waiver from the NCAA to play right away. He has been the teams second-leading scorer averaging 16 points per game.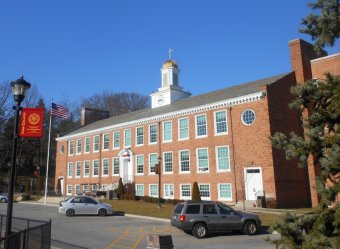 For a mid-major like Iona, it can take a five-year building cycle to put together a team with experience and cohesiveness necessary to make the NCAAs. Teams like Fairfield going through a similar development process may not even make it when they get to a year with a strong senior class.
But this year the Iona Gaels made the NCAA Tournament and will try to win their first game in the event since Jim Valvano coached the team in the early 1980s.
Sunday night after the announcement, senior point guard Scott Machado was very excited about making the NCAA Tournament with one of the last bids. Just such a thrill to see college athletes achieve a huge goal for themselves.
About making the NCAA Tournament, the NCAA leader in assists per game said,
"Very thankful we got it, very excited".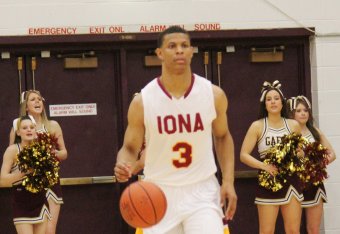 Just having 48 hours to practice, learn about an opponent, travel and test out a new arena is quite a challenge. I asked Scott Machado how he and his teammates will approach the game with just a day to prepare, would they just focus on playing your game?
"Just focusing on what we have to do, found out as much as possible about them, it is more of a game about us, learning what we do, and what we are capable of doing and run our offense," Machado said.
Machado was asked about who he would contact about BYU and playing in the NCAA event and he looked over at his teammate, Lamont Jones, saying,
"I have my own teammate "Momo" who has been there, that helps a lot."
Machado and Jones are both mature young men who do well in school. Basketball has enabled them to travel and have both positive and challenging experiences. Machado played basketball in Brazil last summer where his family is from and Jones played in the Elite Eight for Arizona last year.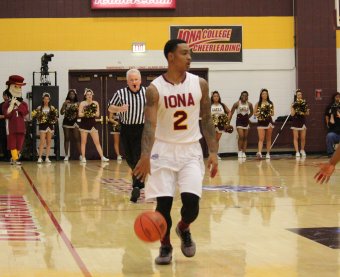 Momo Jones was asked Sunday night about how he sees the second team he has gone to the NCAAs with Iona doing in this opportunity and the perspective he can offer teammates:
"Yes we see ourselves making a run, it is all about believing in each other, taking it one game at a time, and just grinding it out winning games. The advice and experience I can just give my team is to play together, just play together, and come together as one. We just have to play hard, and play together."
Jones said that some questioned his decision to transfer to Iona but he commented he was always confident that his decision would be the right one and that Iona could be successful.
"I was 100 percent sure when I made my decision to come here that we would make the NCAA tournament. It was kind of weird how it all went down, but we made it," Jones said.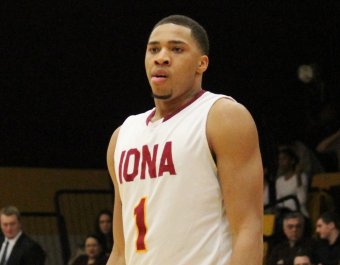 There is no doubt that "Momo" Jones, a thoughtful and outgoing young man is a good quote. He commented about playing BYU, who he faced at Arizona,
"It is going to be a grind-it-out game, we just have to play Iona basketball".
It took a while this year for "Momo" Jones to get used to moving from the point guard position he played at Arizona, to becoming a shooting guard as he was in high school. But then he seemed to blossom in midseason when he hit one three after another on a 43 point night. I asked him how he felt the season has progressed.
"At the beginning of the season, I was kind of uncomfortable playing the two spot, even though I played that a lot in high school and I love to score, But coming from a system with Sean Miller, having to pass the ball a lot and not really doing much scoring. Towards the middle of the season I started to get comfortable with the offense. What my teammates were asking me to do, what my coaching staff wanted me to do, what they brought me here to do. Working and working, and it pays off, the 43 point game, it just took off from there. Right now I am at the peak of where I need to be. That is thanks to my team, my teammates and my coaching staff. It is March, everyone has to be at their peak, everyone has to bring their A-Game. So this is what we live for: March Madness."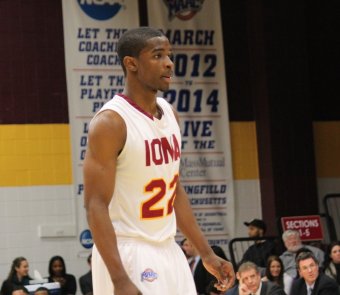 Sophomore Sean Armand is an ambitious individual often looking for opportunities to demonstrate leadership on a team with many upperclassmen. He impressed me last May by attending the press conference when the new Iona Athletic Director Eugene Morison was introduced. Armand is the best three-point shooter on the team making 47 percent of his attempts.
In January against Siena at Madison Square Garden he had a 32 point performance. In the Fairfield home game late in the season when Iona was trailing, Armand asked coach Cluess for the ball and hit consecutive threes that pointed Iona towards a win.
"I worked extremely hard, I expanded my game, just believed in myself," Armand said.
On the call Sunday night, Coach Tim Cluess concluded his remarks by described the team BYU will face.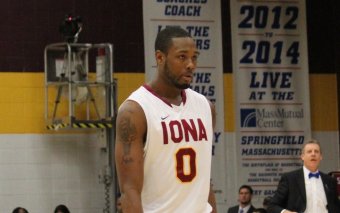 "It is a blue collar team that works really, really hard out on the floor, love to share the ball in the offensive end. We are a gritty group on the defensive end. Think you we will find we are a hard-working group of kids who are going to give it all they have."
Should be a very interesting game at Dayton on Tuesday at 9 p.m. President Barack Obama is expected to attend with the British Prime Minister David Cameron. If you are going to the game, get there an hour early, I know from the Army-Navy game that when the President attends, you need to allow extra time to get through security, even for the media.
My key to look for is if Iona can stay even on rebounding, they are already one of the best teams in the country at scoring and playmaking. The Gaels need forwards Taaj Ridley, Randy Dezouvre and Kyle Smyth to step up and help Mike Glover on the boards.
Ken Kraetzer covers Iona basketball and West Point football for WVOX 1460 AM in New Rochelle, NY and Sons of the American Legion Radio.
His Twitter address is @SAL50NYRadio, or reach him at KGK914@aol.com