March Madness 2012: Everything You Need for a Winning March Madness Bracket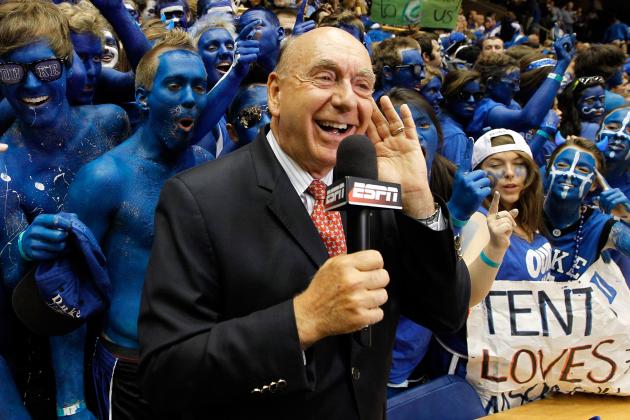 Streeter Lecka/Getty Images

It's March Madness, baby, and everyone who knows anything about college basketball is working on a winning tournament bracket.
There are a lot of options on how to approach a 68-team bracket...or 64, depending on when one finishes up their brackets. Some focus on what team is hot going into the tournament, which worked well for the astute individuals that picked up on Connecticut's late-season surge.
Others go in heavy on a particular conference, which didn't work so well with the Big East the last two years. Nine of their 11 teams were out of the tourney before the Sweet 16 in 2011.
For fans that want to complete a bracket but haven't had 60 hours a week for the last month to stay up to date with the games, here are the Lucky Seven things you'll need to put together a competitive bracket.
Begin Slideshow

»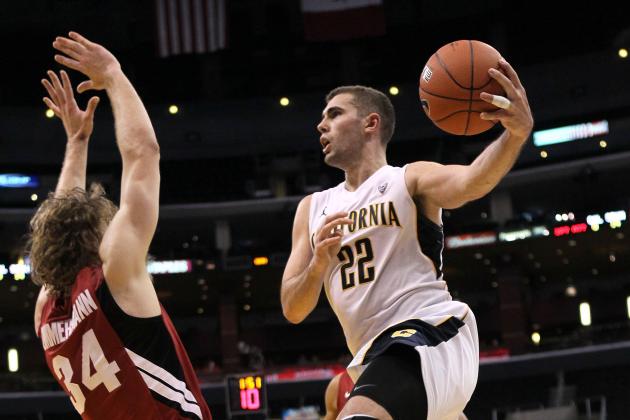 Stephen Dunn/Getty Images
Can the Cal Bears from the disappointing Pac 12 rise to the occasion?
This may seem to favor fans of Texas A&M, but we're not talking about the 12th Man here.
Every year there seems to be a no. 12 seed that makes a deep run in the tournament and blows up a region. To keep from seeing too much red on your chart, take a little extra time and find a no. 12 seed that speaks to you.
Some wonder what is so magical about the 12th seed, but it is just simple odds.
Of all the underdogs, the 12th seed has the easiest run to the Sweet 16. Seeds 14-16 can be eliminated, or at least heavily discounted, as they square off against seeds 1-3 in the first round. Seed nine has the one-seed waiting in the second round, and 10 and 11 have the same issue with seeds two and three.
But the 12-seeds figure to have a four-seed waiting, which is a more manageable matchup.
There is a little more to the mystique of the no. 12, though. These seeds are typically mid-major teams that were automatic qualifiers, but that may not have the established pedigree of a Gonzaga, Davidson or Butler.
There will almost certainly be a 12th seed that makes a run to the Sweet 16 in 2012. Take the time to decide if VCU, Harvard, Long Beach State, Cal or South Florida has what it takes to be the team to advance.
Some might be tempted to lead towards a power conference school here, but Long Beach State could be a trendy pick. They played one of the tougher schedules in the country this season and are battle-tested for the dance.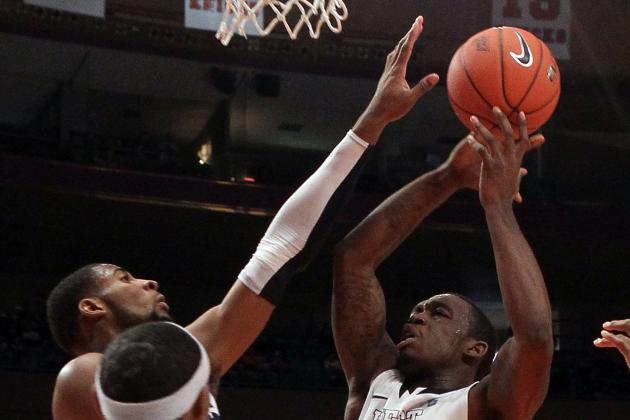 Jim McIsaac/Getty Images

Most years it seems like there is a team that gets a favorable seed. It could be that a late-season hiccup cost them a few points in their seeding, but commonly it is something as simple as being fortunate enough to playing close to home.
One example in 2012 is West Virginia. Their road trip for their opening round game is double-digits in miles.
Meanwhile, Gonzaga has to fly across country for the game, giving the Mountaineers the feel of a home game.
They won't be quite as fortunate if they advance, as Ohio State lurks in round two.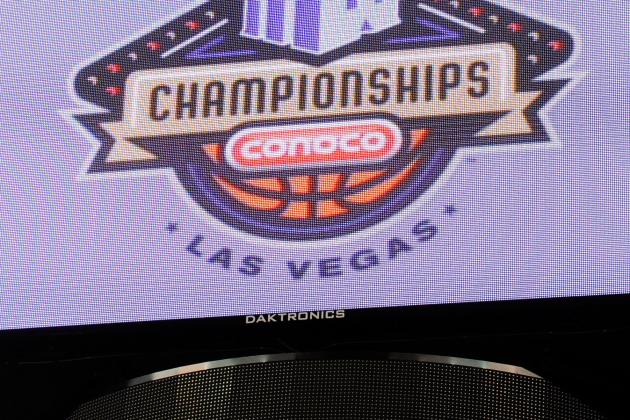 Ethan Miller/Getty Images

While it is easy to throw out the idea of finding that tilted matchup, few of us have the time to search through piles of data on every team. There are professionals that do that, so take a cue from them.
Sports handicappers know more about these games than anyone talking about the games on Sports Center, so use their knowledge for the first-round games. Vegas odds are readily available and can help keep brackets clean headed into the weekend.
They've looked to see what team has that tilted matchup, be it a home-type game or a team with injury issues.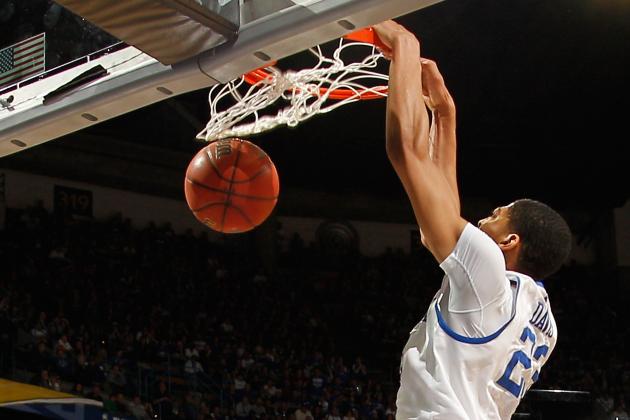 Chris Graythen/Getty Images
Kentucky isn't a slam dunk to reach the championship game.
The caveat here is if one is very good at predicting games in the middle rounds, and feel strongly about one of the top seeds winning it all, then by all means...take the gamble that you'll beat the rest of your office in rounds 1-4.
For everyone else, keep in mind that a large share of the brackets are going to have Kentucky and Syracuse facing off in the title game. If it happens, the winner will be the person that outperformed everyone else in the middle-rounds. One can gamble they'll be that person, but the last slide encourages the exact opposite of this form of luck.
Rather, look for the team you feel can knock one of those teams off and advance that team to the championship.
UPDATE: Syracuse center Fab Melo has been ruled ineligible and will not play in the NCAA tournament. Just one more reason to not pick them, and many will now predict a second-round upset.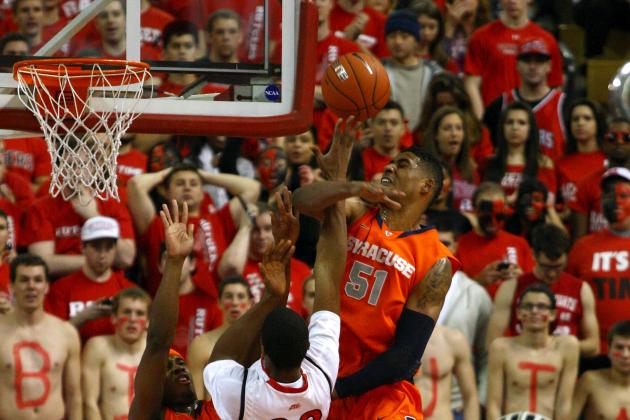 Chris Chambers/Getty Images

One thing to remember is teams generally are playing "road" games in the NCAA tournament. Yes, some teams get to play early-round games closer to home, but a team has to know how to win on the road to make a solid tournament run.
Some teams focus on a tough preseason schedule and go out on the road. Then there are teams like North Carolina State that rely on a tough conference schedule and stay at home for the first two months of the season.
A team can win a game or two in the tournament, but to make a deep run they need to show they can win consistently without the help of their home crowd.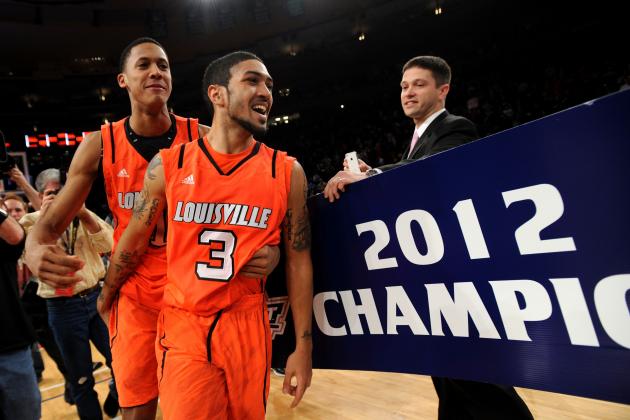 Michael Heiman/Getty Images

Teams that rely on offense to win games can certainly make a solid run in the NCAA tournament, but shooters can get cold.
Teams that force turnovers and can apply pressure in the paint aren't usually reliant on a player having his "A" game each day.
It comes as little surprise that the top five teams in opponent two-point field goal percentage are all in the tournament. Kentucky, Kansas, Connecticut, Louisville and Wisconsin all figure to make some noise in the tournament.
One of last year's surprise contenders, VCU, had a solid defense. They had the most steals per game in 2011/12, averaging 10.7. Others rounding out the Top-10 are Syracuse, Ohio and Louisville.
Only one team, Louisville, is in the Top-10 in both lists. A fourth seed in the West Region, they have a workable path to the Final Four.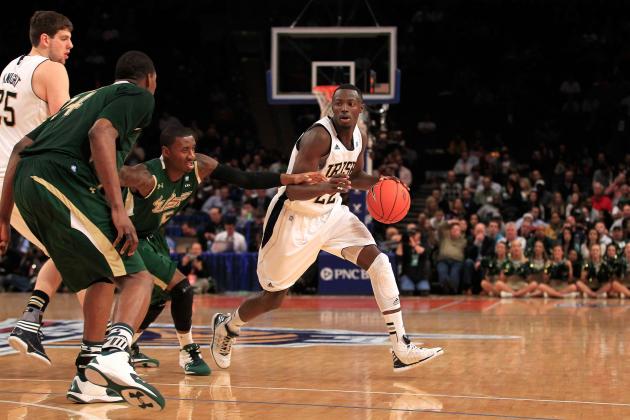 Chris Trotman/Getty Images
And not the luck of the Irish...
This is a tough one to coach, but if a winning NCAA tournament bracket was all about skill the "experts" would all agree and would be cranking out highly-successful brackets.
That just isn't the case, as some of them end up losing to their six-year-old kids and an occasional schnauzer.
There is always a bit of luck with getting to the Final Four and still having a team or two left...let alone having a shot to win it all.
The most important thing...have fun with it.
For your printable bracket for the 2012 NCAA tournament, click here.