Lakers Rumors: Trading for Raymond Felton Is Best Move for Club
March 13, 2012

Ezra Shaw/Getty Images
The Los Angeles Lakers need to make an upgrade at their point guard position at the NBA trade deadline. They can do this by adding Raymond Felton from Portland for swapping only Steve Blake. 
This latest rumor is according to CBS Sports, who reports that the Blazers are looking to ship the disgruntled point guard off before the March 15 trade deadline saying:
It's not clear whether the deal would be a precursor to a second trade for Portland involving disgruntled point guard Raymond Felton. Rival executives believe the Blazers are interested in exploring a swap of Felton to the Lakers for Steve Blake, with L.A. sending another piece to make the salaries match and compensate the Blazers for getting the better player and future cost savings in the deal. The Portland coaching staff and front office are comfortable with Blake, who could provide a calming presence as the team battles through numerous distractions. Coach Nate McMillan appears to be safe for the time being, according to people in contact with Blazers officials.
Currently, Felton is in the midst of career low numbers of 10.3 points and 6.2 assist per game, with a .385 shooting percentage. However, this is an odd year for Felton as over his career he has a .410 shooting percentage and averages 13.4 points and 6.7 assists per game.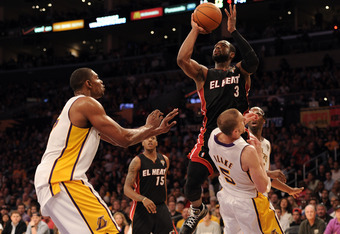 Harry How/Getty Images
If the Lakers would make the swap of Blake for Felton they would be fixing a problem since the current crop of Lakers point guards are struggling to produce (Blake), or are on the last legs of their career (Derek Fisher). 
Blake has seen his numbers decrease over the two full months of this season. In January, Blake averaged 7.3 points per game; however, last month his production dropped to 6.3, and starting out and in March he's averaging only 1.3 points.  
In fact, when it comes to playing the Pacific Division, Blake has a only two points per game, a .278 shooting percentage and just four assists.  
However, those comparisons are for whom Felton would be traded for. While comparing Felton to the current Lakers starter Fisher, Felton's numbers are still light years ahead of his.  
Fisher only averages 5.5 points per game against division opponents, a .409 shooting percentage and 3.3 assists.  
Felton isn't the big flashy name that will jump off of the pages of the sports section of the LA Times. However, he is the smart basketball decision to help fix a huge problem on this current Lakers team. 
He can help run this offense, while providing a solid second option to Kobe Bryant when the Lakers need a basket.