NCAA Bracket 2012: Highlighting the 10 Best Players You've Never Heard Of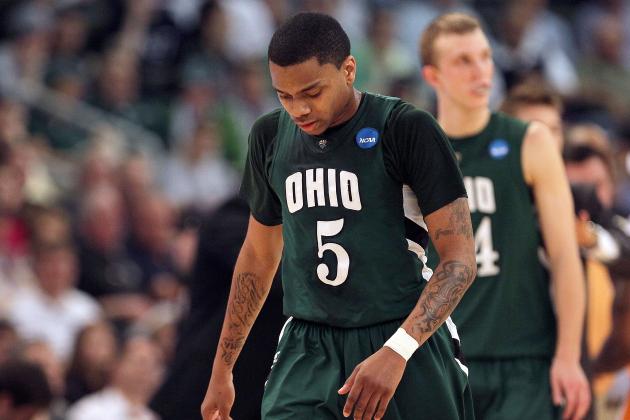 Jim Rogash/Getty Images

The NCAA tournament is exciting and fun and no other sport can match its level of drama.
From upsets to talented teams fulfilling their destiny and legendary coaches getting the most out of yet another group of young men, there is no shortage of possible storylines.
But one of the most enjoyable parts of this event is getting to see top players from smaller schools and conferences present their skills on the biggest stage.
Think of players like Wally Szczerbiak, Eric Maynor and Bryce Drew in the past. This isn't going to be a ranking, but a list comprised of two players from each region.
As always, readers are encouraged to add their own personal choices. Here are 10 players most casual viewers haven't gotten to know yet.
Begin Slideshow

»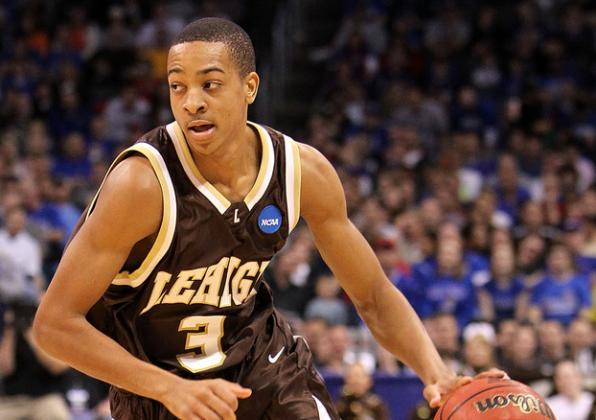 McCollum is a dangerous guard.
Lehigh has a huge test going up against mighty Duke. C.J. McCollum has a small chance to follow in Eric Maynor's footsteps in knocking off the Blue Devils.
McCollum isn't well known, but he dominated in the Patriot League. He averages 21.9 points, 6.5 rebounds, 3.5 assists and 2.6 steals per game. In his last two conference tournament games he put up 25.0 points per game on 56 percent shooting.
He is a quick guard that gets in the lane and puts a lot of pressure on the middle of a defense. On the other end of the floor he gives teams fits with his ability to create turnovers.
McCollum has experience against big programs in the tournament, going for 26 points, seven rebounds and three steals against Kansas as a freshman. He is looking to improve on that performance as a junior.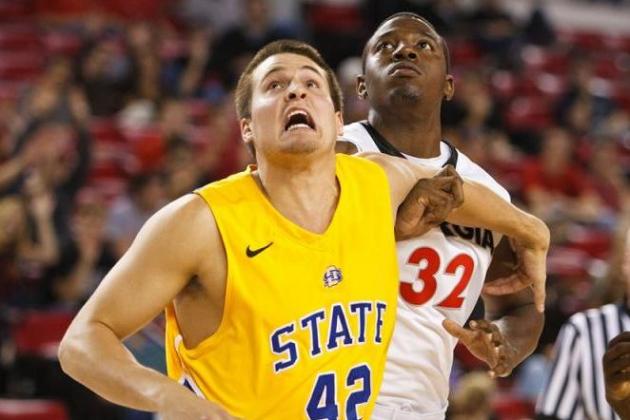 Dykstra is a tough match-up.
Jordan Dykstra isn't even the the most well-known player on his own team. That would go to guard Nate Wolters and his tremendous offensive numbers.
But Dykstra is an extremely important player for the Jackrabbits and he will play a crucial role against Baylor.
For one thing, on the surface, he gives them solid scoring and rebounding, averaging 11.5 points and 5.0 rebounds per game. He shoots 48.6 percent from three-point range as well. The stats are nice, but his true presence will be felt by pulling Baylor's athletic big men away from the basket.
Dykstra's presence will help open lanes to the basket for Wolters. He doesn't score in bunches every night, but he has gone for over 20 points five times over the second half of the season.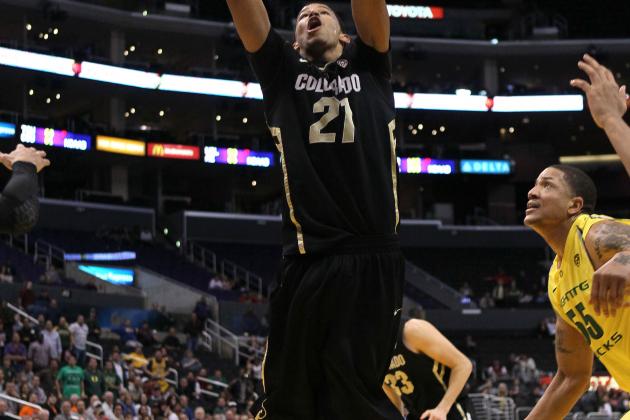 Stephen Dunn/Getty Images
Roberson is one of the nation's best rebounders.
So Colorado isn't exactly a small school and people are aware of the Pac-12. That being said, Andre Roberson is a really good player that doesn't get any recognition.
He averages a double-double as a small forward with 11.6 points and 11.1 rebounds per game. He plays great defense too, averaging 1.9 blocks and 1.2 steals. He scores around the basket and has really improved his ability to shoot from outside.
Roberson is a tremendous athlete that can jump with anyone. He also brings a ton of energy and effort which make him really dangerous on the glass.
His rebounding came into play in Colorado's 63-62 win over Oregon in the Pac-12 tournament. Roberson pulled down an offensive rebound and made a layup with 13 seconds remaining.
Watching him go at it with Mike Moser of UNLV will be a treat.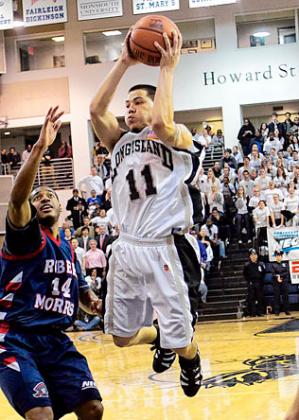 Brickman is a great distributor.
LIU-Brooklyn won't be around for long, but they will be fun to watch while they are.
They play at the second-fastest pace in the nation, led by point guard Jason Brickman. Brickman is the maestro of the Blackbirds' attack averaging 7.3 assists per game for a team scoring 82 points per game.
He doesn't look to score, going for just 9.7 points per game, but he will if he has to. During the Northeast Conference tournament, where LIU earned its bid, Brickman averaged 16.0 points per game and 9.7 assists.
He doesn't always look for his own offense, but he shoots 40.5 percent from beyond the arc. The Blackbirds really have no chance to beat Michigan State, Brickman has a chance to put on an exciting show.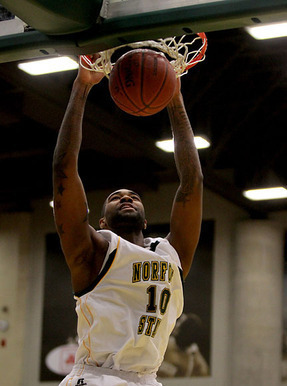 O'Quinn is a beast underneath.
Kyle O'Quinn led Norfolk State to its first-ever NCAA tournament appearance. Going against Missouri, it won't be a long stay. O'Quinn and the Spartans will make the most of the opportunity, though.
In the MEAC, O'Quinn is just an unstoppable force. He averages 15.9 points, 10.4 rebounds and 2.7 blocks per game. He is highly efficient, shooting 58 percent from the field and 70 percent from the line.
He is an intimidating presence defensively, having blocked 191 shots over the past two seasons.
O'Quinn is big, strong and athletic and can give Missouri trouble in the paint on both ends of the floor. It won't be an upset, but it could be an interesting game for a while on O'Quinn's shoulders.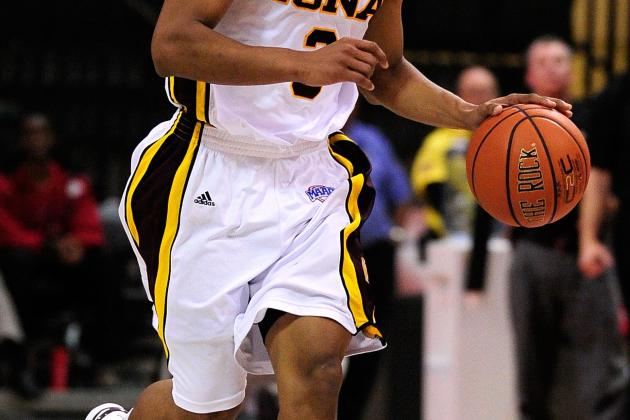 Sam Greenwood/Getty Images
Machado runs his team like no other.
It almost didn't happen, but Iona squeaked into the field and Scott Machado gets his chance to play on the big stage.
Machado is a fast and explosive point guard that runs one of the fastest and most explosive offenses in college basketball. He can do a little bit of everything, scoring 13.6 points, 9.9 assists, 5.0 rebounds and 1.6 steals per game.
He's an efficient scorer, hitting 41.1 percent on threes and 80.8 percent on free throws. His true strength is his ability to run the offense. He is a tremendous passer with great court vision and he makes his teammates better.
Iona may not feel lucky to be in the First Four, but it gives fans the chance to see him for one extra game. Don't miss the opportunity.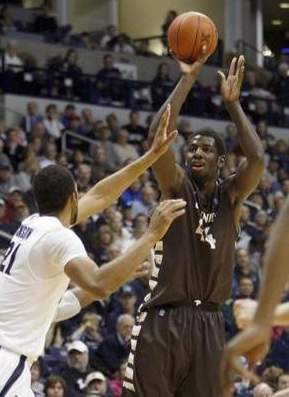 Nicholson can take over a game all on his own.
Even among Atlantic 10 teams, St. Bonaventure is not viewed as a big basketball program. Drew Nicholson is trying to change that all by himself.
He plays a tremendous all-around game, averaging 18.4 points, 8.5 rebounds and 2.0 blocks per game. He is long and incredibly athletic with the ability to get inside and score inside. He's even developed some three-point range, shooting 39.6 percent from beyond the arc.
Nicholson is a ferocious rebounder and defender, evidenced by his 14 rebounds and eight blocked shots against Xavier in the A-10 championship game.
St. Bonaventure has a legitimate chance to knock of Florida State in the first round because Nicholson can dominate on any given night.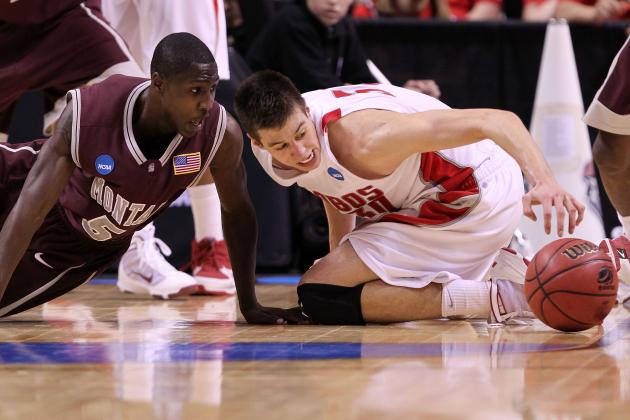 Jed Jacobsohn/Getty Images
Cherry's tough defense will impact the game as much as his offense.
Montana had a huge hill to climb in Weber State to win the Big Sky. Will Cherry's ability to hang with Damian Lillard was a big part of the reason why.
Going up against Jordan Taylor of Wisconsin will be a tough task, but Cherry is up to the challenge. He is a great performer on both ends of the floor.
Offensively he averages 16.0 points per game along with 3.4 assists. Defensively, he gets 2.6 steals per game and he is the Big Sky Defensive Player of the Year.
Cherry will be looked upon to carry the offense and disrupt Wisconsin's. If he can get it going, Montana may get to play a second game.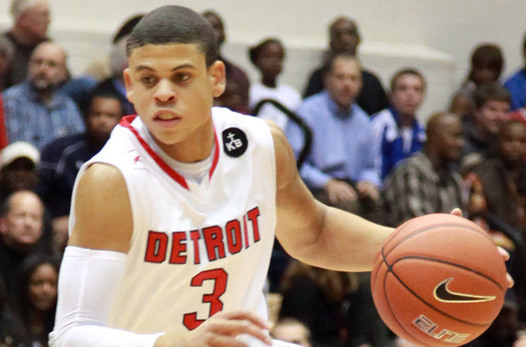 McCallum is a big-time player.
Detroit wasn't even the favorite to win the Horizon League, Ray McCallum made sure it happened.
He took his game to another level in the conference tournament, averaging 23.0 points, 5.3 rebounds, 5.0 assists and 2.7 steals over the final three games. He shot 63.2 percent from the field and 90 percent from the line.
McCallum isn't a big name, but he is a true NBA prospect with explosive athleticism and basketball genes as the coach's son.
He can get to the rim and score, he can distribute and defend. McCallum could be a one man show in the second round against the Jayhawks and he gives them the smallest of chances to see round three.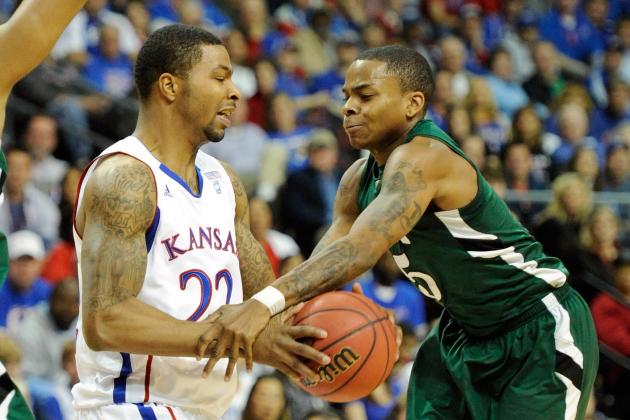 Ethan Miller/Getty Images
Cooper is a pest on defense.
For D.J. Cooper, his matchup with Trey Burke must be a dream come true. He plays in the MAC, getting little national attention.
Now he gets to face off against one of the nation's top freshman. Burke has been huge for Michigan this year, but Cooper has done it at Ohio for three years.
Cooper isn't a great shooter, but he is a scorer and playmaker. In his three years, he has averages of 14.6 points, 6.4 assists, 4.7 rebounds and 2.4 steals per game.
He is as disruptive a force on defense as there is in the tournament and he helps the Bobcats get a lot of easy buckets.
Cooper led an upset of Georgetown as a freshman two years ago and will look to knock off another power at the end of the week.