What Ricky Rubio's Injury Means for the Minnesota Timberwolves
March 12, 2012

Harry How/Getty Images
One of the most exciting rookie seasons in recent history comes to an end with news of Ricky Rubio's ACL injury. And with Rubio out, the Timberwolves, who are currently 1.5 games behind Dallas for the West's eighth spot, may see their postseason dreams slashed. How will the exciting, young team led by Kevin Love respond?
Who Fills in for Rubio?
It's worth noting that much of Minnesota's gains this season have come on the defensive end rather than on offense, where Love and Rubio have shined. Last season, they scored 104.2 points per 100 possessions while allowing 111.1. This season, they've scored 104.5 while allowing only 103.5.
Scoring across the league has decreased from 107.3 to 103.7, though, so their offense has increased more than those numbers suggest while the defensive gains are smaller. Minnesota is winning a lot more with Rubio at the point but, it is hard to quantify how much of that can be attributed to him.
Minnesota's depth at point guard with Luke Ridnour and J.J. Barea makes this loss more manageable than it would be for other teams. Both will see their minutes increase and will play more minutes as point guards instead of playing alongside Rubio.
Both are decent guards, but they are not nearly as capable of setting up open threes and looks at the rim as Rubio, though, they are better individual scorers. Barea and Ridnour are also undersized and will not be able to replicate Rubio's strong defense and rebounding that come from his size and smarts.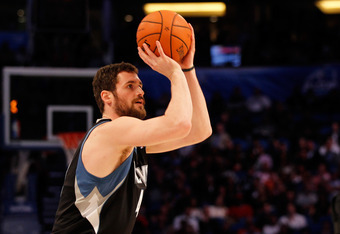 Mike Ehrmann/Getty Images
An encouraging sign for Minnesota is that Love has scored at the same level with Rubio off the floor as on it. In the 399 minutes he's played without Rubio, his usage is only slightly down while his shooting percentages and rebounding numbers are up. Love may have a hard time increasing his production without Rubio but should be able to roughly sustain his extraordinary level of play.
Minutes will unfortunately increase for the Timberwolves' poor true wings for the rest of the season. PER (Player Efficiency Rating) is not a perfect measure, but it gives us a rough idea of how terrible the team's production on the wings has been. They are averaging a PER of 10.2 and 9.6 at the shooting guard and small forward positions, respectively, where 15 is average.
Second-year 24-year-old former fourth overall pick Wesley Johnson has been a major disappointment, scoring only 6.1 points in 21 minutes per game with a dreadful true shooting percentage (taking threes and free throws into consideration) of only 44.6.
Third-year 24-year-old former UNC guard Wayne Ellington has put up similar numbers to Johnson. Both players are largely spot-up shooters and neither has a usage rate above 16 percent on offense.
Eighty-nine percent of Ellington's attempts are jumpers and 69 percent of those are assisted, whereas 85 percent of Johnson's attempts are jumpers and 65 percent are assisted.
Ellington has been a better three-point shooter than Johnson but also rarely assists or gets to the line and has a true shooting percentage of 47.2 despite his limited role in the offense. His PER this season has been an atrocious 6.5 at the shooting guard position.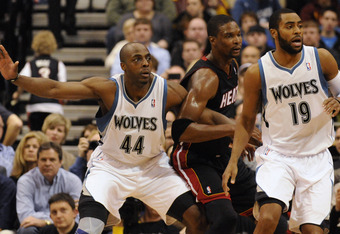 Hannah Foslien/Getty Images
The Wolves' third youngish wing, Martell Webster, has been only slightly more effective, averaging a PER of 9.7 and 12.9 at the shooting guard and small forward positions, respectively. He is a better scorer than Johnson and Ellington with a 53.2 true shooting percentage and a similar usage rate of 15.3, but he assists little and turns the ball over too much.
Trade Possibilities
Can the Wolves add another wing contributor before the March 15th deadline? Before Rubio's injury, there was already talk of trading for the Celtics' Ray Allen and Trail Blazers' Jamal Crawford. Now there is an even greater need for a wing, as they will be forced to play Webster, Ellington and Johnson more.
Another former second overall pick on the Wolves, Michael Beasley, has been increasingly mentioned in trade discussions. The improving play of Derrick Williams has pushed Beasley into a bench role, and his scoring ability makes him attractive to certain teams.
Anthony Tolliver, Anthony Randolph, Ridnour and Ellington have all been mentioned as well, but Ridnour is now needed as a starter and none of the others are likely worth very much.
Beasley's ability to create his own shot may now be more needed for a team that's been so reliant on Rubio.
Wolves GM David Kahn doesn't hold his team's 2012 first-round draft pick and only gets the Jazz's if they make the playoffs, which doesn't look too likely at this point. Hollinger puts their odds at 21.9 percent. That means the Timberwolves can't expect to find perimeter help through the draft. 
Rubio, Williams and Love are signed through 2014-15, with Love having an opt-out clause that summer. Now is not the time to try to fight to lose in the first round of the playoffs if it means giving up valuable assets.
Love, emerging big man Nikola Pekovic and Derrick Williams look like long-term solutions at the 4 and 5 spots, and Rubio looks like he can be a cross between Baron Davis, Jason Kidd and Steve Nash at the point.
If the right trade presents itself, they should try to upgrade along the wing, but only if they can in the way that will allow them to grow as a playoff team over the next few years.