Rodriguez enters the twilight of his career with many milestones in sight. Which will he reach this season?
Al Messerschmidt/Getty Images
March 13, 2012
Brief 2011 Recap
The New York Yankees cruised to the AL East crown by six games, absolving themselves from the last-day drama and solidifying their shot to bring another title to the Bronx.
It wasn't to be, however, as the second-most prolific run-scoring offense in the American League was shut down by the dual Cy Young/MVP winner Justin Verlander and cohorts as the Detroit Tigers dispatched the Bombers in a five-game series.
It was still quite an offensive show in '11 for the Yankees, whose offense combined for a .788 OPS and led the AL in walks, fortifying the notion that the Yankees are a team who work the count and punish mistakes.
The pitching staff was a bit more uneven, as the rotation was so-so but the bullpen was absolutely sensational.
Mariano Rivera was his usual self, but he was somewhat upstaged as upstart reliever David Robertson was downright filthy, posting a 1.08 ERA, 13.5 K/9, and allowed just one long ball over 66.2 innings pitched. 
Brief 2012 Prediction
On paper, this is the best team in the East. However, none of the four teams likely to make noise in the East play on a home surface of paper, so it's going to be a dogfight as usual suspects Yankees, Boston Red Sox and Tampa Bay Rays may well be joined by a pretty good Toronto Blue Jays club to make this the most competitive division in all of baseball.
Most projections seem to have the Yankees coming out on top, but as seen last September, sometimes you just have to let the games play out. 
Projected Starting Lineup
C—Russell Martin
1B—Mark Teixeira
2B—Robinson Cano
3B—Alex Rodriguez
SS—Derek Jeter
LF—Brett Gardner
CF—Curtis Granderson
RF—Nick Swisher
DH—Raul Ibanez
Top Bench Options
C—Francisco Cervelli
IF—Eduardo Nunez
IF—Eric Chavez
OF—Andruw Jones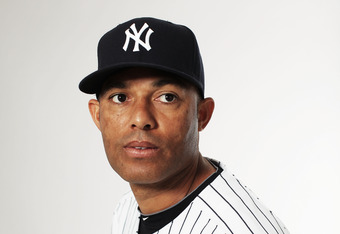 Will it be "exit Sandman" after '12? Rivera expects to decide by the All-Star break.
Nick Laham/Getty Images
Projected Rotation
CC Sabathia
Hiroki Kuroda
Michael Pineda
Ivan Nova
Phil Hughes 
Projected Bullpen
Mariano Rivera
David Robertson
Rafael Soriano
Joba Chamberlain
Freddy Garcia
Boone Logan
Cory Wade 
Top 101 Prospects (According to Kevin Goldstein of Baseball Prospectus)  
SP Manny Banuelos (29th)
C Gary Sanchez (40th)
SP Dellin Betances (63rd)
OF Mason Williams (99th)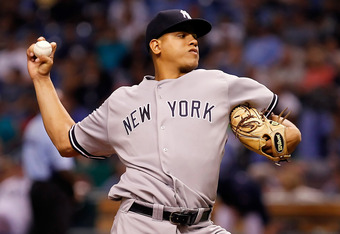 Betances is one of a pair of big-time pitching prospects who may descend upon the Bronx this season.
J. Meric/Getty Images
Why the Yankees Will Contend in '12
Top to bottom, this is the best roster in the East.
The rotation is balanced with some interesting potential and consistent guys at the top, the bullpen will likely be among the AL's best and the offense should likely contend with the Red Sox to be the best in the junior circuit.
Winning 90 games is just short of guaranteed, and even despite a relatively quiet offseason, moves like dealing A.J. Burnett were addition by subtraction.
One possible issue? The Yankees may well regret dealing Jesus Montero by virtue of the TINSTAAPP adage (there is no such thing as a pitching prospect) which Baseball Prospectus coined a number of years ago.
DH is the only real weak link in the lineup, and the platoon should actually fare pretty well (Andruw Jones absolutely destroys lefties). 
Why the Yankees Will Not Contend in '12
It would take a pretty catastrophic turn of events for the Yankees not to be in the thick of it this season.
Mariano Rivera, Alex Rodriguez and Derek Jeter would have to show their ages, Michael Pineda's velocity issues would have to persist and probably still one more bad thing would have to happen—maybe Ivan Nova's lack of strikeouts catch up to him.
The rotation isn't exactly star-studded, but should be consistent enough for the Yankees to be in the mix for the AL East crown.
Final Prediction: First, AL East (Out of Five)
O/U Wins: 92.5
Like the new article format? Send us feedback!