WWE News: Triple H and Shawn Michaels Make the Undertaker Fear DX, What It Means
March 13, 2012

Have we seen the return of Degeneration-X?
Amidst the HBK chants, Shawn Michaels took to the ring in Cleveland.
He had only one thing on his mind when he came out: To settle things with The Undertaker.
What Took Place
The Undertaker entered the ring and circled Michaels. HBK then began the conversation, speaking about the last 20-plus years.
As HBK spoke about current WWE wrestlers calling him a loser behind his back, he told the Undertaker that he "of all people, would have the guts" to say it to his face.
The Undertaker reiterated what Triple H said and then asked him what exactly he wanted him to say.
When the Undertaker told HBK he was insecure, HBK objected. He became defensive and told Taker that Triple H beat him to within an inch of his life last year.
The Undertaker told HBK that he is not going to accept him sticking his ego in the match, claiming that everything that has happened has been destiny.
He told Michaels that if the "outcome isn't pure there will be hell to pay," to which Michaels responded, "I'm the guy that can possibly turn you into a loser, turn you into a failure and show you you couldn't get it done."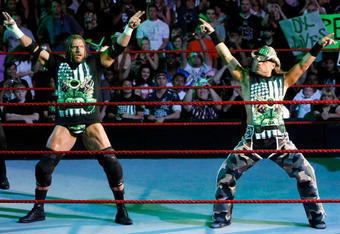 He then told Taker, "I can still be the guy to possibly end 'The Streak.' "
As Michaels began to leave the ring, Undertaker grabbed him and told him he will beat Triple H in the cell and end an era.
The most telling part of the conversation was when the Undertaker told Michaels that he would "officially end" him if he were to interfere.
As Michaels left the ring, Triple H walked out and the both of them exchanged glances before Michaels disappeared backstage.
Triple H had nothing to say to the Undertaker, however before he left he gave the Undertaker the infamous DX crotch chop.
What it means
The tension between HBK and Triple H might have been broken tonight when Triple H gave the Undertaker the DX salute.
Have Triple H and HBK overcome their differences over the last couple weeks or is HBK setting up Triple H only to deceive him?
Are there realistic possibilities that HBK becomes involved in the outcome of the match at WrestleMania? 
And if he does, will the Undertaker really end Michaels?
I don't think that Michaels will do anymore than deliver Sweet Chin Music at WrestleMania, whether it is on the Undertaker, Triple H, or both of them. I do not see the Taker retaliating, at least at WrestleMania 28.
However, what if he does have an altercation with the Taker at WrestleMania?
Would there be a possible return for Michaels to the ring to have a match against the Undertaker or will April 1 really be the "end of an era"?