Yu Darvish, Yoenis Cespedes: An Oakland Athletics, Texas Rangers' Rookie Battle
March 12, 2012

Kevork Djansezian/Getty Images
The Oakland Athletics and Texas Rangers signed two of the biggest international free agents this past offseason—Yoenis Cepedes and Yu Darvish, respectively.
Japanese superstar Yu Darvish signed a 6 year, $60 million contract with Texas after the team posted a $51 million bid for the rights to sign him. Cuban slugger Yoenis Cespedes signed a 4 year, $36 million contract with the A's, a team that is starving for some run production.
Both players arrived in the United States with a huge deal of hype. Cespedes even has a twenty-minute video showcasing his skills, which, if you haven't seen, I recommend for the entertainment value. 
It's safe to say that the two players have not disappointed so far in the short sample we have seen. Darvish pitched two shutout innings in his spring start, while Cespedes hit a home run and singled in another run in his debut.
The question will be which player on these division rivals will end up having the better rookie season. It's interesting to first look at the ballparks Darvish and Cespedes will call home.
Darvish will pitch in the Ballpark in Arlington, a notorious home for free swinging sluggers who take advantage of things like the jet stream that carries routine fly balls over the fence in left field. 
Cespedes will take aim at the Coliseum, a stadium that is also home to the NFL's Oakland Raiders. This ballpark has enough foul territory to give any hitter in baseball a massive headache.
However, I think great players find a way to succeed no matter where they play, so the stadiums shouldn't be a huge excuse as to why these guys don't live up to the hype.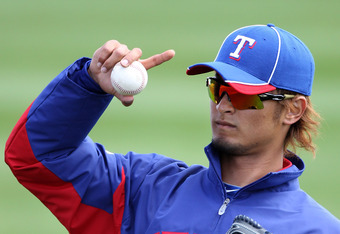 Christian Petersen/Getty Images
My first inclination is to say that Cespedes will have the better season numbers wise. I say this mostly because he is a position player who will take the field every day. Darvish will only pitch once every five days, and the Rangers will probably be careful not to stretch him out too far in his first season. 
The A's will probably put Cespedes in the middle of the order where he can be most productive. He won't have a ton of help around him considering Oakland's best hitter last season, Josh Willingham, now plays for the Twins. Darvish will fit somewhere in the middle of the Rangers' rotation to begin the season where I think his numbers can still be very good. 
As far as the overall value to their teams this season, I think Darvish's potential is higher. The Rangers figure to be contenders for all the big prizes in 2012, while Oakland is rebuilding again.
Darvish may not put up bigger numbers on the mound than Cespedes will at the plate, but I think his value will come more in his ability to help Rangers win in the regular season and the postseason.
An ace in October is invaluable and is something Texas really didn't have when they came up one pitch short last year. Darvish has the potential to fill that void.
That's a lot of pressure considering it's only his first year. 
In the end, I think it comes down to what each person considers a better season. They won't be viewed as regular rookies because of how highly touted they are entering the league.  I expect Cespedes to have bigger numbers, but Darvish will play on a better team with more potential to accomplish big things.
What do you think?