Juan Mata, Iniesta and Iker Casillas: The Castilian Starting XI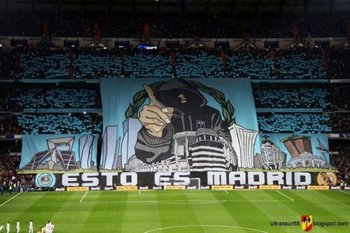 Barcelona has La Masia
Athletic Bilbao its cantera.
Real Madrid has...Los Galacticos?
Real Madrid is known to field some of the best players in the world.
However, not many of those players are actually from Madrid.
Fortunately for the Madrid Community, Real is not the only game in town.
For this article, we'll also include players from the two Castile regions in Spain—most generally considered Castilian.
Here is the best starting 11 for Castile and Madrid.
Keeper: Iker Casillas, Age: 30 (Real Madrid)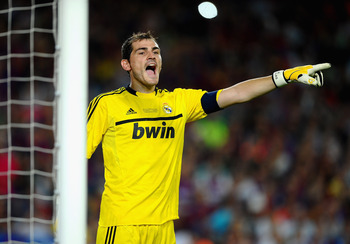 Laurence Griffiths/Getty Images
Affectionately known as St. Iker, Casillas has spent the last 12 seasons at Real Madrid.
He's stamping his claim on Madrid's No. 1 jersey in the grandest of fashions in the 2002 Champions League final.
Iker has gone on to captain Real to three league trophies and Spain's to its first World Cup victory.
Considered by many to be the greatest keeper of his generation, Casillas is still only 30 years old.
That means that Madrid and Spain fans may get to watch this master for at least another five years.
Right Back: Tito, Age: 26 (Rayo Vallecano)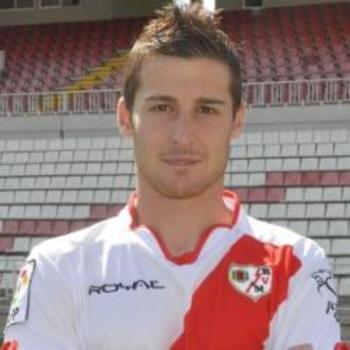 Roberto Triguero is a Madrid native who has spent his entire career in the Spanish capital.
He was relatively unknown outside of Spain until his club met Real Madrid in late February—now famous for Ronaldo's backheel winner.
At that match, Sir Alex Ferguson sent his own brother and chief scout, Martin Ferguson, to watch the young fullback.
It looks like great things are on the horizon for this Madrid native.
Center Back: Álvaro Dominguez, Age: 22 (Atletico Madrid)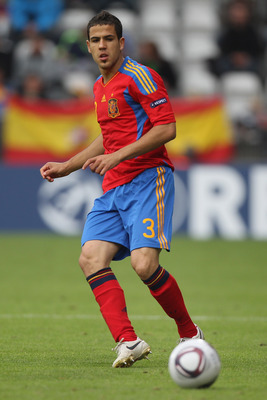 Michael Steele/Getty Images
Dominguez started at Real Madrid's youth academy 12 years ago and is still only 22 years old.
He has been part of Atletico's revitalized defense this season and even won Vicente del Bosque's approval last fall.
He has been linked with a move to Anfield this summer as part of a double swoop with Diego Godin, but Diego Simeone will want to keep the versatile defender in Madrid.
If he stays, Dominguez may partner his former Spanish youth squad partner next season as Atletico will try to bring in Botia from Sporting Gijon.
Center Back: Alberto Botía, Age: 23 (Sporting Gijon)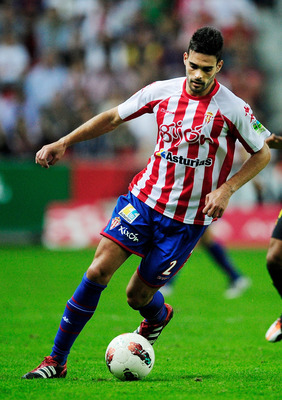 Denis Doyle/Getty Images
Speaking of Botía...
The former La Masia graduate is actually not Castilian, but from Murcia. We'll let this one slide.
Known for his versatility and great positioning, Botia will almost certainly leave Gijon this summer, even if they do avoid relegation.
If Atletico is indeed going to bring the young defender to Madrid, they will face stiff competition.
At least Barcelona will all also be in the running for Botia.
Left Back: Miguel Torres, Age: 26 (Getafe)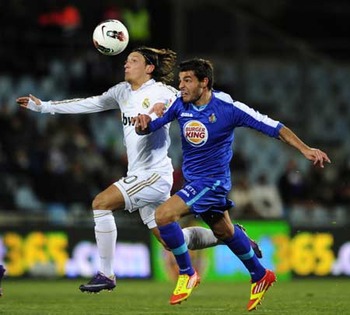 Yet another Real Madrid youth product, at least this one is still in Madrid.
Capable of playing on either flank, Torres was a major part of Real's 2007 title run after the club lost Cannavaro, Cicinho and Salgado to injuries.
Real saw the talent and made sure to build in a buy-back clause when they sold him to neighboring club Getafe.
But with Real failing to exercise that clause last summer, it looks like Torres will remain with Getafe (Team Dubai?).
Central Midfielder: Gabi, Age: 28 (Atletico Madrid)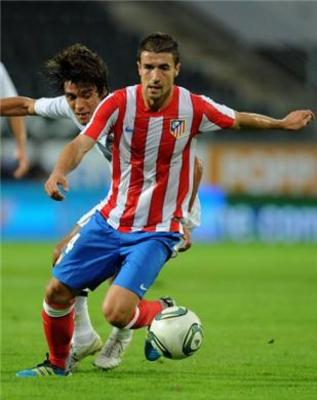 Since returning to his boyhood club from Zaragoza last summer, Gabi has been phenomenal.
He—along with partner and former youth product Mario Suarez—has provided much-needed leadership and creativity to Atletico's midfield.
With Champions League qualification as his goal this season, he may be rewarded with our next player if he can lead his squad into Europe's top tournament.
Central Midfielder: Borja Valero, Age: 27 (Villarreal)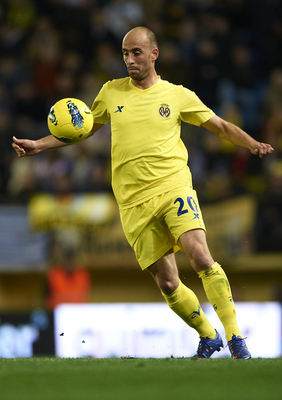 Manuel Queimadelos Alonso/Getty Images
A bit of a journeyman, Borja joins a long list of great Spanish midfielders born at the wrong time.
His inability to get time on the national squad somewhat mirrored his inability to get on the pitch for Real Madrid.
Now, after impressing in England and especially with Villarreal, Valero has gotten the attention of his former club who look eager to bring him back to the Bernabéu.
If Borja gets his wish, though, he will soon be back in Madrid, but with Atletico instead of Real.
Attacking Midfielder: Juan Mata, Age: 23 (Chelsea)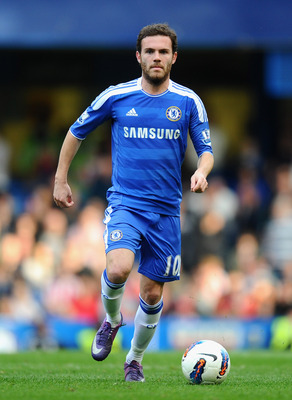 Mike Hewitt/Getty Images
This Castilian broke the hearts of Valencia and La Liga fans alike when he left for Chelsea.
Mata is finally getting his due respect and recognition as one of the world's best playmakers while playing in England.
He was always this talented, but playing for Valencia kept many fans from seeing and appreciating just how great he is—namely those who only watch the Premier League.
Now, as the creative leader at Chelsea, he is rightly being recognized as one of Europe's elite.
Chelsea will be this summer's Arsenal of last year by selling a number of their players, but Mata will surely not be one of them.
Attacking Midfielder: Andrés Iniesta, Age: 27 (Barcelona)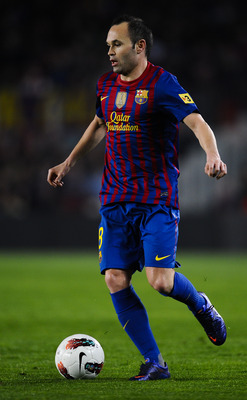 David Ramos/Getty Images
Oh the irony...
While Real Madrid is unable to produce a single player for this list, one of Barcelona's own maestros makes it.
I get uncomfortable with just the idea of having Iniesta playing against Xavi, but that's what would happen if the Castilians faced the Catalans.
Dubbed by Pep Guardiola as the man destined to retire both Pep and Xavi, Iniesta's game-winning goal gave Spain their first World Cup in history.
El Ilusionista. El Cerebro.
Whatever you want to call him, Andrés Iniesta has made his mark on football.
Striker: Raúl, Age: 34 (Schalke)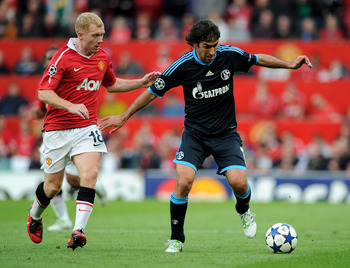 Michael Regan/Getty Images
A legend for Real Madrid and Spain, Raúl spent almost two decades at the club before moving to Germany.
He is Real's all-time leader in goal-scoring and has three Champions League trophies to his name. He is also the all-time leading scorer in Champions League history with 71 goals.
The former Spain captain also scored in three consecutive World Cups from 1998 to 2006.
Raúl is one of the best players never to win the Ballon d'Or, but that will not stop him from being remembered as one of greatest goal scorers in history.
Striker: Negredo, Age: 26 (Sevilla)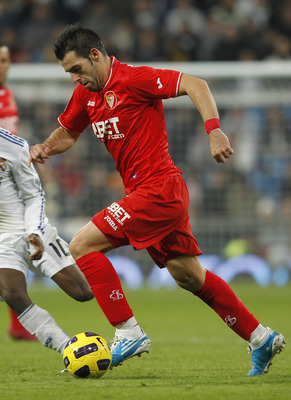 Angel Martinez/Getty Images
Still only 26 years old, Negredo has been one of Spain's most prolific strikers for more than half a decade.
He started at Real Madrid before moving on to Almería and later Sevilla.
Since joining the Andalusian side permanently, Negredo has attracted clubs in England and throughout Europe.
He has also been tipped as one of the favorites to replace Fernando Torres as a striker in the Euros this summer.
Honorable Mentions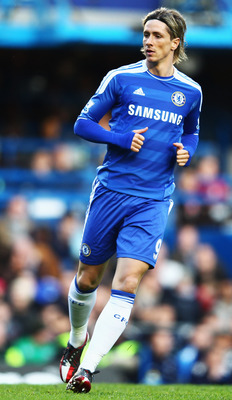 Clive Mason/Getty Images
Fernando Torres, Age: 27 (Chelsea)
El Niño's story has been well-publicized. If this team were made just three years ago, Torres would surely have earned a starting spot.
Unfortunately, the former Atletico Madrid superstar is merely a shell of his former self and may never reach his former heights.
Perhaps a change of scenery would help.
Esteban Granero, Age: 24 (Real Madrid)
Malaga was reportedly closing in on 'the Pirate' before an injury to Sami Khedira forced the 24-year-old into action.
Atletico Madrid, Arsenal and Liverpool are all aiming to nab the player from Real.
Álvaro Arbeloa, Age: 29 (Real Madrid)
Definitely worthy of such a list, Arbeloa is absent because he is no longer a first-choice player when Real is at full health. Plus, these other players need a little attention.
Coach: Vicente Del Bosque, Age: 61 (Spain)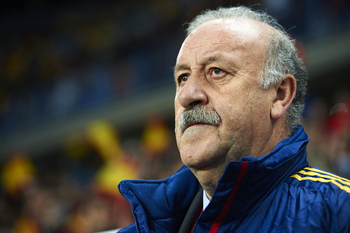 Manuel Queimadelos Alonso/Getty Images
The current coach of the national team and former manager of Real Madrid will head this squad.
Del Bosque will make no apologies for choosing to lead his fellow Castilians against the best that Spain's autonomous regions can put forth.
Pitting himself against Pep Guardiola and Unai Emery would surely provide some fantastic matchups!
Formation: 4-2-2-2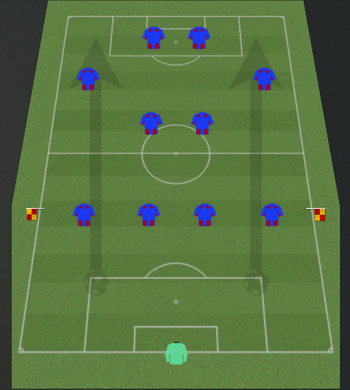 The Castilians will use the 4-2-2-2.
Casillas
Tito--Alvaro--Botia--Torres
Gabi Valero
Iniesta Mata
Raul Negredo
Conclusion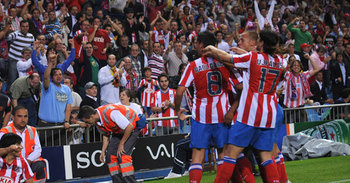 With part three of four now complete, how do you think the Castilians would fair against Spain's autonomous regions?
See Pep's Catalan starting XI
Emery's Basque Starting XI
Check back tomorrow for the best that the "rest" of Spain has to offer.
Thanks for reading and feel free to comment below!
Keep Reading

FC Barcelona: Like this team?