Georgia Football: CB Position in Dire Straits After Branden Smith Arrest
March 12, 2012

Georgia fans received good news (via the Atlanta Journal-Constitution) on Monday morning with the report that Mark Richt and Todd Grantham have received contract extensions through 2016 and 2014, respectively. 
This news assured continued solidarity and hopes of a national championship run in Georgia's near future, implicated by drastic improvement on defense and continued recruiting success.
But, there was some frustrating news to sway the mood as well.
According to the Atlanta Journal-Constitution, returning senior and projected starter Branden Smith was arrested late last night in Alabama for possession of marijuana. Cops found the bag of green under a car seat while conducting an inspection during a traffic stop.
Smith's arrest reportedly will warrant at least a two-game suspension by head coach Mark Richt, which would cause Smith to miss the season opener against Buffalo and the SEC opener in Columbia, MO.
While this news may not sound too bad in a vacuum, Georgia's cornerback position is now completely depleted.
Sanders Commings, another returning senior, was arrested in the spring offseason as well on a battery charge. Richt has already confirmed that Commings will miss the first two games of the year as well.
Not only are the Bulldogs' two most important cornerbacks now slated to miss time, but the depth had already been completely wiped out before these arrests occured.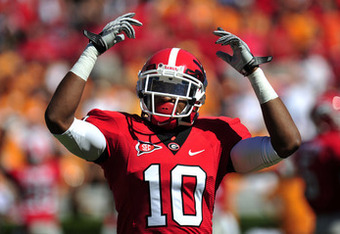 Jordan Love, who saw considerable playing time in the past two years, left the team at the conclusion of the season to find more playing time. At that point, Love was considered one of the least talented in a corps of talented defensive backs.
Chris Sanders and Nick Marshall, who both arrived at Georgia as part of the "Dream Team," were dismissed several weeks ago for violating undisclosed rules.
All of this news comes in the wake of the departure of Paul Hornung Award winner Brandon Boykin, who, in his respect, represented the team with pure class for four straight years in the Red and Black.
So, as of now, with spring practice just days away, Damian Swann is Georgia's lone cornerback with big-time potential.
Swann, an incoming sophomore for the fall, was one of Georgia's prized recruits from the "Dream Team" class. He's a guy who should be able to step in and hold down the Bulldog secondary.
But Georgia's depth is so thin on the other side that All-SEC freshman Malcolm Mitchell has been confirmed to work exclusively as a cornerback for Todd Grantham in the spring.
Mitchell finished the 2011 year with 650 receiving yards on 45 catches and four touchdowns in just 11 games played (nine starts).
Georgia's receiving corps is deep with talent, returning Tavarres King, Michael Bennett, Marlon Brown, Chris Conley and Rantavious Wooten.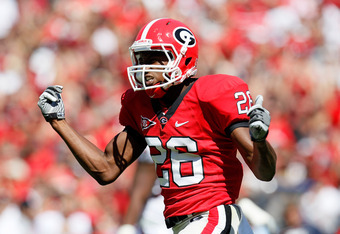 Kevin C. Cox/Getty Images
This development is not to say that Mitchell will be Georgia's starting cornerback in 2012, as Smith and Commings will undoubtedly return for the bulk of the season.
But Georgia's prospects of struggling against James Franklin and the Missouri Tigers' spread offense in a blockbuster SEC opener has increased considerably.
Currently, the other defensive backs who could fill voids are Devin Bowman, Quintavious Harrow, Luis Capella, Blake Sailors and possibly safety Corey Moore.
Because of apparent depth at the defensive back positions, Georgia received just one defensive back recruit in its entire 2012 class.
Sheldon Dawson, an "athlete" from Memphis, TN, is ranked the 69th cornerback in the country by ESPN's scouting services.
Nevertheless, Mark Richt should be focusing on finding defensive back depth for the next recruiting class. He's already gotten off to a pretty good start, as the number one defensive back in the nation, Shaq Wiggins, is already committed to play in Athens.
It will be interesting to see how Mitchell develops at the cornerback position this spring. Mitchell was recruiting to Georgia to play cornerback, but he was wooed to the offensive side of the ball by quarterback Aaron Murray and others.
If there is a silver lining within all of this news, Smith and Commings had both been quiet, respectable, and well behaved for the entirety of their careers. Expect the two-game suspensions to hold up.
As long as Georgia can get past Missouri on September 8th, it should be just fine, but coaches need to be extremely ginger with defensive backs during the spring.
Injuries could absolutely crumble this team's secondary to ruins. 
Georgia's secondary of Smith, Commings, Shawn Williams and All-American Bacarri Rambo has been tabbed by most pundits to be one of the best, if not the best in the entire country next year.