NCAA Bracket 2012: Players to Watch in Tonight's Opening Round
March 13, 2012

Ethan Miller/Getty Images
While the first round of the NCAA tournament won't feature the flashiest teams that will hit the Big Dance, the four competitors in tonight's matchup are nonetheless worth watching.
While it is just a battle between 16 seeds in Mississippi Valley State vs. Western Kentucky and No. 14 seeds in BYU vs. Iona, these four teams will still be worth watching tonight.
The reason? There are some studs that will light it up on the floor, and there may well be performances you don't want to miss.
No. 16 Mississippi Valley State: Center Paul Crosby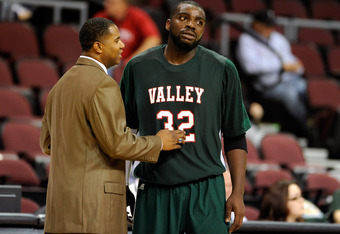 Ethan Miller/Getty Images
For the Delta Devils this season, Paul Crosby has been a beast down low. He is averaging 13.6 points per game, while also grabbing 7.4 rebounds per night.
At 6'8", he is definitely playing undersized for the center position, but he stands to be the tallest player on the team.
Despite the team grabbing a win their conference title game, Crosby only scored six points on four attempts. While he did play much less time than usual, it will be important for to be the man with the ball for most of their game against Western Kentucky.
No. 16 Western Kentucky: Guard Derrick Gordon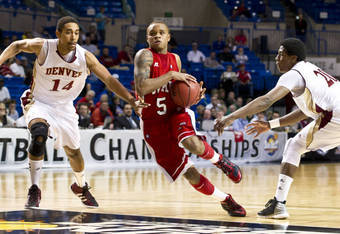 As a freshman this season, Derrick Gordon has taken over the Hilltoppers. He leads the team in scoring and rebounding with 11.8 PPG and 6.7 RPG, and is also second in assists with 2.1 per game. He only sits behind Jamal Cook, who is dishing out 2.7 per night.
Gordon is the one-stop shop for Western Kentucky, and he will likely be looked upon to do most of the heavy lifting yet again against the Delta Devils.
The 6'2" guard had an impressive game on March 4 against Arkansas Little Rock, where he went off for 25 points and 15 rebounds. If he can do anything like that against MVSU, the team will have a real shot at the Kentucky Wildcats in Round 2.
No. 14 BYU: Forward Brandon Davies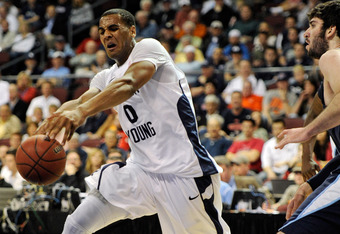 Ethan Miller/Getty Images
After missing last year's tournament due to being suspended for breaking one of BYU's rules, Brandon Davies is back this season and ready to help elevate the Cougars. This time, they will be without star scorer Jimmer Fredette, but Davies can get a lot done on his own.
This season, he is averaging 15 points a night while also grabbing 7.3 boards. He has also been getting involved in the passing game, averaging just over two assist a night.
Davies will be an incredibly important piece for the Cougars to get past Iona, but he should be able to put in a great performance given his opportunity to finally represent his team in the tournament.
No. 14 Iona: Forward Mike Glover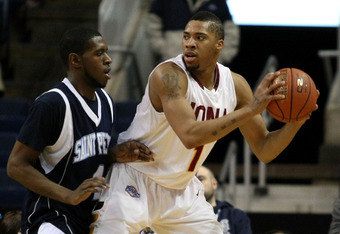 Chris Chambers/Getty Images
While they didn't have the toughest competition this past season, Gaels forward Mike Glover was lighting it up each night this season.
He has averaged 18.5 PPG, as well as nine rebounds a night. The 6'7" forward will most definitely be matched up with BYU's Davies, so it will be interesting to see who will prevail in that battle.
In the Gaels last win, Glover scored 29 points while having seven boards, three assist and two steals against the Marist Red Foxes.
If he can do anything like that against BYU, well then the Gaels just may have a real shot at taking this game.
Still need a bracket? Get one right here!
Jeff Chase is a Featured Columnist for the Chicago Cubs and Arizona State football.
Follow @Real_Jeff_Chase