Ohio State Football: Bold Predictions for Urban Meyer's First Season
March 12, 2012
Jamie Sabau/Getty Images
The Ohio State Buckeyes' 2011 season seemed almost meaningless following Jim Tressel's turbulent departure. Interim head coach Luke Fickell could not bring the same intensity as the red vest, and nobody expected him to. 
After a dismal 6-6 2011 regular season, Urban Meyer was hired to restore Tressel's legacy.
Since his hiring, there is once again a reason to be excited about the Buckeye's future. And why not? Meyer has one of the best winning percentages in college football history.
Meyer is best known for coaching the one and only Tim Tebow while at Florida. He created an offense that played to the strengths of his raw, but athletic quarterback. The result was two BCS National Championships and a Heisman trophy. Not bad at all.
With this in mind, Ohio State fans cannot wait to see what Meyer can do with sophomore quarterback Braxton Miller.
As a true freshman, Miller threw for 13 touchdowns and four interceptions. He also gained 715 yards and four touchdowns on the ground. 
Miller is seemingly the same raw but incredibly athletic quarterback Meyer had in Tebow. The fact that Miller saw more playing time as a freshman also bids well for Ohio State.
However, those who think Meyer will be able to turn the Buckeyes' offense into an SEC-like attack next season are wrong. Miller has the talent, but not the supporting cast to put up great numbers next season.
Meyer was known for balancing the QB-option run game with a consistent passing attack. Tebow was asked the throw the ball 350 times in his first season as a starter. In comparison, Ohio State only threw the ball 245 times in 2011.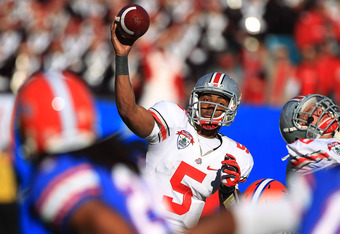 Scott Halleran/Getty Images
Not only is Miller not used to airing the ball out, but he does not have any proven receivers to help him in the passing game. Corey Brown and Devin Smith, the Buckeyes' top receivers next season, caught 14 passes each for a combined 499 yards and five touchdowns. 
For this reason, Miller will not live up to the hype next year. He will be better than last season, but will look lost at times trying to commandeer Meyer's offense without the proper weapons on the outside.
On defense, the Buckeyes' success will be determined by their pass rush.
John Simon (DT/DE) led the team with seven sacks last season. Meyer needs one of his unproven defensive linemen to step up next season to complement Simon's strong push. If they can't find anyone else to get to the quarterback, the Buckeye's defense will get picked apart.
Ohio State is ineligible to play for a Big Ten title or a bowl game due to sanctions served during Tressel's tenure.
This means the Buckeyes' motivation will be to represent their school and Meyer's reputation. While this seems like a worthy cause, it will not spurn them to completely transform into contenders next season.
Considering their lack of playmakers surrounding Miller and their inexperienced defensive line, Ohio State will be lucky to win nine games in Meyer's first season as a Buckeye.