5 Reasons the Michigan State Spartans Are Final Four Locks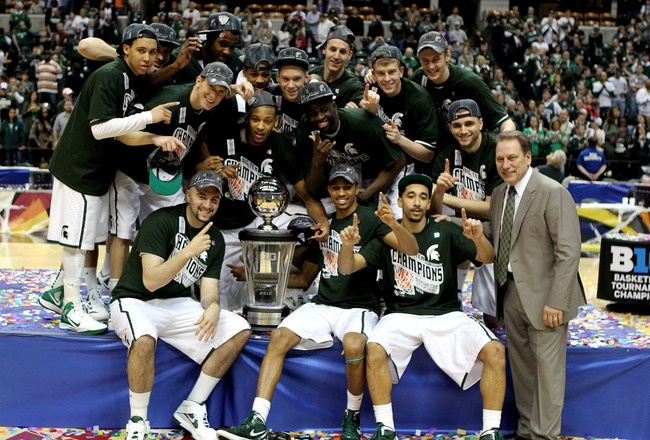 Andy Lyons/Getty Images
So, how's your bracket looking?
Are you the person that loads up on the upset special? Is your bracket covered in chalk with no upsets at all?
Well, behind all the eraser marks and scribbled out teams, you can guarantee yourself one thing: You will have some regrets on that sheet of paper this month. The odds of giving yourself a perfect bracket are one in 9.2 quintillion, and yes, that is a real number that looks like a '9' and a '2' followed by 17 zeros. In other words, you're not going to submit the holy grail of sports gambling with a perfect bracket.
But what you can do is enhance your bracket by picking the Michigan State Spartans to head to the Final Four in New Orleans. It's a borderline guarantee, and if Rasheed Wallace was around, I'm sure he would say it is "guaranSHEED." I mean come on, Tom Izzo knows Final Fours on a first name basis.
So there you have it, that is a lock for this year's bracket, but I don't expect that all of you are convinced yet. To help convince you to pencil in "MSU" in your Final Four, there are five solid reasons to push you on top of your bracket pool this year.
1. Tom "I'm Running out of Room for These Banners" Izzo Is the Coach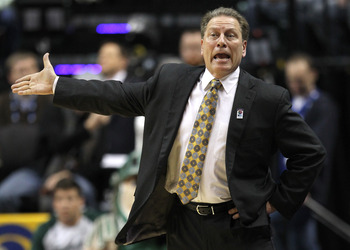 Andy Lyons/Getty Images
Yes, ladies and gentlemen, Tom Izzo is still manning the bench at Michigan State.
Yes, the same Tom Izzo that has led his Spartans to six Final Fours in 12 years. Yes, the same Tom Izzo that has never graduated a class without sending them to the Final Four. And yes, you will be in trouble if you see yourself in the same region as Mr. Izzo.
Bottom line is that Tom Izzo knows how to bring his teams are glory. Before the season this team came in unranked with a big question mark above their head, and now they are standing near the top of the mountain. If he can bring the unranked Spartans to a one seed, what can stop him from making them a championship squad?
Having Tom Izzo on the bench is enough reason to think Michigan State can make it to New Orleans. No coach does it better in today's game, and there is no denying that.
2. Draymond Green Can Carry the Team on His Back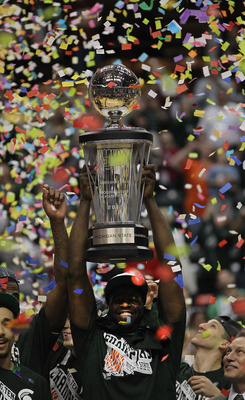 Jonathan Daniel/Getty Images
Without a doubt, Draymond Green can carry his 3135 pound team on his back. It may be a little sore by the time the tournament is all set and done, but this Big Ten Player of the Year can do it.
Green has already had a decorated career that includes three Big Ten titles, two Final Fours, and one national championship appearance. There is only one more accolade that the hungry senior has his eyes set on, and that is the whole enchilada. Green's leadership is arguably the best in the nation, and he will assure Spartan Nation nothing will get between him and the title. Green is such a leader that some say he should be on payroll as an assistant coach. Heck, Tom Izzo wouldn't argue against that.
"If they want to say Draymond coaches the team, I'm cool with that," Izzo said. "Draymond is a modern-day leader. He's got all the intangibles."
Not only does he have the leadership to run the team, but he also has the talent too. Draymond can run any position on the court, giving him the busiest resume in basketball since Larry Brown. Averaging over 16 points 10 rebounds and three assists a game makes Green one of the nations best players, and those stats also come from the best conference in the nation.
If there is any doubt that Green can't take the Spartans under his wing and into the Final Four you could be horribly mistaken. This player is the real deal.
3. Even When Draymond's Back Gives Out, the Team Can Still Carry on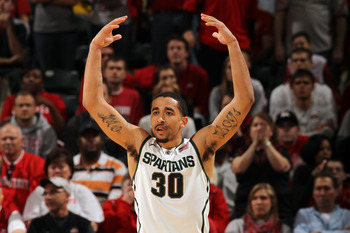 Jonathan Daniel/Getty Images
As good as Draymond Green is, sometimes he isn't as good as he wants to be. On Sunday's Big Ten tournament title game against Ohio State Green shot 4-15 from the field, even admitting himself that he played "awful."
What that game showed though was a whole lot of promise for Spartan Nation. Even with Green having an off night and Keith Appling having a rough game as well, it seemed as if the Spartans only chances of winning were erased. In the beginning of the season those two having a poor outing would have been enough to wave the white flag, but yesterday proved that the supporting cast that the Spartans have is good enough to pick up the slack and earn a win.
Brandon Wood played as if he has ice water running through his veins and put up a strong 21 points. Austin Thornton, who has been rapidly improving as the year goes on, gave Michigan State eight points and iced the game with a late free throw. They not only did this to win the Big Ten Tournament, but they also stepped up against one of the best teams in the nation in the Ohio State Buckeyes.
Having Green and Appling on their game could be lethal, but if last Sunday just comes to show that the rest of the team can come up in the clutch and win the Spartans some huge games.
4. Wait, Don't Forget About the Post Game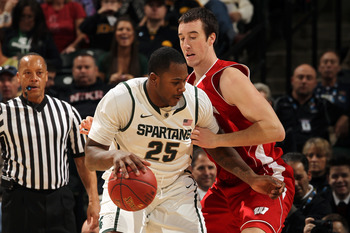 Jonathan Daniel/Getty Images
Ha! Like anyone can leave Derrick Nix and Adreian Payne out when talking about the green and white's Final Four chances.
The two alone turned Jared Sullinger into a mediocre player in all three meetings against the Buckeyes this season. They scored on him, played in-your-shorts defense, and had him looking like he was about cry on a few occasions.
The unique thing about the duo is that they are two completely different players.
Payne can beat you with his length, Nix can beat you with his width.
Payne can stop you with his hands on defense, Nix will make you look stupid with his footwork on offense.
Payne can drive it in and throw an atomic bomb through the rim, Nix battles in the post until he gets his open look.
Any way you slice it and dice it, you will be getting two players that are capable of containing some of the best players in the nation. Most experts say that you can't win the tournament without having a strong back-court, but you certainly can't hurt yourself with a solid front court either.
5. No Disrespect, but This Is the Most Winnable Region in the Tourney
Jonathan Daniel/Getty Images
In now way is this an easy region, but it is the most winnable amongst all the one seeds.
On Michigan State's path to the elite eight, their biggest challenges will be the Memphis Tigers and the Louisville Cardinals, granted they both advance. Memphis will put up a good fight against the Spartans since they are on a hot streak, but if you look at their results you will see that they lose nearly every close game they are in. Seven out of their eight losses have been two possession games, and only two of their wins have been won by similar margins.
If the Spartans pass that test then they will presumably face the Louisville Cardinals or the New Mexico Lobos. The Cardinals have been playing inconsistent ball all year, so teams can never expect what Rick Pitino team will walk out on the floor. If the Lobos advance to play the Spartans, it might be the same deal; inconsistent, but riding a hot streak at the end of the year.
On the bottom of the bracket the number two Mizzou Tigers will be in a dog fight with potential match ups with Marquette, Murray State and even Florida can give them an early test.
Obviously there is no telling what the script will read for this tournament, but the west region just might be the most winnable bracket for the Spartans.
Keep Reading

Michigan State Basketball: Like this team?