Manchester United, Paul Pogba and Ravel Morrison: In Sir Alex We Trust
March 12, 2012

Last week, Manchester United hot prospect Paul Pogba allegedly sealed a move away from Old Trafford, raising a few eyebrows among the United support who felt that his potential was massive.
Of course, he wasn't the first prospect to make a move this season. Talented youngster Ravel Morrison left United for the pastures anew of East London to join Championship side West Ham just a over a month ago.
The question on the lips of many fans is: Why is Sir Alex Ferguson happy to let promising youngsters already at the club leave, yet spend millions bringing in others from EPL rivals?
Let me first mention an ethos which the club and its fans have upheld for many years: No player is bigger than the club. The biggest instance of this is of course David Beckham, a player who (like the fans) probably thought he was going to end his career at United.
Ferguson was always convinced that Beckham's marriage to former Spice Girl Victoria Adams changed him as a person and took a lot of his focus off of his football and onto his new celebrity lifestyle. The breakdown in Fergie and Becks' relationship came to a head in February 2003 when Ferguson allegedly threw or kicked a boot at Beckham's head, causing a cut needing stitches. Just a few months later, "Golden Balls" made a big-money switch to the Galacticos of Real Madrid.
Sir Alex tends to look for a few key attributes in the young players who he plays: professionalism, loyalty and work ethic. Coincidentally, those are three things which you would use to describe United's most successful player, Ryan Giggs.
Could Morrison and Pogba learn a lot from Giggs? I'm not just referring to the football side of things there, I'm also thinking about the mental side of the game. Giggs has had an incredibly fruitful career at Old Trafford, yet you have not seen him demanding to play every week or heard of him requesting excessive wages.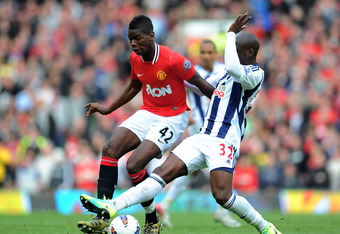 Michael Regan/Getty Images
Here's a lesson for Morrison and Pogba for free: A good attitude to your club and the game will get you a long way—being an arrogant teenager isn't very becoming at all. Manchester United are a club that prides itself on players who are proud to wear the Red Devil on their chest, not selfish boys who are out for themselves.
Take a look at players like Danny Welbeck and Tom Cleverley, who are 21 and 22, respectively. They didn't spend their younger days complaining at the lack of first team opportunities or about their salaries.
They were out at other clubs learning more about their trade. Between them, they have represented five different clubs while out on loan.
Look at them now. Welbeck has become a regular member of the Manchester United starting XI, and Cleverley is held in very high regard amongst the United support. These players have just started making their name in EPL football and are two players that are proud to pull on a red shirt.
Sir Alex took a risk in signing Ravel Morrison, who, in layman's terms, is a criminal. Morrison has had several "brushes" with the law, including arrests for assault, witness intimidation and beating up his girlfriend.
Oh, and I haven't yet mentioned that he assaulted his own mother when he was 15. Nice guy, huh?
It allegedly got to a point in the United camp where coaches would refuse to work with Morrison, because he was pretty much a disrespectful moron who wouldn't turn up to training every week. While he may have bemoaned the lack of first-team football, Fergie did give him the opportunity to earn it.
All Morrison had to do was turn up for training consistently for a couple of months, which should not have been a problem for someone who calls them self a professional footballer. But it was.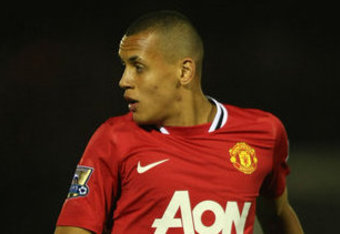 How can you demand wages around £30,000 a week and not turn up to training? I get paid £17,000 a year, and think it's a little more than common courtesy to actually turn up to work to earn the money that I'm being paid.
Aside from all of this, Morrison enjoys the odd delve into social media. Just a couple of weeks into his West Ham career, he was fined £7,000 by the FA for making homophobic remarks on Twitter. I'm personally happy that a Joey Barton wannabe has left the club.
A friend of mine drew a (potentially) excellent parallel of Morrison to QPR's Adel Taarabt. Taarabt spent his early years in the EPL at Tottenham and was touted as the next Zinedine Zidane (in a similar way that Morrison was compared to the likes of George Best and Ryan Giggs). Taarabt didn't get a lot of playing time at Spurs and was genuinely known as being a bit of a loudmouth—including him saying that he'd rather have signed for Arsenal than Spurs.
Of course, when he moved to QPR, Taarabt become one of the best players in the Championship, much like Morrison could be at West Ham. However, since QPR's promotion to the top tier, Taarabt hasn't been half as effective in the EPL as he was in the Championship.
Could we see a similar future for Ravel Morrison?
Moving onto Pogba, who has been compared to Patrick Vieira, one of the EPL's best central midfielders. In my opinion, he was a great mix of technique and physique, but like Morrison, a terrible attitude condemned Pogba's United career.
Pogba's original move to United was one shrouded in controversy. His previous club Le Harve suggested that United had acquired the player unlawfully and that the player's family had pushed the move through thanks to a lump sum from the Red Devils. These claims were later retracted and the transfer was deemed "normal procedure."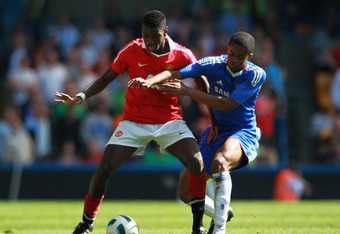 Dean Mouhtaropoulos/Getty Images
While his current transfer saga involving Juventus is a confusing one, it is believed that he has secured a £20,000 per week contract with the Italian side, and the case will go to tribunal to decide upon the sum that United will receive.
While Ferguson tried a little harder to keep Pogba than he did Morrison, he has not given into excessive wage demands or agent fees. If there's one thing we've learned from Ferguson, it's that he won't be held to ransom.
Some fans may claim that it isn't just about the money, it's about him getting first-team football. But are Juve going to drop players like Andrea Pirlo, Arturo Vidal and Claudio Marchisio to satisfy Pogba's craving for first-team football? No, they aren't, and this transfer just represents an increase in the amount that he will be paid for benchwarming elsewhere.
I won't question for a second that Pogba's talent and potential are phenomenal, but with a poor attitude to a club that has taught you a lot, you will not win many supporters. I reiterate Ryan Giggs' commitment to the club that has paved his illustrious career.
When discussing this sort of issue with other United followers, I always bring up the case of Carlos Tevez. When his loan at United finished, there was an option that United could pay £25.5 million for him and make him the club's top earner in the process. Ferguson didn't cash in on this offer, and I genuinely believe that he'd seen a "trouble-maker" trait in Tevez and refused on those grounds.
A few years later and he's causing United's rivals Man City problems because he "refuses to come on as a substitute" and is demanding a transfer. Fergie gets the last laugh.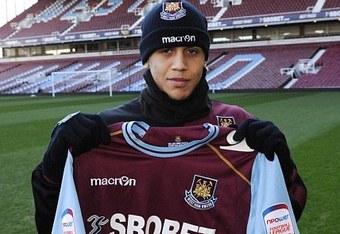 Then again, I could be wrong.
Between them, Morrison and Pogba are two very disloyal players, and in my opinion I am happy that they won't be playing for United in the future. Their work ethic, combined with the fact that they focus on their own gains rather than the team's, suggests to me that they do not deserve to wear the badge of the club that I love.
I don't doubt for a second that their new teams will approach similar hurdles in the near future. Wait for a slip of Ravel Morrison's tongue to drop West Ham in hot water, or for Paul Pogba to demand even more excessive wages at Juve—only to be refused and demand another transfer.
These are two genuinely talented players who could let their self-centered and ego-fueled attitudes ruin their careers. If Sir Alex thought that he could have tamed them, then they would have stayed. He obviously thought that the pair are more trouble than they're worth.
I wish both players the best of luck in their future careers, but I for one am happy that they won't be at United.