Cincinnati Bearcats: Isn't Mick Cronin the National Coach of the Year?
March 12, 2012

Chris Trotman/Getty Images
Mick Cronin is the Coach of the Year for 2011-12.
Most experts look to coaches like Jim Boeheim at Syracuse or Bill Self at Kansas.  To that, I reply with a resounding "You must be out of your (expletive ending in 'ing') mind."  Boeheim has McDonald's All-Americans on his bench!  31-2 is phenomenal, yes, but really, with that type of talent, big deal.  Self's Jayhawks have "over-achieved" this season, but he coaches for Kansas.  That's a brand name that'll get any recruit in the world's attention.
As for what Cronin has done this season at Cincinnati, let's run it all down.
We all know what happened on December 10 against crosstown rival Xavier: The Brawl.  Regardless of what you may think about the length of the suspensions for the players involved, Cronin handled that situation with the utmost humility and class.  He made no excuses.  He simply apologized profusely and declared that his group will make it right with the university and the community.  "We will turn this into a positive," he said. 
Now, we know the level of adversity that is for a team to face.  On top of that, junior Jaquon Parker (9.2 ppg, 5.4 rpg), a key component to UC's attack, was sidelined with injury for the first month of the season. 
After all of that, you still have to play the games on your schedule.  And that schedule ahead consisted of the usual brutal war of attrition known as the Big East.  Say what you want about whether or not the conference was down a little bit this year because Pitt and Nova were at the bottom of the standings—it doesn't make a difference.  There are no easy outs in that league. 
Cronin, slowly but surely forming the togetherness needed to survive after having lost five seniors from the previous year's squad, began maneuvering through the gauntlet with a hard-fought road win at No. 22 Pitt without the services of big man Yancy Gates who was serving the final game of his suspension. 
In Gates' return to the lineup, the Bearcats ran Notre Dame out of the building in a 16-point whipping, paying back Brey's Fighting Irish for the previous season's Big East tournament blowout loss. 
You may be reading along thinking, "Ahh, big deal.  Pitt was weak this year and Notre Dame wasn't very good yet in early January."  If so, I suppose you'll need more convincing.
How about Cincinnati flying to the nation's capital and handing the 11th ranked Georgetown Hoyas their only home loss of the entire season?
Not enough?  Okay then, what about the following week when Mick and his boys showed up at Gample Pavilion in Storrs, CT, where the then No. 11 UConn Huskies rarely lose—and pulling out the win behind a Sean Kilpatrick three-point dagger directly in Jeremy Lamb's face in the waning seconds? 
Still not enough?  Throw in back-to-back home wins against No. 17 Louisville and No. 7 Marquette when most of the experts relegated Cincinnati to the "bubble."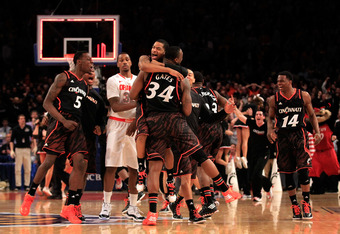 Chris Trotman/Getty Images
Surely that has to be enough to convince you.  Oh, and did I mention Cronin has been doing this with a 6'3" kid starting at the 4?  Still not enough??
Finally, we move to the Big East tournament this past weekend at Madison Square Garden.  UC's first draw was none other than a revenge-hungry Georgetown squad.  The Bearcats couldn't throw it in the ocean, connecting on just a couple of three-pointers in 21 attempts while the Hoyas looked like an effin' well-oiled machine, building an 11-point lead with about eight minutes to play. 
No matter.  Behind senior Yancy Gates (23 pts, 8 rebs), the Bearcats came back to win in double OT.  (Cincy basically had that game won three times—the Hoyas hit shots to tie at the end of regulation and the first overtime before finally bricking a shot at the end of double OT.) 
And then, oh yes—AND THEN...
Cronin, starting four players 6'4" and under, goes up against the mammoth Syracuse Orange, ranked No. 2 in the nation with a 31-1 record, in Madison Square friggin' Garden in the semifinals!  The evil mastermind offspring of Rick Pitino, Bob Huggins and his father Hep Cronin, Mick brings a 2-3 zone and a confident team to the fight.  The Bearcats come out and knock Syracuse in the jaw with flawless execution and hot shooting to build a 17-point lead and then withstand every counter Boeheim's boys throw back to shock the world, 71-68. 
So, as Cronin loads up the film of first round opponent Texas, his No. 6 seed Bearcats have seven wins over Top 25 teams under their belt.  They won two out of every three games in the unrelenting Big East (12-6 regular season, 2-1 in NY). 
I'm sorry, but considering the challenging start to the season, that's the coach of the year right there, hands down.  As a giant Bearcat fan, I may be biased, but in this case, gimme a break with any other candidate.  Mick's the one.