'The Announcement': An Excellent Look into the Life of Magic Johnson
March 12, 2012

Ronald Martinez/Getty Images
Everyone knows the story. On November 7, 1991, Earvin "Magic" Johnson announced he was HIV-positive and putting an end to his illustrious NBA career.
But since that fateful day, he has gone on to become a successful businessman, including part owner of the Los Angeles Lakers. Because of his success in the business world, Johnson has become even more beloved than he was during his playing career.
At least, that's the story everyone knows.
In the Nelson George-directed documentary The Announcement, Johnson takes viewers through a journey through the time around the announcement and since that unforgettable day. Having always been a huge fan of No. 32 but thinking I knew most—if not all—of the story, I was excited about to see if Magic and George could shed any new light.  
And they did just that.
First, The Announcement brings everyone back to the '80s, when Magic and the Lakers dominated the league. Of course, not only did Johnson lead the Lakers to five titles that decade, but he did so with style and buoyancy that made him perhaps L.A.'s most popular celebrity.
And that fame certainly extended to off the court, as ladies loved him.
But George and Johnson (who narrated the piece) spent most of The Announcement revealing facts that many fans might have been unaware of or had forgotten.
For one, a routine physical in autumn of 1991 changed the course of his life. Magic had undergone an atypical physical—atypical in that it was a life insurance physical exam (The Lakers had taken out an insurance policy against him possibly not being able to suit up for the team).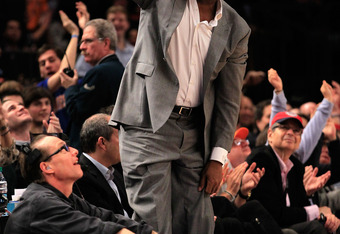 Chris Trotman/Getty Images
If Johnson hadn't taken the physical, he likely wouldn't have learned that he had obtained HIV.
In addition, it might be hard for people to believe nowadays considering Johnson's popularity, but Magic was not embraced by a lot of people after the announcement. Of course, many fans remember Karl Malone expressing his concerns about competing against an HIV-positive Magic.
But in The Announcement, among other things, Johnson's former agent, Lon Rosen, said he was told by staff at a certain restaurant that they didn't welcome Magic. And Johnson's friend, comedian Arsenio Hall, stated a fellow comic roasted Magic on stage shortly after the November 7 announcement.
However, despite some setbacks in his professional career (disappointing stint as Lakers coach, bombing as a talk show host), Johnson has emerged stronger and a certainly a lot more vibrant than he even thought he would be (In The Announcement, Magic expressed to Rosen concerns about dying shortly after learning he acquired HIV).
But the former Lakers star admitted that he might be an anomaly in that he's lived 20 years with HIV and that since many others see him doing well, they might not think the virus is that harmful.
"I've been a blessing and a curse," Magic said at one point in the piece, referring to his role in the fight against HIV, which the documentary details.
Despite his good health, Johnson's struggle with HIV has not died. No affected person's struggle ever dies. That's something everyone should take from the The Announcement.