NCAA Tournament Bracket 2012: 6 Teams to Avoid in Your Bracket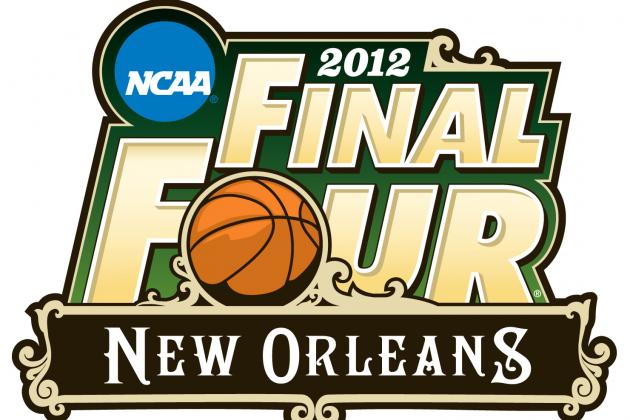 It is finally NCAA tournament time. Workplace productivity disappears over the next few weeks as people fret over what picks they made in their office pool and what upset they need to happen.
The last several seasons have seen several bracket-buster teams. Butler, George Mason and VCU have each made a run to the Final Four. While exciting for those teams and their fans, it wreaks havoc on everyone else's bracket.
While it is difficult to find the next Butler, many people will try to bust their bracket simply by picking too many upsets. The best way to figure your bracket out is to find the higher-seeded teams that are ripe for the picking.
Here is a list of six teams that you should avoid in your brackets. Most these teams are on people's lists to make the Final Four, others are teams that look to be potential upset victims.
Begin Slideshow

»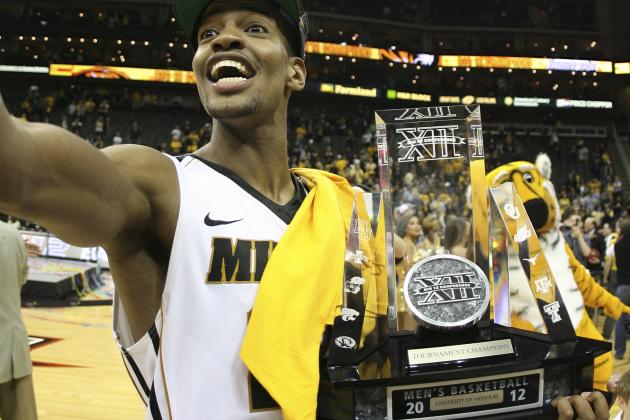 Ed Zurga/Getty Images

Baylor started the season on fire with 17 wins. When the Bears finally lost a game, they ended up losing back-to-back games to highly ranked Kansas and Missouri.
They finished the season on a 4-4 run, though. While they were swept by both Kansas and Missouri, they also lost to Kansas State and Iowa State in that stretch.
Based on their season, they appear to be a team that will dispatch the bottom-end teams. But once they start facing higher-ranked teams, they do not have enough to beat their opponents.
They are a 3-seed and will face a tough South Dakota State in the opening round. If they do survive that matchup, they have Kentucky, Duke, Indiana and Wichita State standing in their way of a Final Four berth.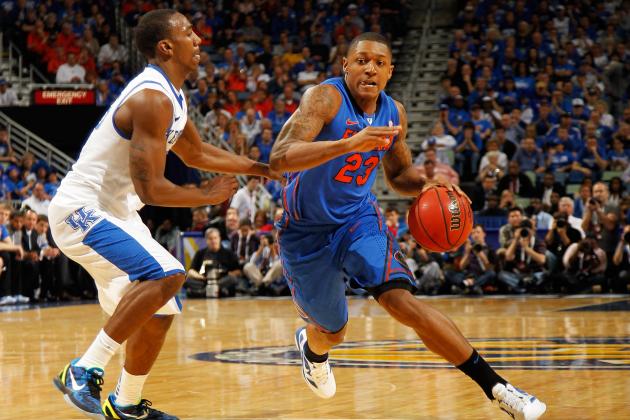 Chris Graythen/Getty Images

Florida is one of those teams the casual fans usually pick to go far in the tournament. The Gators enter this year as a 7-seed, which should be a warning, but for those who only pay attention to college hoops during March Madness, this is not your usual Gators team.
Florida is a team that is stumbling coming into the tournament. It finished the regular season on a three-game losing streak and 3-5 down the stretch. It was able to give Kentucky a battle in the SEC tournament but will not be able to repeat that type of performance.
The team was already showing some signs of struggle but was really dealt a blow when Will Yeguete was lost for the season. While not a high-scoring player, he is one of the team's leading rebounders and better defenders.
His hustle on the boards and ability to steal the ball helped jump start the Gators offense. Since he was injured, the team has not been able to find its offensive rhythm. It is 10 points per game below its season average since he went down.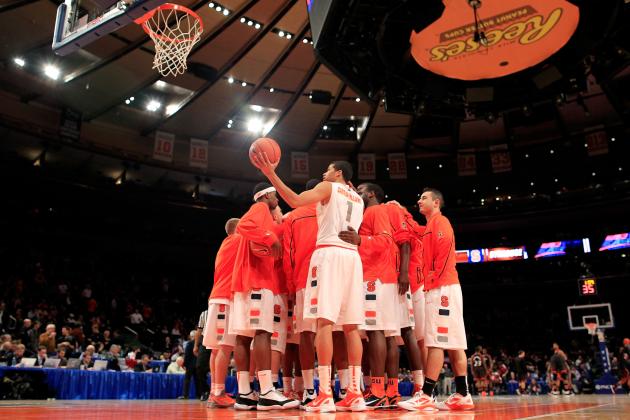 Chris Trotman/Getty Images

Perhaps a shocking entry to some, but Syracuse is the pick to be the first top seed to fall.
The Orange have put together an impressive 30-1 record this season but their nonconference schedule was not grueling. Their conference schedule has helped them reach a 33 ranking in overall strength of schedule.
This season the team has already had to deal with off-the-court distractions, the biggest of which has been the investigation into assistant coach Bernie Fine following sexual abuse allegations.
Last week news broke of drug violations in the program. While at this point it does not appear that any current players are directly affected, the shadow of such news will hang over the team.
Syracuse plays in the Big East Conference, which is often considered to be one of the top leagues in the nation. Last year the conference sent 11 teams to the tournament, yet it fell apart. If not for Connecticut's championship run, the league would have had a losing record. Even with their six wins, the league went an embarrassing 13-10, with two of those wins coming when Big East teams faced off against each other.
This year, the conference is not as highly rated as it was last year. While by no means is it weak, there are some conference trends that make one wonder if its numbers are a bit inflated. This isn't to say that the Big East is a bad conference. But as a whole it did do a lot of beating up on the bottom of the basketball world. It has 112 wins against the RPI 101-200. The closest conference has only 92 such wins. It also has 76 wins against the RPI 200-plus, which places it second to the Pac-12 among the major conferences and far ahead of the other majors.
Syracuse's strength of schedule power ranking puts it at 28. Now this does not mean that the Orange have played a tremendously weak schedule or are a bad team. It does, however, show that their record may be a bit inflated. The rest of the main contenders among the top two seeds all rank above Syracuse in this stat.
Syracuse does have some good wins, half of its 30 wins have comes against the top 100 RPI. But this appears to be a team that is not quite as good as its record indicates, which means that it is an upset waiting to happen.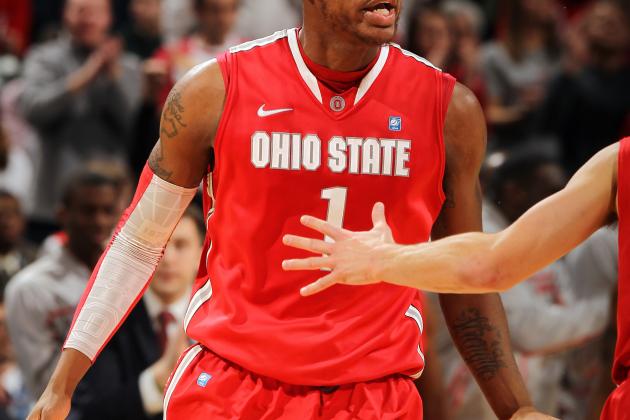 Jonathan Daniel/Getty Images

The Buckeyes will enter the tournament as Big Ten Champions, albeit a three-way, shared title. They have spent most of the season ranked in the top five and were thought to be a favorite to reach the Final Four.
This is a team with talent but not enough toughness. While Jared Sullinger puts up some impressive stats, he is also very easily frustrated and can be taken out of a game mentally. The Buckeyes have shown to be vulnerable against bigger, more physical teams.
In their regular-season finale the Buckeyes beat Michigan State on the road. They were down 15 points but made a second-half surge that would result in them winning. Sullinger was either on the bench in foul trouble or left out of the offensive flow when the Buckeyes roared back.
At the end of a game he seems to have good stats, but it seems to be smoke and mirrors. As good as the Buckeyes are, and they do have championship-level talent, this is a team that can be bothered and taken out of its game plan. If the Buckeyes' opponents realize that they can get in Sullinger's head and disrupt the Buckeyes offensive flow, they are ripe for an upset.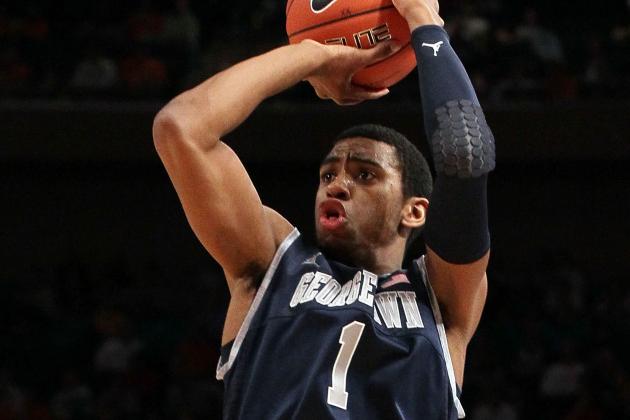 Jim McIsaac/Getty Images

Georgetown is a team that wins; the Hoyas have a 23-8 record this season. They really do not do any one thing well, though. They are 145th in points, 100th in assists and 78th in rebounds.
They are 9-8 against the top 100 RPI teams, which goes to show they are truly average and likely a bit over-ranked as a 3-seed.
They run a unique offensive scheme that could pose a problem to tourney teams that are not used to seeing it. However, their strength comes from their defense, which ranks 17th in the nation.
While the sports cliché "defense wins championships" does hold some weight, you also have to be able to score, and Georgetown will not be able to get into a run-and-gun game with anyone. Early-round games tend to be shootouts with the lower and mid-major teams trying to shoot the lights out to survive. This could pose a problem to the Hoyas.
They have the hardest first-round test of the teams on this list. They will play Belmont, which is an upset waiting to happen and will likely end the Hoyas' season.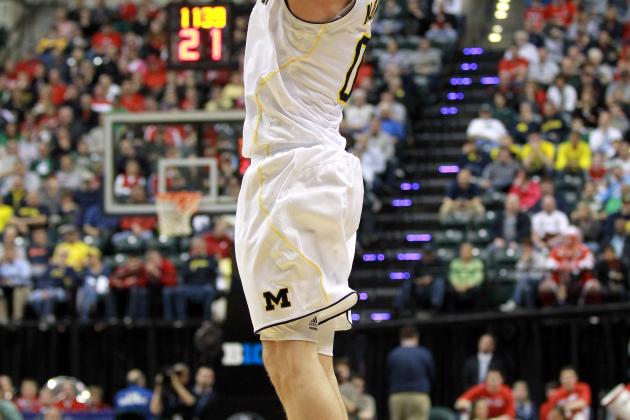 Andy Lyons/Getty Images

Michigan was able to grab a three-way tie for the regular-season title with Ohio State and Michigan State, which exceeded people's expectations.
While the Wolverines are greatly improved, they may not be to the level of the fourth seed. This is a team that has a great amount of hustle. It has top-notch guards with Trey Burke and Tim Hardaway Jr. As a team, it plays solid defense and does a very good job at protecting the ball. The Wolverines really play like the typical Cinderella mid-major team you often see come March.
On the down side, most middle school teams could out rebound them. They rank 314th in the nation is rebounds. They are also 198th in points per game.
They rely far too much on the three-point shot. While it helps that they have often had to shoot their way back into games, it also means that when they are missing those long-range shots, they have no other way to get back into games. Their lack of frontcourt size will prove problematic in the tourney.
If it is hitting its three-pointers, this team could make some waves in the tournament. Keeping that hot a shooting streak for enough games to win it all is not likely, though. The Wolverines will show up on many experts' picks as an upset special in the first two rounds.
Their style of play has led to many close games this year. While it is good that they can win the close games or pull away in the final two minutes, it is also a sign of concern. The last thing a higher-seeded team wants to do is allow a lower-seeded team the hope of being close late in games.
While it might survive, this is not a team to pick to exceed its seeding.
PJ Sapienza is a featured columnist for the Detroit Red Wings and a writer of many other sports. You can also follow him on Twitter.
To read his most recent articles see:
What to make of the Michigan Wolverines
Why Don Cherry gets it wrong about the Red Wings
With Pavel Datsyuk out, these players need to step up
For your printable bracket for the 2012 NCAA tournament, click here
Stats and rankings via statsheet.com and teamrankings.com