March Madness 2012 Bracket: Winning Picks and Predictions for All Matchups
March 12, 2012

Chris Graythen/Getty Images
Grab a pen.
Yeah, that's right.  Not a pencil—a pen.
If you hesitantly fill out your bracket, you're doomed to fail.  Advance every single team, whether it's a No. 1 seed or a 16 seed, with the exact same overconfidence.  Go in with the mindset, if your bracket doesn't match mine, you've already lost.
On that note, ladies and gentleman, here are the winning picks and predictions for all the 2012 March Madness first-round matchups via the crystal ball that is my brain.
You're welcome.
For your printable NCAA Bracket, click here.
South: No. 1 Kentucky vs. No. 16 Mississippi Valley State/Western Kentucky
If MVSU or WKY finish the game within 15 points of the Wildcats, it'd be an absolute shocker.  Kentucky is the top seed of the whole tournament for a reason: They're stacked beyond belief.
Prediction: Kentucky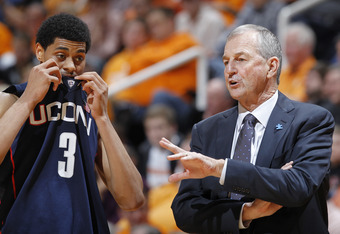 Joe Robbins/Getty Images
South: No. 8 Iowa State vs. No. 9 Connecticut
Jim Calhoun is back, folks.  UConn won the whole thing last year and even without Kemba Walker, Jeremy Lamb and Andre Drummond still combine to form one of the most talented duos in the nation.
Prediction: Connecticut
South: No. 5 Wichita State vs. No. 12 VCU
Talk about a no-brainer five-12 matchup.  Shaka Smart's crew's eyes are looking beyond the Final Four this season.
Prediction: VCU
South: No. 4 Indiana vs. No. 13 New Mexico State
New Mexico State hasn't faced a monster like Cody Zeller this season.  The Hoosiers aren't going to end up on the wrong end of a Cinderella story.
Prediction: Indiana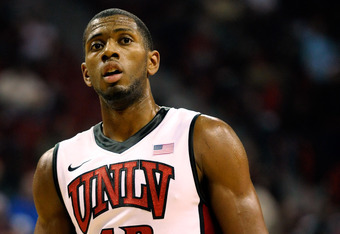 Ethan Miller/Getty Images
South: No. 6 UNLV vs. No. 11 Colorado
Mike Moser is talented enough to carry the Rebels out of the first round of the NCAA tournament.  Colorado doesn't possess nearly enough firepower to pull off an upset.
Prediction: UNLV
South: No. 3 Baylor vs. No. 14 South Dakota State
Baylor just knocked Kansas out of the Big 12 Tournament.  If Perry Jones III and Pierre Jackson handled Thomas Robinson and company, they'll wreck South Dakota State.
Prediction: Baylor                  
South: No. 7 Notre Dame vs. No. 10 Xavier
Get hyped for the Catholics vs. the Thugs—pegged by Tu Holloway.  The Fighting Irish will fall victim to the Big East curse on opening weekend.
Prediction: Xavier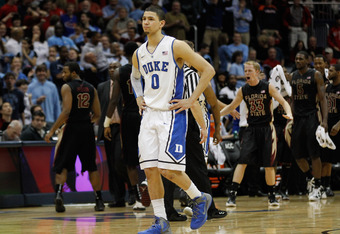 Streeter Lecka/Getty Images
South: No. 2 Duke vs. No. 15 Lehigh
Many analysts are picking the Blue Devils to lose early, but not this early.  Austin Rivers will put on a show for NBA scouts against the Mountain Hawks.
Prediction: Duke
West: No. 1 Michigan State vs. No. 16 LIU Brooklyn
A Tom Izzo-led team isn't going to be the first No. 1 seed to get knocked off by a 16 seed.  LIU Brooklyn is in for a long afternoon.
Prediction: Michigan State
West: No. 8 Memphis vs. No. 9 Saint Louis
Honestly, I'm not a fan of Memphis at all this year, but the Billikens are an even less attractive option.  At least Memphis boasts one of the most efficient offenses in the country, averaging a 49.4 field-goal percentage.
Prediction: Memphis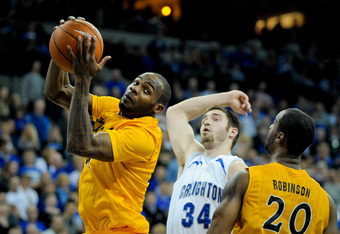 Eric Francis/Getty Images
West: No. 5 New Mexico vs. No. 12 Long Beach State
This is another tempting five-12 matchup.  Long Beach State only lost to North Carolina and Kansas by single digits this season—they're a strong ball club.
Prediction: Long Beach State
West:  No. 4 Louisville vs. N. 13 Davidson
Louisville is on fire after winning their conference tournament.  And everyone remembers how the Big East champs fared in last year's Big Dance.
Prediction: Louisville
West: No. 6 Murray State vs. No. 11 Colorado State
Murray State lost one game all season long.  I don't care of you're playing the Sisters of the Poor, a 30-1 record is impressive.
Prediction: Murray State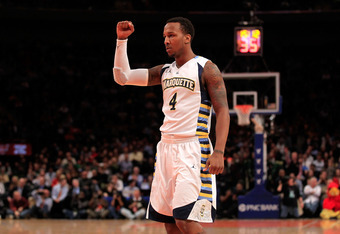 Chris Trotman/Getty Images
West: No. 3 Marquette vs. No. 14 BYU/Iona
As long as the Golden Eagles don't get caught looking ahead, they'll be fine.  BYU isn't the same force they've been in years past.
Prediction: Marquette
West: No. 7 Florida vs. No. 10 Virginia
Bradley Beal and Patric Young only lost to Kentucky by three in the SEC tournament.  For Florida, that battle with the Wildcats will make facing off against the Cavaliers feel like they're catching their second wind.
Prediction: Florida
West: No. 2 Missouri vs. No. 15 Norfolk State
Norfolk State has no shot in this one.  Coming off a Big 12 tournament title, the scorching Tigers will be too much for the Spartans.
Prediction: Missouri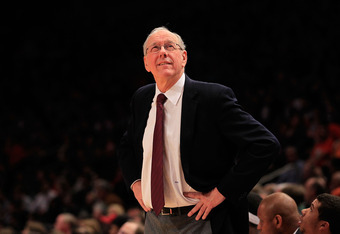 Chris Trotman/Getty Images
East: No. 1 Syracuse vs. No. 16 UNC-Asheville
Syracuse will take their anger stemming from their Big East tournament loss out on UNC-Asheville.  Like the rest of the one-16 matchups, it'll get ugly.
Prediction: Syracuse
East: No. 8 Kansas State vs. No. 9 Southern Miss
Southern Miss lost two out of their last three games of the season…to Marshall.  K-State went one-and-done in the Big 12 tournament, but they'll annihilate the Golden Eagles.
Prediction: Kansas State
East: No. 5 Vanderbilt vs. No. 12 Harvard
As you can tell by their win over Kentucky in the SEC title game, this is arguably the most talented team Vanderbilt has had in years.  If only Jeremy Lin was still at Harvard...
Prediction: Vanderbilt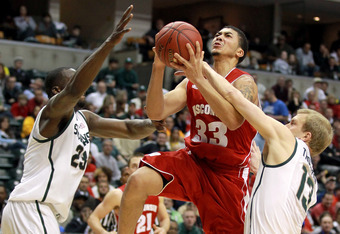 Andy Lyons/Getty Images
East: No. 4 Wisconsin vs. No. 13 Montana
Montana hasn't lost since January 14th, so they're an intriguing Cinderella pick.  The thing is, though, the Badgers just beat Indiana on March 9th.
Prediction: Wisconsin
East: No. 6 Cincinnati vs. No. 11 Texas
Texas always enters the Big Dance with a talented ball club, but they always manage to disappoint.  Cincinnati is hot coming off a run all the way to the Big East title game, and they're heated after a loss there to Louisville.
Prediction: Cincinnati
East: No. 3 Florida State vs. No. 14 St. Bonaventure
Florida State just beat Duke and UNC.  If St. Bonaventure pulled off the upset, Twitter would break.
Prediction: Florida State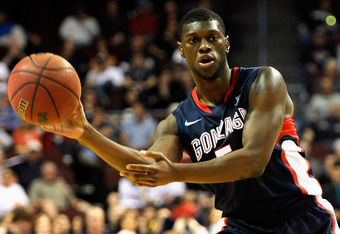 Ethan Miller/Getty Images
East: No. 7 Gonzaga vs. No. 10 West Virginia
WVU lost eight out of their last 12 games.  And here's a joke for you: They made the tournament with 19 wins and only one over a ranked team.
Prediction: Gonzaga
East: No. 2 Ohio State vs. No. 15 Loyola (MD)
Jared Sullinger may or may not drop 40 points.  Actually, since Thad Matta most likely won't need to play him in the second half, 40 will be out of reach.
Prediction: Ohio State
Midwest: No. 1 North Carolina vs. No. 16 Lamar/Vermont
Roy Williams should feel free to rest John Henson for another game.  Bob Knight's son coaches Lamar, though, so a flying chair could make things interesting.
Prediction: North Carolina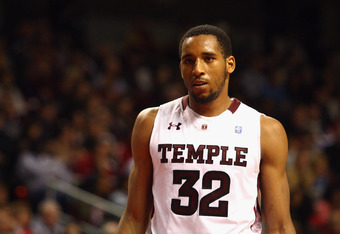 Chris Chambers/Getty Images
Midwest: No. 8 Creighton vs. No. 9 Alabama
Creighton fits the profile of a Cinderella team capable of fighting their way into the Sweet 16 and beyond.  But they aren't a Cinderella because they were so dominant in the regular season.
Prediction: Creighton
Midwest: No. 4 Michigan vs. No. 11 Ohio
Ohio only averaged 70.7 points per game this season.  That is a problem when you play in the Mid-American conference.
Prediction: Michigan
Midwest: No. 5 Temple vs. No. 12 California/USF
Despite going one-and-done in their conference tournament, Temple is a strong basketball team.  They took out Duke earlier in the season.
Prediction: Temple
Midwest: No. 6 San Diego State vs. No. 11 NC State
The Wolfpack lost to UNC by just two points in the ACC tournament.  San Diego State isn't remotely as talented as they were last season.
Prediction: NC State
Midwest: No. 3 Georgetown vs. No. 14 Belmont
Belmont hasn't lost a game since late January.  Of course, the team they fell to was USC Upstate.
Prediction: Georgetown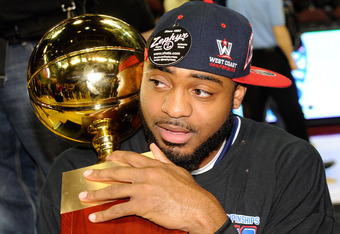 Ethan Miller/Getty Images
Midwest: No. 7 Saint Mary's vs. No. 10 Purdue
A Saint Mary's victory in Round 1 wouldn't surprise anyone this year.  In fact, it'd be surprising if they lost.
Prediction: St. Mary's
Midwest: No. 2 Kansas vs. No. No. 15 Detroit
A loss in the Big 12 tournament cost the Jayhawks a No. 1 seed in the Big Dance.  Kansas is going to be out to prove that they're better than their seeding.
Prediction: Kansas
David Daniels is a featured columnist at Bleacher Report and a syndicated writer.