Tiger Woods Injury: Ice on Left Leg Raises Red Flags for Woods' 2012 Campaign
March 11, 2012

Scott Halleran/Getty Images
At 36 years of age, Tiger Woods realistically doesn't have much golf left in him.
That's why yet another leg injury for Woods on Sunday at the Cadillac Championship is troubling.
Armando Salguero of the Miami Herald tweeted on Sunday:
Tiger Woods (left leg injury) is out at Doral. He has left the premises .

— Armando Salguero (@ArmandoSalguero) March 11, 2012
Dave Shedloski of Golf Magazine tweeted after Woods withdrew from the tournament:
Tiger issues statement on WD: "Left leg injury." That's it. That's the whole statement.

— Dave Shedloski (@DaveShedloski) March 11, 2012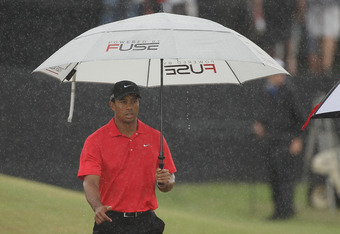 Scott Halleran/Getty Images
Woods, mind you, was coming off an impressive performance at the Honda Classic in which he shot a 62 in the final round. He finished second at 10-under par, two strokes behind winner Rory McIlroy.
Woods was shooting a solid 207 headed into the final round on Sunday, on par with McIlroy. But another leg injury can be nothing but bad news for the troubled former superstar.
Woods had not withdrawn from a tournament since the Players Championship last May. What's worse, this is his left leg, meaning this is the same leg that caused him to miss four months after the Players Championship.
The window for Woods to win another major is slowly closing. He appeared to improve his ailing mental game at the Honda Classic, but that doesn't mean anything if you can't even walk out onto the course.
The reality is, Woods could erase all his past demons and be more clear-headed on the course than ever, but his biggest demon may be the fact that he's 36 years old.
Even if Woods returns shortly, that doesn't mean he will be completely healed. Woods knows this better than anyone, and you can bet when he released his short statement on Sunday, he was seething.
Follow me on Twitter. We can talk about Tiger Woods.