NFL Rumors: 5 Players the New England Patriots Have on Their Radar
March 11, 2012

Jim Rogash/Getty Images
For a team that came within one clutch Tom Brady drive of winning the Super Bowl, the New England Patriots sure have many holes that need to be filled going in to next season. Despite having many deficiencies and poor performances in a number of positions, they will yet again be one of the top teams in the AFC heading in to the 2012 season.
With countless scenarios and rumours swirling around the league, the Patriots must address certain needs in order to strengthen their roster and establish themselves as an early Super Bowl favourite. Although the defence is the obvious target, diversifying the offense is just as important in order to remain a potent threat.
Even though attaining all five of these free agents is unlikely, they are players that the New England Patriots should consider and inquire about. Here are five recognizable free agents that the Patriots should make a play for
Brandon Lloyd
Lloyd is a proven receiver who provides a credible deep threat, something the Patriots were sincerely lacking last season.
Rob Gronkowski and Aaron Hernandez dominated the tight end position last year, and will continue to be a force for the offense. However, Deion Branch and Chad Ochocinco were not able to stretch the field as often as the offense would have preferred.
Bringing in Lloyd would make sense, and in addition to the fact that he is familiar with Josh McDaniels, he has shown his ability to run deep routes and haul in breathtaking catches.
Mario Williams
Wlliams, the former No.1 selection, is likely to be suiting up for a different team next season. It will be expensive for the Texans to keep him, and seeing how they played great without Williams on the field, there is not as much of an urgency to keep him.
Adding Mario Williams to the Patriots defence would give them a pass-rushing presence that they missed dearly last season. Both Williams and Vince Wilfork on the defensive line would be dangerous.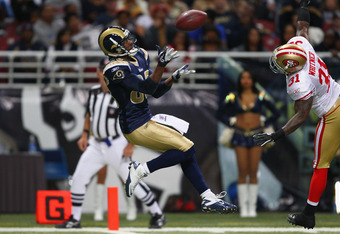 Dilip Vishwanat/Getty Images
Robert Meachem
Meachem will be one of the steals of 2012 free agency. Overshadowed by his teammate Marques Colston, Meachem was a great piece of the New Orleans passing attack. He was a great deep route runner and often found himself open on long patterns when the defence was trying to cover Colston or Jimmy Graham.
Brady would  be able to turn Meachem in to a reliable downfield receiver in New England as well.
Dwight Lowery
The Jaguars free agent would help address the Patriots' safety needs. The overall play at the safety position at Foxboro last season was dreadful, and if they hope to return to the Super Bowl, they must improve the secondary. Lowery, at 26, will likely cost a nice amount. However, it will certainly be a nice addition to the Patriots. Available safety talent in the league is quite minimal.
Red Bryant
Bryant is another quality defensive tackle, and had a solid season in Seattle. The Seahawks would like to re-sign him, but if the Patriots pursue, the idea of joining a team ready to win a championship may be tempting. If the Patriots are not able to acquire another defensive lineman early on in free agency, Red Bryant would be a good prospect to consider.
The Patriots will need to improve both their defense and their vertical threat in order to be considered a complete team on both sides of the ball. With a few successful signings in 2012, the New England Patriots will be considered the early favourite in the AFC.