Mirko Vucinic, Andrea Pirlo Shine as Juventus Draw Genoa 0-0 in Exciting Match
March 11, 2012

Gabriele Maltinti/Getty Images
I've been hammering home a few Juventus-related themes during their latest run of depressing draws. Mirko Vucinic was hurting the team, Antonio Conte's player selection was stubborn, and so on and so forth.
Well, today that all changed. Vucinic played well, and Conte gave inventive players like Alessandro Del Piero and Eljero Elia playing time. Neither man had that much time, and Elia's appearance was a mixed bag, but we'll get to that later.
Conte was suspended for this game, due to his midweek sending off. Also suspended was Leo Bonucci, and of course Giorgio Chiellini and Andrea Barzagli are both still out injured.
So, Juventus came out with a backline consisting of Stephan Lichtsteiner and Paolo De Ceglie on the right and left flanks, respectively.
They were complemented in the center by the South American duo of Arturo Vidal and Martin Caceres. Vidal was a makeshift option in central defense, but he did a pretty fine job. He committed a few too many fouls, but none were really serious, although he was cautioned once.
For the most part, though, he took the best parts of his midfield game and moved it down the pitch. He had four tackles and four interceptions, two things that he provides in great amounts when he plays his usual role. Caceres and Vidal were also pretty efficient at clearing balls, with the Uruguayan in particular having five effective clearances from five attempts.
Juve's defense were beaten a few times, and they were put in dangerous situations often. Genoa almost scored in the opening moments of the match, as Vidal was caught out of position on a pass to Rodrigo Palacio, whose effort was tipped away by Gianluigi Buffon. This save foreshadowed the many other saves that Buffon would make today.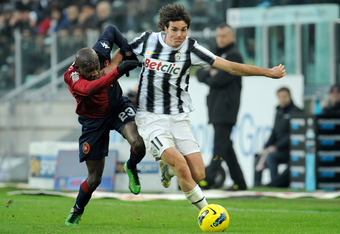 Valerio Pennicino/Getty Images
One especially poor area of Juve's defense (in the first half at least) was Paolo De Ceglie's positioning.The youngster tends to excel in only one area in each match.
Some days he defends well, but usually he's most effective when pushing up and sending crosses into the opposition's penalty area. Today, Conte wanted him to provide cover to the emergency backline, but De Ceglie's poor positioning at times made that task more difficult than it should have been.
As I mentioned previously, Buffon made a great save early in the match. He would continue to make great saves, and he probably had one of his best games of the season today.
While Buffon usually is a high-quality keeper, he occasionally has those games where he just keeps making brilliant save after brilliant save.
The match in November against Lazio was one example, and today's game is yet another. Had it not been for Buffon, Juve very well could have lost by one or two goals.
While the defense may have been haphazard, Juventus were creating plenty of goal-scoring chances today.
Andrea Pirlo was the main force behind this, as he crafted another masterful performance. Pirlo was really like a puppet-master today, dictating Juve's attack with his passes, crosses, and long balls. He had 16 accurate long balls, and eight accurate crosses. He also had eight "key passes."
Pirlo's probing passes were behind most of Juve's chances. It was either a Pirlo pass that started things, or a Simone Pepe cross. And Pepe's crossing was far less accurate than Pirlo's passing.
He even excelled in one area where he usually doesn't: Tackling. Pirlo led the team with six tackles.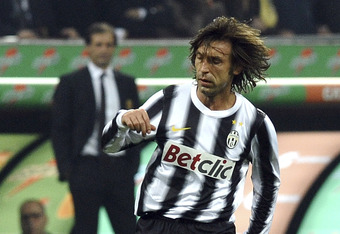 Dino Panato/Getty Images
Of course, a deep lying midfielder cannot put together entire attacking motions by himself. Mirko Vucinic had a fine performance up top, helping to tie together Pirlo's passes into genuine goals.
Vucinic didn't score, but the match he had today was his best performance in weeks. He wasn't the most accurate shooter, and he was dispossessed six times, but his creative efforts were pretty consistent. He had five key passes, and five successful dribbles.
There was one more important hub for Juve's offense today, and that was Simone Pepe. Juve seemed to be, at times, focusing their attack down the right flank.
The statistics reflect this, as Pepe had 17 attempted crosses. Most of these came from the wings and were supposed to give service to the strikers, but only three were successful. Granted, those resulted in some close chances for Juve.
His most successful crosses went to Alessandro Matri. Each time, Matri would do very well to receive the ball and get a shot off with his first touch. However, these shots would be blocked. One of the blocked shots was probably going to go in had Genoa's captain Marco Rossi not made a last second block.
Pepe found some success when cutting inside. At one point, he received the ball on the wing, then made a diagonal run into the 18-yard box. He fired the first shot off to the keeper, but it was blocked. Pepe followed up the rebound, but his second effort was also stopped for a corner.
Pepe also had a goal disallowed due to an offside. The problem was that Pepe was onside. Here's a picture of the backline right before the goal. Pepe is basically exactly where he should be and onside. So, the real score should have been 1-0. Instead, it was 1-0 to the referees.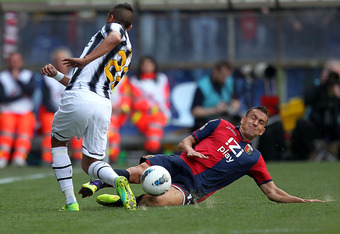 Gabriele Maltinti/Getty Images
Claudio Marchisio and Emanuele Giaccherini also provided some attacking impetus for Juve. Marchisio had a fierce long-range effort that was just tipped over by Genoa 'keeper Sebastian Frey, and he was useful in helping to create attacking movement as well.
Giaccherini was all over for the field parts of the match; helping out in defense, central midfield, and attacking on the wings. He got tired as the game went on, and his crossing began to falter. He would later be subbed off for Marco Borriello. Borriello did nothing of note, but he managed to stay on his feet, which is a big accomplishment for him.
As I mentioned at the start of this match review, both Del Piero and Elia came on today. Elia went on for Pepe in the 71st minute, while Del Piero came on for Matri in the 76th minute.
Elia showed some glimpses of great ability and creativity, but he also made some errors. He was dispossessed a few times, but he also won the ball back immediately after two of his turnovers.
His most jarring error came late in the match, he had moved to the center of the field as the ball was in possession on Juve's left flank. The ball began to move around more, and he was still in the center of the attack when Pirlo looked to the right side for a pass.
Lichtsteiner was on the right, but he was back providing cover for Elia. Had Elia been in position, he could have received the pass in some space. Instead, Juve were denied an attacking option.
There were some positive moments for Elia. His first touch was a dispossession of a Genoa player, deep in Juve's half. He also successfully dribbled through a defender to bring the ball in from the right side. He was dispossessed by a second defender, but he won the ball back.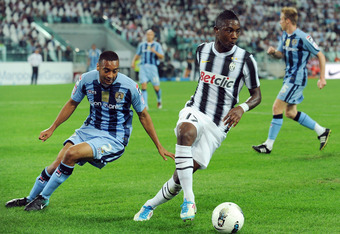 Valerio Pennicino/Getty Images
If Elia can accentuate the positives in his game while getting rid of the silly mistakes, he could really provide something for this Juve side. I have to say though, his absence does make a bit more sense now.
Although, it is perhaps a bit unfair to judge him from only 20 minutes. Is a pressure-filled twenty minutes for a young player who hasn't played in months really the best sample size? Hopefully he can receive a bit more time, perhaps even starting a match or playing a full half. Then, he can settle and really show if he has what it takes to be a Juventus player.
Del Piero came on too, but he was not given nearly enough time to influence the game. He had 14 minutes when he should have been given at least 30. He did not do much today, as by the time he came on, his supporting staff was pretty tired.
While Juve drew yet another match, Milan won yet again. With their victory over Lecce, they are now four points ahead of Juve in the table.
Juve's coming fixtures are difficult, but they can set a winning tone next week against struggling Fiorentina. The side from Florence lost to Catania today, 1-0.
Next week could bring the return of Chiellini, and it will give the team a chance to get revenge against Amauri for his crimes against football.
It's worth noting that Fiorentina has a rather leaky defense. However, Genoa has, statistically, the worst defense in the league and they held Juve to a clean sheet today.
Maybe next week, the Juve squad will finally remember how to score. The players will have a full week of rest, and if Pirlo and Vucinic can keep up this form, it's only a matter of time until the goals begin to come in.
Praise Conte (I guess, he did do what I wanted), and Forza Juve.