Fantasy Baseball 2012: 15 Round Mock Draft in a 10-Team 5x5 League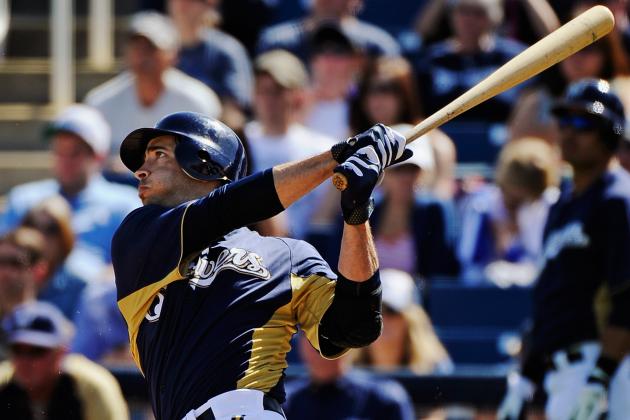 Kevork Djansezian/Getty Images

No matter how many fantasy baseball rankings you examine in preparation for your draft, you never know how it's going to play out. This mock draft provides a clearer picture of how your opponents are really going to build their teams.
The order of picks is based on a combination of Average Draft Position (thanks to MockDraftCentral.com) and team needs. I'll go mostly by ADP, but if the team that drafted Albert Pujols lines up to pick Prince Fielder with its next choice, I'll just grab the next player on down the line.
I drafted each team to fill the following 15 player lineup:
1 Catcher
1 First Baseman
1 Second Baseman
1 Shortstop
1 Third Baseman
3 Outfielders
1 Utility
4 Starting Pitchers
2 Relief Pitchers
This configuration results in a couple of oddities as each team has to fill its allotments in the last couple of rounds. With that in mind, remember that this isn't a ranking of the Top 150 players in fantasy baseball, but rather a helpful tool to determine how early/late a particular player is likely to be available in your draft.
Begin Slideshow

»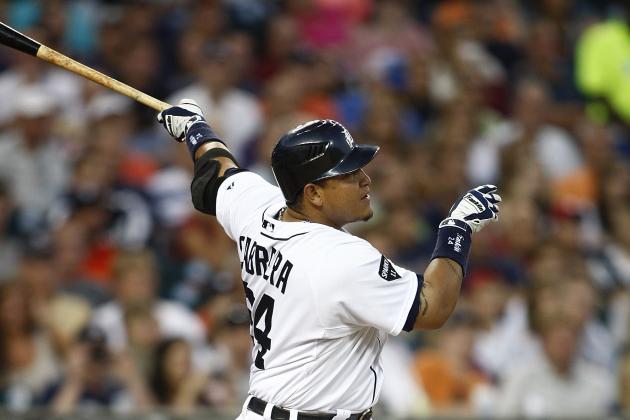 John Grieshop/Getty Images

1. Ryan Braun, OF
2. Matt Kemp, OF
3. Miguel Cabrera, 1B/3B
4. Albert Pujols, 1B
5. Jose Bautista, 3B/OF
6. Troy Tulowitzki, SS
7. Justin Verlander, SP
8. Jacoby Ellsbury, OF
9. Justin Upton, OF
10. Joey Votto, 1B
Braun is the top overall pick based on ADP. If you're holding the top selection in your draft, I'd recommend Cabrera, but there's a case to be made for any of the top six players on the board.
The most interesting thing about this round is the number of outfielders going early. As we'll find out later on, outfield is pretty deep this season (especially for leagues that play only three outfielders), but five OFs in the first round still seems like a lot. Still, the only one I'd really argue with is Ellsbury. He'll be great in three categories, but don't pay for last year's HR and RBI production, it's not coming back.
One pitcher goes in the first round, but he doesn't belong here.
Verlander was great last season, but he also benefited from some excellent luck, allowing a career-low .236 BABIP. An uptick in ERA and a drop in W are likely on the way, and those changes should push Verlander down a few picks.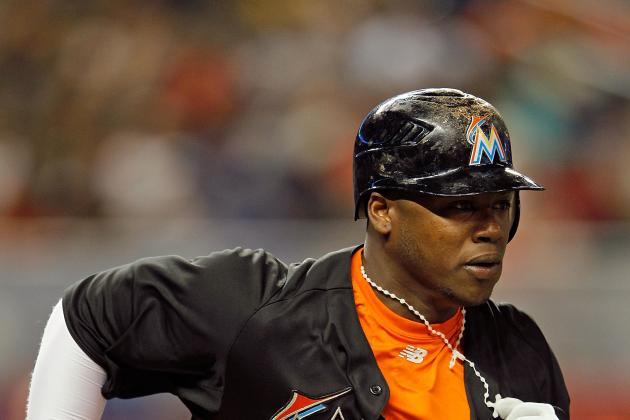 Mike Ehrmann/Getty Images

11. Robinson Cano, 2B
12. Adrian Gonzalez, 1B
13. Evan Longoria, 3B
14. Carlos Gonzalez, OF
15. Roy Halladay, SP
16. Prince Fielder, 1B
17. Clayton Kershaw, SP
18. Dustin Pedroia, 2B
19. Curtis Granderson, OF
20. Hanley Ramirez, SS
For all the fretting about Ramirez's statistical face-plant last season, he still doesn't make it past the end of the second round. He's a great bet to deliver a 20/20 season, and that holds a ton of value at shortstop.
On the other side of diamond, five first basemen are off the board in the top 16 picks. I don't have any issue with any of them going that early, it's just a stark illustration of how shallow the position gets later on.
Halladay and Kershaw come off the board here, and that's about as early as I'd want to take a pitcher. I'd rather have either of those two at this position than spend my top pick on Justin Verlander.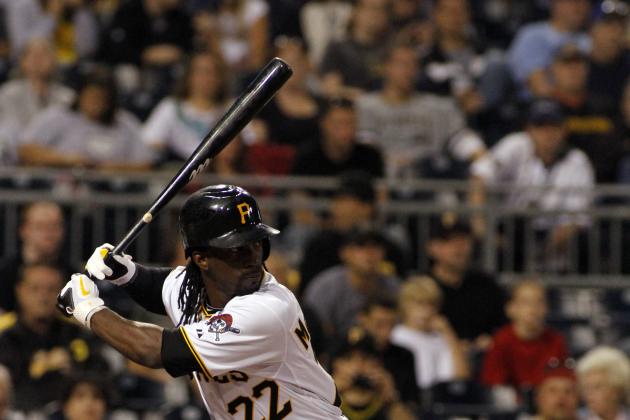 Justin K. Aller/Getty Images

21. Cliff Lee, SP
22. Jose Reyes, SS
23. Mike Stanton, OF
24. Ian Kinsler, 2B
25. Tim Lincecum, SP
26. Andrew McCutchen, OF
27. Mark Teixeira, 1B
28. Felix Hernandez, SP
29. CC Sabathia, SP
30. Cole Hamels, SP
As I went through the ADP report, I was really surprised by how many pitchers slotted into the top few rounds. It looks like the prevailing strategy is to grab at least one ace early on.
Through three rounds, eight starting pitchers have already come off the board. If you want a proven ace, it's gonna cost you.
Knowing that my league-mates are probably going to grab pitching at the top of the draft, I'd rather load up on offense.
Pitching production tends to vary more than hitting from year-to-year, and I know that I can pick up pitchers capable of strong production in later rounds. For hitters, that's not always the case. By focusing on offense here, I'm maximizing the value of my team as a whole.
For instance, the gap between Jose Reyes and Starlin Castro is greater than the gap between Cliff Lee and Zack Grienke.
McCutchen is a fantastic value at this point in the draft. He's 30/30 waiting to happen. You probably won't have to, but given the choice, I'd take him over Curtis Granderson and Carlos Gonzalez.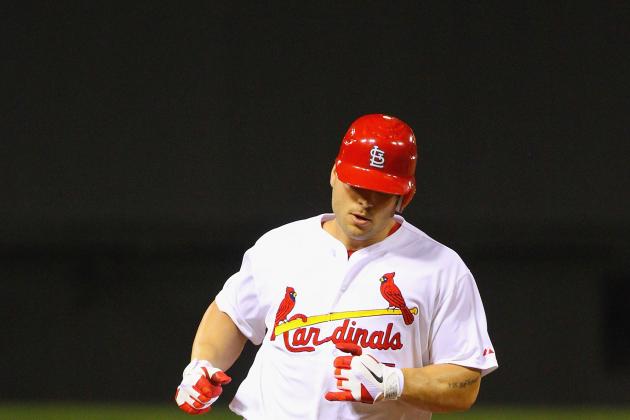 Dilip Vishwanat/Getty Images

31. Josh Hamilton, OF
32. Adrian Beltre, 3B
33. Carlos Santana, C/1B
34. Jered Weaver, SP
35. David Wright, 3B
36. Matt Holliday, OF
37. Jay Bruce, OF
38. David Price, SP
39. Ryan Zimmerman, 3B
40. Dan Haren, SP
This seems awfully high for Santana. He has a fantastic approach at the plate, but walk rate doesn't win any points in a 5x5 league.
If I'm taking a catcher in the first five rounds, I'd much rather have Mike Napoli. He's a better bet for a strong AVG, and hitting in the loaded Texas Rangers lineup gives Napoli an edge in R and RBI.
I do not understand why Matt Holliday is so highly regarded. He doesn't have 30-homer power outside of Coors Field; he's only topped 25 dingers once since leaving Colorado. He's got a chance to hit .300, but he doesn't run anymore. Holliday will post good R/RBI numbers, but so will teammates Lance Berkman and Carlos Beltran. I'd much rather wait and grab one of those Cardinals later on.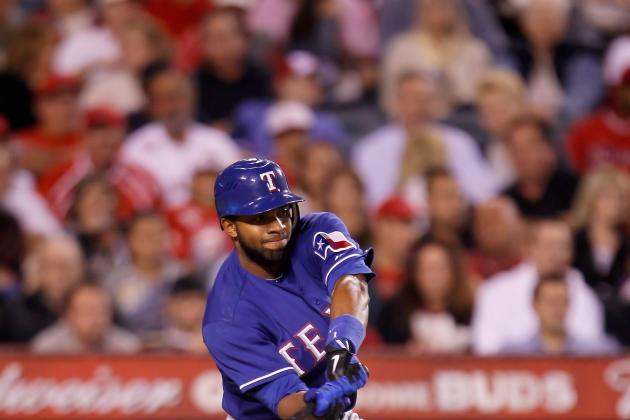 Jeff Gross/Getty Images

41. Carl Crawford, OF
42. Zack Grienke, SP
43. Starlin Castro, SS
44. Elvis Andrus, SS
45. Hunter Pence, OF
46. Yovani Gallardo, SP
47. Mike Napoli, C/1B
48. Paul Konerko, 1B
49. Nelson Cruz, OF
50. Brian McCann, C
Now we start to see the bottom of the shallow pool at 1B. Konerko is the last sure thing at the position, falling a full 21 picks behind Mark Teixeira.
There are some very talented players still to come, but if you want a sure bet for 30 homers and a palatable AVG, Paulie is your last chance. He belongs a round or two higher, but if you're willing to take a risk, he'll probably still be available at this point.
Castro and Andrus are both great options at SS, but although they're going back-to-back in drafts, they'll bring very different skill sets to your team. Both will deliver a strong AVG, but Castro has the advantage in HR and RBI, while Andrus is the better bet to deliver R and SB. It's very likely that you'll have a choice between the two at this point; be sure to keep team needs in mind when you make your pick.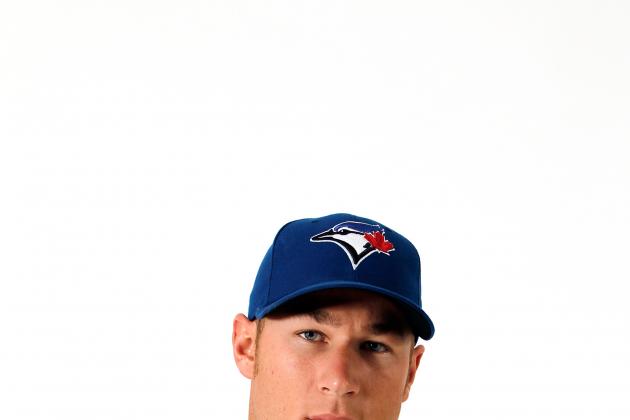 Jonathan Ferrey/Getty Images

51. Michael Bourn, OF
52. Dan Uggla, 2B
53. Desmond Jennings, OF
54. Brett Lawrie, 3B
55. Eric Hosmer, 1B
56. Craig Kimbrel, RP
57. Alex Rodriguez, 3B
58. Buster Posey, C/1B
59. Brandon Phillips, 2B
60. Aramis Ramirez, 3B
We now arrive at the fashion show portion of the draft, where your rival drafters will parade their knowledge of prospects across your draft board like so many scantily-clad models. Jennings, Lawrie and Hosmer are essentially the Victoria's Secret angels of the 2012 fantasy season.
All of these players are capable of elite production, but these picks aren't really about that. These picks are as much about winning the draft room as they are about eventually winning the league. The sixth round is a little bit too high, but it's cool to be the owner who snags Brett Lawrie.
I'm not going to tell you not to draft these guys, but if you do, be ready to cover your backside later in the draft. For instance, if you grab Lawrie here, pick up a David Freese-type later on, a player who can fill in with solid production if Lawrie falls into a sophomore slump.
Kimbrel is also a sexy selection, and although I'm generally opposed to drafting a closer this early, his K rate is too sweet to pass up.
Only five full-time closers struck out more than 10 batters per nine innings last season, and only one (the unproven Sergio Santos) came even close to Kimbrel's 14.84 K/9.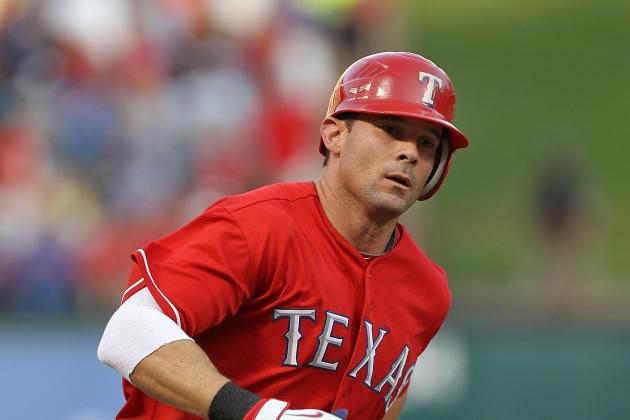 Ronald Martinez/Getty Images

61. Michael Young, 1B
62. Matt Cain, SP
63. Shin-Soo Choo, OF
64. B.J. Upton, OF
65. Stephen Strasburg, SP
66. James Shields, SP
67. Asdrubal Cabrera, SS
68. Mat Latos, SP
69. Ian Kennedy, SP
70. Pablo Sandoval, 3B
At this point, you're filling positions rather than just drafting the best player available, and that's going to cause some deviation from ADP.
The thin pool at 1B starts to show itself, as Team 1 has to reach for Young at this point just to assure that it doesn't get shut out at the position. There's still some talent after him, but all of it comes with question marks.
Shortstop is in a similar situation, as Cabrera comes off the board a bit earlier than his ADP. He's the last SS on the board without serious age or injury risk.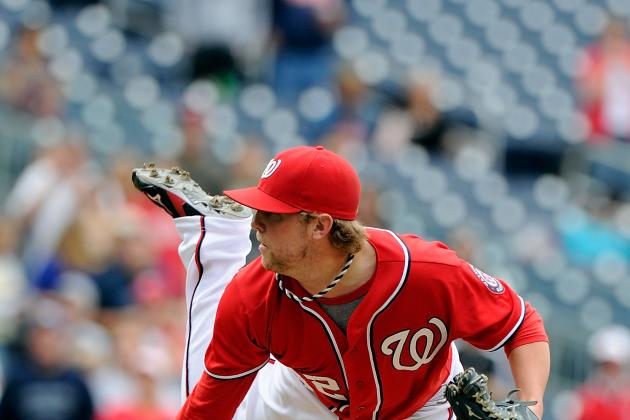 Greg Fiume/Getty Images

71. Madison Bumgarner, SP
72. Shane Victorino, OF
73. Ben Zobrist, 2B
74. Chase Utley, 2B
75. Adam Jones, OF
76. Rickie Weeks, 2B
77. Drew Storen, RP
78. Drew Stubbs, OF
79. Joe Mauer, C
80. C.J. Wilson, SP
As the drafters start to see the holes in their team, there's a run on second basemen. Zobrist, Utley and Weeks are all proven (if occasionally injury-prone) performers at the position. You'll likely have your pick of the three at this point in the draft; they're separated by a total of just 1.39 spots of draft position.
Storen is a good pitcher, but there's no way he should be going this high. His successful 2011 was partly fueled by a .246 BABIP, which covered up a 3.32 FIP that ranked 58th among qualified relievers. The Nationals will be better, but not enough that Storen will significantly improve on his total of 43 saves. He's a top 10 closer, but you can draft better pitchers a few rounds later.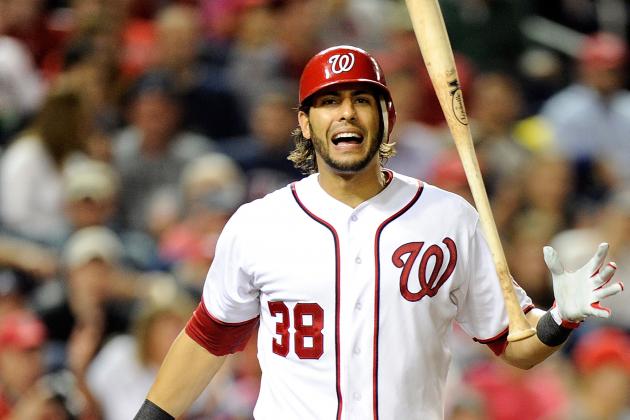 Greg Fiume/Getty Images

81. Michael Morse, 1B/OF
82. Kevin Youkilis, 1B/3B
83. Dan Hudson, SP
84. Ricky Romero, SP
85. Jimmy Rollins, SS
86. John Axford, RP
87. Brett Gardner, OF
88. Josh Beckett, SP
89. Tommy Hanson, SP
90. Michael Cuddyer, 1B/OF
This round is a great illustration of the flawed remains of the first base talent pool.
If Youkilis is healthy, he's a steal, but after battling injuries over the last three seasons, even 500 plate appearances isn't a sure thing. There's production to be had in R, RBI and AVG, but his home run power is not coming back.
Cuddyer is shooting up draft boards after a move to Colorado, but at 33 years old, 25 homers is out of reach regardless of where his home ballpark happens to be.
Morse has far less of a track record than his Round 9 compatriots, but if you need power, he has to be the pick.
Outside of 1B, Gardner is a huge value at this point in the draft. He could easily outperform fellow speedster Michael Bourn, who you'll have to draft a full three rounds earlier. Both are capable of 50-plus steals and 100-plus runs. Neither is a great bet for an elite batting average, and Bourn's .271 career AVG exceeds Gardner's mark by a mere seven points.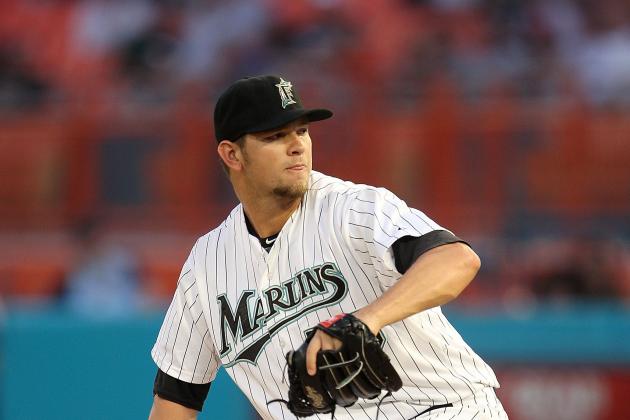 Mike Ehrmann/Getty Images

91. Mariano Rivera, RP
92. Matt Wieters, C
93. Lance Berkman, 1B/OF
94. Jayson Werth, OF
95. Cameron Maybin, OF
96. Michael Pineda, SP
97. Josh Johnson, SP
98. Howie Kendrick, 2B
99. Jonathan Papelbon, RP
100. Miguel Montero, C
The departure of Albert Pujols is going to hurt Berkman, but hitting behind Carlos Beltran and Matt Holliday is still a rather cushy position. Don't expect last year's numbers, but 25 HR and a .290 AVG is absolutely within reach.
Josh Johnson is another huge value in this round. If he's back to full strength (and it seems that he is), then he is a no doubt top 15 starter. Most of the contact that Johnson allows ends up on the ground, and the Marlins' improved infield defense will chase down a higher percentage of those grounders than ever before.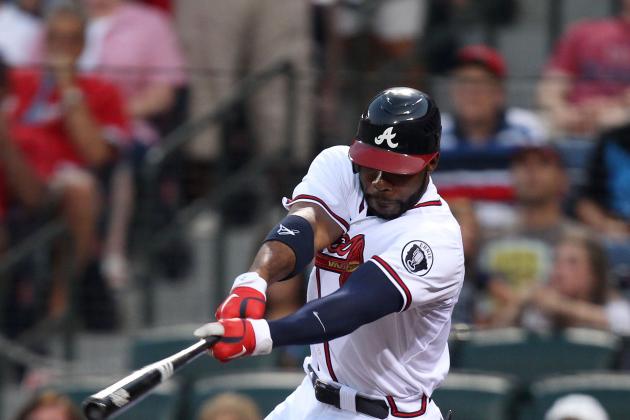 Mike Zarrilli/Getty Images

101. Matt Moore, SP
102. Adam Wainwright, SP
103. Gio Gonzalez, SP
104. Ichiro Suzuki, OF
105. Jason Heyward, OF
106. Alex Avila, C
107. Matt Garza, SP
108. David Ortiz, UT
109. Johnny Cueto, SP
110. Brandon Beachy, SP
With all of the outfielders that have already been drafted, I can't believe that Jason Heyward is still on the board here.
Yes, his 2011 performance was worse than anything we could have anticipated, but even in the trough of a sophomore slump, Heyward still produced 14 homers and nine steals. If he's able to stay healthy over a full season, those numbers could easily jump to 30/15, accompanied by a .285 batting average when his BABIP bounces back.
This may seem a little early for Matt Moore, but given a full season of work, he has the ability to lead the American League in strikeouts. In just over 60 combined innings at the major league and Triple-A levels, Moore fanned 94 batters. Expand that over even 175 innings of work, and Moore's K numbers look downright Verlanderian.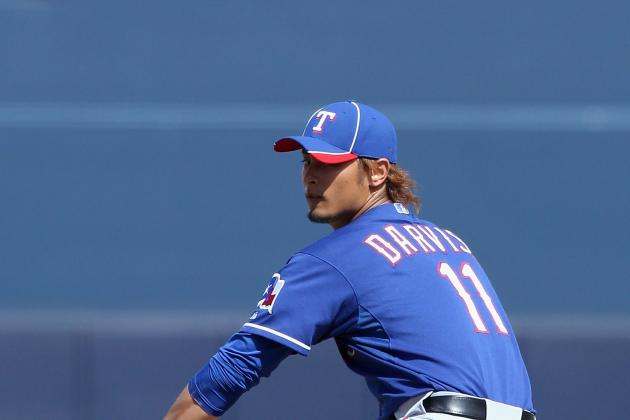 Christian Petersen/Getty Images

111. Mark Reynolds, 1B/3B
112. Derek Jeter, SS
113. Jordan Zimmermann, SP
114. Billy Butler, UT
115. Corey Hart, OF
116. Freddie Freeman, 1B
117. Nick Swisher, 1B/OF
118. Jose Valverde, RP
119. Yu Darvish, SP
120. Dustin Ackley, 2B
I'd like to give some props to the fantasy community for taking its collective time with Dustin Ackley. He's a fantastic example of a player who is extremely valuable to his team, but won't put up gaudy fantasy numbers. Ackley has all the talent in the world, but in that ballpark, with that offense, he's not going to produce much beyond AVG. He's a decent value here, but temper your expectations.
Darvish is certainly unproven, but I think the skepticism has gone a bit too far. We were all burned by Dice-K and his mystical gyroball, but Darvish isn't that kind of pitcher. He does have the wide repertoire of pitches that every Japanese import seems to bring across the Pacific, but he pairs that junkyard approach with an American-style mid-90s fastball. With plenty of run support and an elite defense behind him, Darvish will deliver value well beyond his draft position.
Hart is a worthwhile risk here. He'll miss some time to start the season, but with the depth at OF, it shouldn't be hard to find a serviceable fill-in.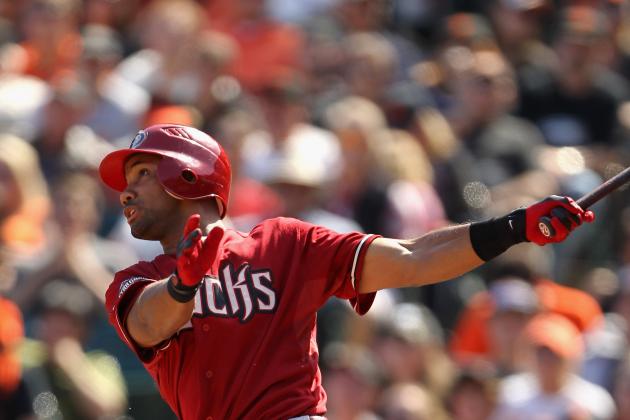 Ezra Shaw/Getty Images

121. Joel Hanrahan, RP
122. Heath Bell, RP
123. Chris Carpenter, SP
124. Jeremy Hellickson, SP
125. Anibal Sanchez, SP
126. Cory Luebke, SP
127. J.J. Putz, RP
128. J.J. Hardy, SS
129. Chris Young, OF
130. Tim Hudson, SP
Hey, back-to-back J.J.s!
Sorry, it's the 13th round, forgive me for reaching a little bit.
On a more serious note, this round brings on the second wave of closers. It may seem like all of the big names are disappearing, but be patient, there are plenty of saves to be had later on. Don't make the same mistake as many real-life general managers by overpaying for a "proven" closer. Saves are saves, and in this case, "cheap", not "proven" is the preferred adjective.
I'd much rather bypass a closer here and grab a value like Young. If you can protect batting average early on by spending high draft picks on players like Miguel Cabrera and Robinson Cano, he's great value as a source of power and speed.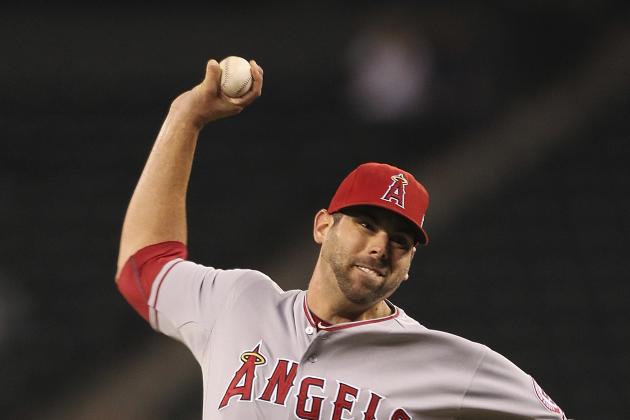 Otto Greule Jr/Getty Images

131. Neil Walker, 2B
132. Ryan Madson, RP
133. Jordan Walden, RP
134. Shaun Marcum, SP
135. Danny Espinosa, 2B
136. Andrew Bailey, RP
137. Carlos Marmol, RP
138. Paul Goldschmidt, 1B
139. Carlos Beltran, OF
140. Andre Ethier, OF
The closers continue in this round, but this time, the value is fantastic.
Madson and Walden are top five talents that are going outside of the top 10 relief pitchers.
Outside of the elite guys, it's very tough to predict saves totals from year-to-year. With that in mind, the best approach to filling your closer slots is to take the most talented pitchers who also have a solid grasp on the role. Focus on closers for winning teams in order to maximize save opportunities.
That strategy leads us straight to Ryan Madson and Jordan Walden. Both pitchers miss bats at an elite rate, and neither has an experienced challenger for the closer's role.
It's absolute lunacy that these guys are going a full round behind pitchers like Joel Hanrahan and J.J. Putz.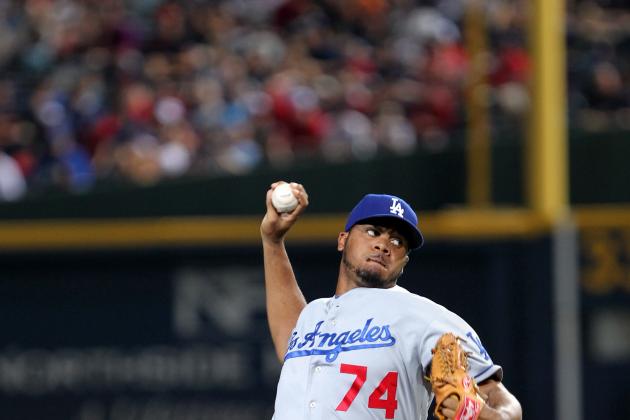 Joe Murphy/Getty Images

141. Joakim Soria, RP
142. Adam Lind, 1B/OF
143. Sergio Santos, RP
144. Yadier Molina, C
145. J.P. Arencibia, C
146. Joe Nathan, RP
147. Brandon League, RP
148. Kenley Jansen, RP
149. Jason Motte, RP
150. Huston Street, RP
This round is certainly skewed by a need to fill out the roster that I set for each team, but there is still value in looking at the order.
All of the closers here will be likely available in the 15th round or later.
It's impossible to know if Nathan will be able to recover the skills that made him one of the best in baseball back in Minnesota, but he has an incredible opportunity at the back of the Texas bullpen.
Soria, Santos, Motte and Street all have fantastic skill sets and are great late-round investments.
Jansen is certainly the sexiest player left on this list; his league-leading 16.10 K/9 is intoxicating, but his value is suppressed by the the announcement of Javy Guerra as the Dodgers' closer. That shouldn't eliminate him from your consideration, but understand that when you draft Kenley Jansen, you're picking skills, not saves.