NCAA Bracket 2012: NC State and Bubble Teams That Would Do Damage
March 11, 2012

Kevin C. Cox/Getty Images
With the conference tournaments wrapping up, it's time for the college basketball fan in all of us to visualize the NCAA tournament bracket.
Teams are fighting to get into the field, but a weak schedule or conference, or a mixture of both, may be what keeps many of the better regular-season teams of this year on the outside looking in.
All of the following bubble teams will be dangerous if they get into the tourney, but how many actually will is a question for the committee to handle.
North Carolina State [22-12 (9-7), RPI: 47, SOS: 30]
After pushing North Carolina to the limit, the underestimated North Carolina State Wolfpack will use that momentum to make a run in the NCAA tournament. That is, if they even get in.
With a 22-12 record on the season, the ACC's fourth-place Wolfpack will need to make it into the bracket of 64 before they can do their damage. ESPN's Joe Lunardi has them as one of the last four teams into the event.
If NC State gets in as anticipated, their stellar defense and timely scoring will be enough to knock off many higher seeds. If they can almost beat North Carolina, they have a chance to beat anyone.
Drexel [27-6 (16-2), RPI: 63, SOS: 247]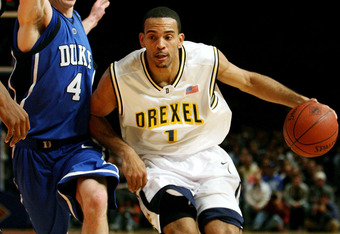 Nick Laham/Getty Images
While most people scoff at the fact that their strength of schedule at above 200 and an RPI of 63, the Drexel Dragons deserve to be in the tournament.
When a team goes 25-2 since December, no matter what conference their team hails from, they are one of the hottest teams in the entire nation. If they sneak into the tourney, don't be surprised if they do serious damage.
The perfect example that Joe Lunardi used was Murray State. While Murray State is 30-1, most of the same discounts people try to slap on the Racers could be used on Drexel, yet M-State is getting some serious respect.
South Florida [20-13 (12-6), RPI: 52, SOS: 34]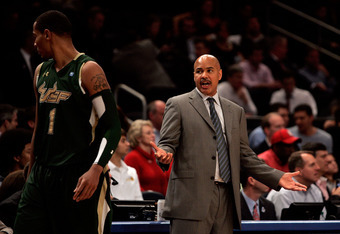 Mike Lawrie/Getty Images
While South Florida is the definition of a bubble team at this point, if they somehow sneak into the NCAA tourney, they could be very dangerous.
The South Florida Bulls spread the ball around and let many players get involved in the action. With this many hands on the ball, it's hard for opponents to develop a defense that can stop them.
As strong as the Bulls can be, their inability to beat ranked teams has the committee deciding if they even deserve the honor of NCAA tournament dancing. It will be a close call.
Check back for more on the NCAA Basketball as it comes, and check out Bleacher Report's College Basketball Page to get your fill of college basketball.