SEC Tournament 2012: Keys to Vanderbilt Pulling Monumental Upset over Kentucky
March 11, 2012

Chris Graythen/Getty Images
The Kentucky Wildcats have steamrolled through pretty much everyone this season, and that includes Vanderbilt—twice.
Still, Vanderbilt has been the closest to beating the Wildcats, so the SEC Tournament final should be a good one, no matter how dominant the 'Cats are. 
Here's a look at what the Commodores need to do, both on offense and defense, to pull the huge upset.
Let Anthony Davis Shoot the Ball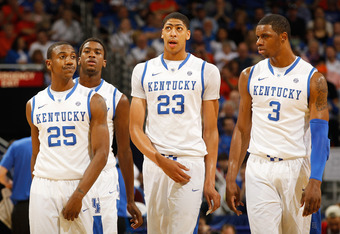 Chris Graythen/Getty Images
Davis, arguably the National Player of the Year, is dominant on both sides of the ball. There's no way to slow down his defensive presence, but the 'Dores can slow him on offense.
The talented freshman has been hitting the mid-range and even the three-point ball as of late, so he's obviously getting better with the jump-shot, but you just have to pick your poison. 
Don't compromise the rest of the defense by trying to stop Davis from hitting the jumper. If he knocks those down with consistency, so be it. However, if you start concentrating on Davis on defense, the 'Cats have much more dangerous offensive weapons. 
Get in Transition
Kentucky is so long, so athletic and so talented. Even if the Wildcats didn't have good defenders, which they do, their half-court defense would be tough to beat simply because of their size.
But they are also active and smart, so beating them in the half-court is out the question.
This step starts with defensive rebounding. The 'Dores have to box out on the defensive end (Kentucky is dangerous on the offensive glass), get out in transition and find John Jenkins or Jeffrey Taylor spotting up on the wings.
Vanderbilt shoots the ball better than any team in the conference, and the best way to get shots against Kentucky is in transition.
Prediction
Kentucky 70, Vanderbilt 68