Colorado vs. Arizona: Highlights, Twitter Reaction and Grades
March 11, 2012

Stephen Dunn/Getty Images
The Colorado Buffaloes took down the Arizona Wildcats 53-51 in the Pac-12 championship game on Saturday.
Both of these teams were playing for a chance to punch their ticket to the Big Dance, and there was certainly no doubting the intensity. 
If you were just watching this game, you never would have guessed it was their fourth game in four days. 
Tweets of the Night
Daily Wildcat Hoops made this observation about the first half.
Colorado with a 21-11 rebounding advantage. Arizona getting outplayed in almost every facet yet only trails by two.

— DailyWildcatHoops (@WildcatHoops) March 11, 2012
Wildcat Hoops makes a great point. After a half like that you would expect Arizona to make a run, but it never happened. Colorado's defense wouldn't allow it. 
That defense didn't make for the most aesthetically pleasing game. The faux Bill Walton summed that up.
Watching Colorado/Arizona. Not sure why I'm doing that. Switching to Baylor/Missouri.Ah, basketball. That's better.

— The Bill Walton Trip (@NotBillWalton) March 11, 2012
Grades for Key Colorado Players
Carlon Brown: B-
Brown's shot was off, finishing 4-for-11 from the field, but he was still able to make a positive impact by getting to the line. He had no shooting struggles from the charity stripe. 
Andre Roberson: A
Roberson was spectacular. He was a beast on the boards and spectacularly efficient on the offensive end. He was 4-for-6 from the field, had 10 points and 11 boards. 
Spencer Dinwiddie: A
Dinwiddie was just as amazing as Roberson. He set the tone right away with his on-point shooting. He finished the game 4-for-4 from three-point land and pitched in 14 points. 
Grades for Key Arizona Players
Kyle Fogg: B-
Fogg had a decent game, but he disappeared down the stretch. He finished with 14 points, but was just 4-for-11 from the field. 
Solomon Hill: C
Hill struggled from the field. He also was outclassed on the boards. He grabbed just five boards on the night. 
Jesse Perry: C+
Perry's game was almost a mirror image of Hill. He wasn't efficient scoring, and he got outworked on the boards—although he ended up with a more respectable eight rebounds. 
Deciding Factors: Rebounds
This was a defensive battle. That put an even greater emphasis on rebounding. Teams needed a second chance to score points, and Colorado wasn't letting Arizona get any. 
Game MVP: Andre Roberson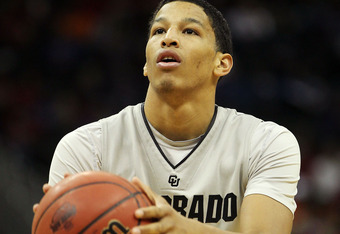 Jamie Squire/Getty Images
Roberson did everything the Bears needed. He chipped in points when they needed them, and he owned the paint. He was the game's leading rebounder and shot blocker. 
What's Next? 
It is on to the NCAA tournament for Colorado, and the NIT likely awaits Arizona.