ACC Tournament Championship: Previewing North Carolina vs. Florida State
March 11, 2012

Streeter Lecka/Getty Images
The ACC tournament championship will feature North Carolina and Florida State, who beat North Carolina State and Duke respectively. These two teams are fighting for both pride and seeding in the NCAA tournament.
Both semifinals games in the ACC tournament were exciting until the very end, which makes us expect a similar game between the Tar Heels and Seminoles.
North Carolina lost John Henson in their first game of the ACC tournament, and Tyler Zeller appeared to have a hand injury during the course of the game. Henson will probably miss this game, while Zeller will play, and James Michael-McAdoo will have to cover for Henson.
Florida State is going to just their second championship game in the ACC tournament in school history, but they managed to upset Duke on some clutch shots from Michael Snaer and Luke Loucks.
These are the key point to watch when these two teams face off.
Keys to the Game
North Carolina's key to the game is their frontcourt. Even with John Henson unlikely to play, a frontcourt of Harrison Barnes, James Michael-McAdoo and Tyler Zeller makes for an intimidating team.
Point guard Kendall Marshall will need to try to let the bigs do the majority of the damage because when they were blown out by FSU the team shot only 19 percent from three. While Marshall, Reggie Bullock and P.J. Hairston will need to extend the defense with their jumpers, the Tar Heels should try to look inside.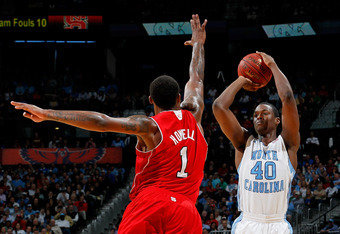 Kevin C. Cox/Getty Images
Florida State simply needs to stay motivated. The Seminoles will be completing two games in less than 24 hours, and they will need to find a way to stay energized.
Coach Leonard Hamilton shouldn't have a problem with this, as he has said time and time again that he is tired of being considered the third team in the ACC. Hamilton and his guys will be fired up for this game, and they will just need to knock down their shots after that.
Stars to Watch
North Carolina has nothing but stars on their team, but they two to watch are Harrison Barnes and Kendall Marshall.
Barnes will need to have another big game for the Tar Heels if they are going to win, as he is an elite player with the potential to take over a game, but Florida State will be trying to shut him down.
Marshall will need to rack up another 10 assists, and make smart passes. He needs to recognize when to push and when to slow down, as this is the third game in three days for both teams, so fatigue will be a factor.
Florida State needs Michael Snaer, Deividas Dulkys and Bernard James to step up.
Snaer is the team's most clutch player, hitting a buzzer-beating three to sink Duke at Cameron earlier in the season. He needs to be able to score early and often.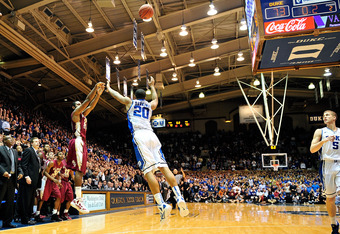 Grant Halverson/Getty Images
Dulkys also needs to step up. He has had a decent season, but the clear highlight was when he dropped 32 points on North Carolina in their previous meeting. He needs to be able to get into the mid-teens if the Seminoles stand a chance.
Bernard James needs to be able to hold his own inside with Tyler Zeller. If he can rebound well the team stands a chance, but if he gets out-muscled inside they are dead in the water.
Matchup to Watch
The matchup to watch in this game is the battle of the guards. North Carolina has the advantage inside, so Florida State's guards need to outplay those of UNC.
In their first game, Kendall Marshall was limited to six points and four assists before fouling out of the game. If the Seminoles can force a similar game out of Marshall then they stand a much better chance of winning.
North Carolina simply cannot be given an advantage in guard-play or they will win the game 99-out-of-100 times. Florida State's backcourt needs to step up yet again if they want to win the ACC tournament.
Bottom Line
While Florida State seems to have simpler keys to the game, I give the Tar Heels an edge. North Carolina's team is simply too good to lose to a team like Florida State twice in a season.
With Marshall leading the team, Hairston and Bullock hitting threes, Barnes being an elite jump-shooter, Michael-McAdoo hitting his stride and Zeller dominating inside, UNC is a tough team to beat. They have the advantage in the frontcourt, and as long as Marshall plays well they will be tough to beat.
Final Score Prediction: North Carolina 71, Florida State 64