Big East Tournament 2012: Why Connecticut Has Toughest Road in NCAA Tournament
March 11, 2012

Jim McIsaac/Getty Images
Despite their struggles, the University of Connecticut has the potential to go deep in this year's NCAA tournament—but they will face the toughest road ahead of any Big East team.
Part of the reason is that the defending national champs are already mired in an uphill battle they have been fighting all season.
Despite losing last year's leader, Kemba Walker, to the NBA, the 2011 preseason saw a bright-eyed and optimistic Connecticut.
But the Huskies' path has been anything but easy.
Jim Calhoun spent the year migrating between the court and his doctor's office. He has suffered severely from spinal stenosis, culminating in a lengthy post-surgery leave of absence in early February.
While dealing with an in-and-out coach, the Huskies hit rock bottom in late January, dropping four in a row.
Three of those games were lost in heart-wrenching fashion as Connecticut fell to opponents by a margin of three points or less.
Their slide continued, with a February 11 loss to Syracuse seriously calling into question their tournament hopes.
But like last year's national champions, the unlikely Huskies hoisted themselves over the ledge into tournament territory, beating West Virginia in the Big East Tournament to snatch an at-large bid.
They are now hovering somewhere between a No. 8 and No. 10 seed.
As the tournament is rightly designed, a higher seed equals a harder path—so it will be a blow to the Huskies if they are doled a No. 10 seed.
Though perhaps Jeff Hathaway, NCAA Selection Committee Chairman and former UConn Athletic Director, will be kinder to his old school.
But even if the Huskies land themselves in the 8 spot, as they are currently projected by bracketologist Joe Lunardi, they will likely have to face Memphis in their opening game.
Memphis would be tough for Connecticut.
The Tigers rank 5th in the NCAA in field goal percentage, shooting a cool 49.2 percent a game.
Memphis also lights it up from behind the arc, sinking 36.6 percent from downtown.
While UConn's defense is steady, it could stand to pick up its pace and press.
The Huskies can get sluggish on offense as well.
Should Connecticut eke out the win over Memphis, Lunardi has Kentucky laying in wait for the Huskies.
The Wildcats are projected to have shored up the overall No. 1 seed.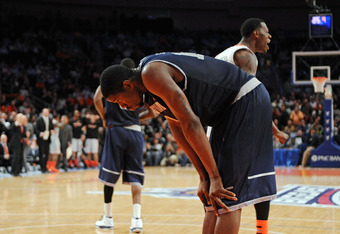 Michael Heiman/Getty Images
So the battle would rage on with no respite for UConn.
But having the hardest path doesn't mean the Huskies won't succeed.
This squad, which has remained largely unchanged from the National Championship team of last year, thrives under pressure.
Sure, the Huskies struggle in several technical areas, notably: Jeremy Lamb's inconsistencies, the team's overall lack of aggression, their inability to get to the foul line and their difficulty grabbing balls off the boards.
But they have a big heart and a chip on their shoulder.
The defending national champion enters this tournament an underdog, and the fact that the Huskies have been given nothing is all the more reason to expect more out of the Big East team that has it hardest.