Big East Tournament 2012: Louisville Will Reclaim Big East Crown
March 10, 2012

Chris Trotman/Getty Images
The Louisville Cardinals are 40 minutes away from reclaiming their title as Big East Champs.
Rick Pitino's crew has to roll through big Yancy Gates and Cincinnati first, but I'm expecting the feisty Cardinals to prevail.
Peyton Siva and Co. hobbled into the Big East tourney, but they've been on a rampage since the event began. The Cardinals have won their three tournament games by an average of 11 points, including double-digit beatdowns of No. 9 Marquette and No. 23 Notre Dame.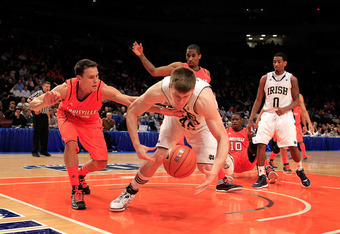 Chris Trotman/Getty Images
The key to all three victories was their pressure defense, led by Siva and Russ Smith. The two have wreaked havoc on opposing guards, using their length and speed to force turnovers with ease. The Cardinals forced Seton Hall into 17 giveaways, while Marquette turned the ball over 26 times.
Notre Dame managed to commit just 12 turnovers, but Louisville still reduced their offense to nothing more than a frantic mess. The Irish were held without a field goal for over 12 minutes in the first half, and shot an awful 2-17 on three-pointers. They hit just 35.8 percent of their field goals for the game.
All of this is bad news for the Bearcats, whose offense has been far from potent at times this season. Cincy is shooting just 42.1 percent from the field this season, putting them at 245th in the country. They only commit 11 turnovers a game, but don't be surprised if Louisville's pesky guards frustrate Cashmere Wright and Dion Dixon into uncharacteristic mistakes.
Cincinnati topped the Cardinals in an ugly game three weeks ago, but that was before Pitino's group adopted their current swagger. They haven't just been beating the best teams in the conference, they've been destroying them.
The Bearcats are a talented group and they'll certainly be dangerous in the Big Dance—but tonight, the Big East crown will return to Louisville.