WWE WrestleMania 25: Top 10 Moments from One Big Night in Texas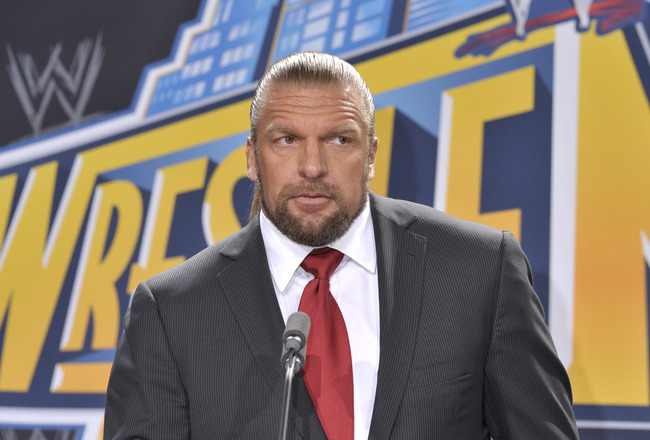 Michael N. Todaro/Getty Images
Three years ago, WWE took their biggest show of the year to Texas. The state has the saying, "Everything is bigger in Texas." Well, they were certainly telling the truth.

The arena was packed. The matches were huge. The build was excellent. Everything was in line for a great show.
Would WrestleMania deliver? Let's find out...
10. Kid Rock Performs
I had no problem with him performing.

Kid Rock has had hit after hit during his career, thus it was smart to get him for WrestleMania. It was just a few months earlier that he had yet another smash hit.

My only issue was he went a few minutes too long. Maybe cut out a song?

Again, him performing was not a concern to me. Musicians will always be a part of big WWE show, and that isn't going to change. This could have just been cut down a little.

I say this as a Kid Rock fan!
9. Miss WrestleMania
WWE had a huge diva battle royal to determine the first ever "Miss WrestleMania."

Some will call this entire thing a joke, as Santina Marella won, and they would be right. This thing was never meant to be some sort of huge honor. Remember Mae Young was Miss Rumble?

It is okay to smile folks. Not everything is super serious!

Another complaint was all of the divas were all in one entrance, including some returning to WWE. That is also true.

However, do you really want to see 25 different entrances? With 25 different girls? All down a long entrance ramp at the biggest event of the year?

No.
8. Unified Tag Team Titles
Primo and Carlito defeated The Miz and John Morrison to unify the tag team titles.

It took place on the pre-show, and there was some uproar over this. I am not sure why, but as usual, fans were complaining to the company.

If you can find me one fan who spent $60 for this match, then I will change my mind.

The fact is the show needed to cut away a match. With seniority once again in play, this match had to go. Every match that made the "real" card wasn't going to be bumped. This one was the only choice to go.

Hours later, WWE proved they were right once again. The PPV event went off the air exactly at the end of their fourth hour. Not five minutes early. Or ten minutes like usual. No!

They had exactly four hours for WrestleMania, and WWE timed it down to seconds perfectly.

Just like the very good WWE Hall of Fame class in 2009, this event was just fine with or without a tag team match. Yes, fine.
7. JBL Retires
I am a big fan of JBL. However, it was time to for him to go.

As a strong supported of health and safety, this was nearing the end of the road for Bradshaw. years later, he is doing great and is on good terms with the company.

He got out at the right time. Something very few understand...

On this night, he defended his Intercontinental Championship against Rey Mysterio (dressed as the Joker). Less than one minute later, we had a new champion!

JBL "quit" after the match in front of the great Texas crowd and walked away...
6. Money in the Bank
This was a nice selection for Money in the Bank participants.

CM Punk, Kofi Kingston, MVP, Shelton Benjamin, Kane, Mark Henry, Finlay, and Christian all competed in the ladder match for a future title match.

The only realistic choices were Punk or Christian. The rest were clearly filler and had no chance to win.

In the end, Punk shocked the world by winning his second Money in the Bank ladder match in a row. Months later, he cashed in on Jeff Hardy and turned heel in the process.

It was the correct move. Just like Daniel Bryan last year, it was 100 percent a heel move, and his character change was already in motion...
5. Jericho Dominates
Chris Jericho beat Rowdy Roddy Piper, Jimmy "Superfly" Snuka, and Ricky "The Dragon" Steamboat. Ric Flair was in the corner of the WWE Hall of Fame performers.

Watching from the crowd was Mickey Rourke. As a famous actor, you knew he was going to get involved somewhere. After the match, he certainly did.

Mickie knocked out Chris Jericho with one punch, and the fans were left smiling.

Even with Jericho dominating the legends, the winner in all of this was Steamboat. He proved he could still go and later had a few more matches for WWE.

Job well done!
4. Jeff Hardy vs. Matt Hardy
This was such a great feud. It is such a shame to see where these men are in 2012.

Matt Hardy had turned on his brother a few months earlier, and WWE did a nice job keeping the two apart until Mania.

Jeff Hardy wanted revenge for Matt costing him the WWE title, but it was not meant to be. Matt Hardy picked up a huge win on this night in an Extreme Rules match.

Just look at Jeff's record at WrestleMania! Not very pretty...

As expected, the face eventually got the best of the heel. A few weeks later, Jeff made Matt say "I quit," and the feud all but ended.
3. The Main Event
Triple H vs. Randy Orton was an excellent feud. With the WWE Championship in the middle, it was only that much better.

Both men had a lengthy past and were top notch in the ring. With all of the McMahon family members out thanks to Orton, Triple H had to stand up for his family and take out Mr. RKO!

It was a really intense feud leading into Mania. Then some ridiculous stipulation was added that it had to be a normal match, and no weapons could be used.

Thus, the entire feud was taken away from them before the match even began...

The two had a good match to close out Mania. Triple H (rightfully) won, as he was the face in this story.

However, closing the biggest show of the year with just a "good" match is not acceptable.

These two needed a huge brawl. Chairs, sledgehammers, Legacy, and every member of the McMahon family was to be expected here. Instead, we got a nice little "wrestling" match.

Not the way to close the show.

At the next PPV event, Randy Orton "took out" Triple H and got the WWE title!
2. Cena Is World Champion
Edge was the reigning World Heavyweight Champion.

At the time, he was with Vickie Guerrero, who was also with Big Show. It was a giant mess of a relationship, but that wasn't the focus here.

John Cena was the former champion and wanted his belt back!

Though it took a few weeks, Cena eventually got his match. However, it was going to be a triple threat match with Show and Edge.

These three tried their best. It is too bad the order of the final three matches was so mixed up because the crowd could have really got involved in this one.

In the end, John Cena won back his World Title, and it was the right move! The top man in the business needed to win here, and he did.

A few weeks later, Edge beat him for the WWE title in a Last Man Standing match in their final one on one PPV match ever...with help from Big Show!
1. The Greatest
I have never sat down and actually ranked my favorite matches of all time. After twenty years of being a wrestling fan, I just never felt the need to do so.

If I ever do get around to that list, this may be at the very top.

Undertaker vs. Shawn Michaels at WrestleMania XXV was probably the greatest match I ever saw. Forget title matches. Forget "mat classics." This one beats them all.

The outcome was never in doubt, but that didn't matter. What these two did on this night was about as memorable as you will ever get in this business.

From Jim Ross calling the match to the excellent video package to their entrances to the match taking place in Texas to the near falls to the Tombstone being kicked out to the finish...everything!

Not too long ago, I had a lady friend over and instead of watching a horror movie like usual, she asked me to watch one of my "wrestling matches." I was stunned by the request, but I happily obliged.

After five seconds of thinking, I picked this match to watch. Needless to say, she had never seen WWE before but was instantly hooked. By the end of the match, she was yelling "The streak can't end! NO!!!"

That says it all folks...

Follow Justin Watry on Twitter!
Keep Reading