NCAA Tournament: How Many Philadelphia Teams Will Be In?
March 10, 2012

Penn lost. Drexel lost. Villanova lost. Then came the A-10...Temple lost, Saint Joe's....lost. La Salle lost.
And then there were none.
This was unreal. With the exception of Penn, all five teams lost in their conference tournaments. The Penn Quakers lost their trap game to Princeton, as they could not force a one-game playoff with Harvard. Drexel was unable to punch their ticket to the NCAA Tournament, with a loss to VCU in the CAA Final.
Villanova looked strong against Rutgers, but quickly returned to form with their third loss to South Florida in the Big East tournament. It was the first time that Temple did not win a game in the Atlantic Ten tournament, as the No. 1 seed Owls fell to Massachusetts 77-71.
Saint Joe's, who were already on the wrong side of the bubble, practically eliminated all chances at an at-large berth, with a loss to Saint Bonaventure. La Salle capped off the brutal week with a defeat against Saint Louis.
What's next for the City Six? Here's a look at everyone's resumes and where they are headed:
Overall Record: 24-7
A-10 Record: 13-3
Strength of Schedule: 59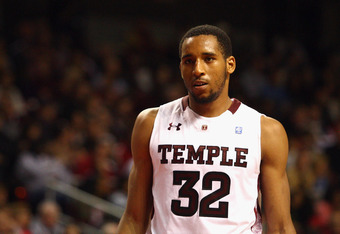 RPI: 16
Quality Wins: Wichita State, Duke, Maryland, Saint Joe's, Saint Louis, Xavier, etc.
Bad Losses: Bowling Green, Richmond
Postseason: NCAA Tournament
Analysis: Besides the disappointing loss to UMass in the Atlantic Ten tournament, it's been a stellar year for the Owls. Temple has more than six quality wins and barely two bad losses.
The Duke game obviously helps their RPI and SOS, but the numbers would still be in that range without the upset over Duke at the Wells Fargo Center on January 4th. I'm inclined to give Temple a 6-7 seed, only because of few wins against the AP Top 25 and the loss to UMass.
Overall Record: 27-6
CAA Record: 16-2
Strength of Schedule: 229
RPI: 65
Quality Wins: VCU, GMU, ODU (twice), Princeton
Bad Losses: Norfolk State, Delaware
Postseason: NIT
Analysis: As a fan, Drexel should be in. Twenty-seven wins, six losses, and a 19-game winning streak. However, when you analyze Drexel, they don't deserve it. The NCAA committee looks at who you played and who you beat. Drexel has nothing to show for that.
Their toughest non-conference opponent was Saint Joe's, and the 229 SOS clearly shows it. The Dragons match any "eyeball-test" you want, but their only quality wins came in the CAA. It's been a long week in University City, and I think SEC, ACC and PAC-12 bubble teams will earn at-large berths over Drexel. A high NIT bid is definitely a lock.
Overall Record: 20-13
A-10 Record: 9-7
Strength of Schedule: 54
RPI: 67
Quality Wins: Drexel, Creighton, Temple
Bad Losses: American, Penn, Charlotte, Richmond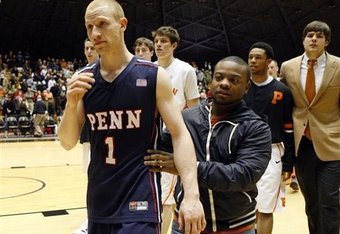 Postseason: NIT
Analysis: Saint Joe's has lingered on ESPN's Joe Lunardi's bracket the whole season. The victory over Creighton was saving them from absolute elimination, and the Temple win reinforced the Hawks' cause for an at-large bid.
With the loss against Saint Bonaventure in the second round of the Atlantic Ten tournament, all hopes were lost. Phil Martelli's squad is looking at a medium-high NIT bid. If their RPI was in the 40s or maybe the 50s, SJU would have a case. Still, a 9-7 record in a mediocre Atlantic Ten doesn't cut it.
Overall Record: 21-12
A-10 Record: 9-7
Strength of Schedule: 118
RPI: 84
Quality Wins: Xavier, Saint Bonaventure, UMass (twice)
Bad Losses: Robert Morris, Delaware, Richmond, Fordham
Postseason: CBI
Analysis: Everyone around La Salle is expecting an NIT bid, but I don't see it happening. I didn't know La Salle's RPI was an 84, as I expected it to be in the 60-70s. With a SOS of 118, and not enough quality wins, the Explorers can expect a CBI bid.
A low NIT bid could happen, but that is a stretch. La Salle could not get it done last night, with a tough loss to Saint Louis. Still, Earl Pettis and Ramon Galloway are dangerous. Expect the Explorers to make a run in the CBI.
Overall Record: 19-12
Ivy Record: 11-3
Strength of Schedule: 103
RPI: 95
Quality Wins: Saint Joe's, Princeton, Harvard, Yale
Bad Losses: James Madison
Postseason: CBI
Analysis: Well, Well, Well. The Quakers are probably still scratching their heads with the 62-52 loss to Princeton on Tuesday. A win over the Tigers at Jadwin Gym would have set up a one-game playoff with Harvard this weekend. Instead, the Crimson took the Ivy's automatic bid to the NCAA Tournament and left Penn wondering where they will wind up.
I was surprised that the Quakers' RPI and SOS were high for an Ivy team. Still, the NIT is a stretch. The CBI would be perfect for the Quakers, as Rosen, Bernardini, Belcore and Howlett would have a chance to end their brilliant careers on a happy note.
Overall Record: 13-19
Big East Record: 5-13
Strength of Schedule: 4
RPI: 114
Quality Wins: Seton Hall, St. John's
Bad Losses: Santa Clara, Pitt, USF (3), Saint Louis
Postseason: None
Analysis: Villanova declined a bid to either the CBI or CIT tournaments after its loss to Rutgers earlier this week. This eliminates the possibility for a 20-loss season and avoids even more pain for 'Nova fans. There aren't a ton of bad losses, since the Wildcats play in the Big East, hence the fourth-best SOS.
Villanova will easily have a better season next year, as no seniors are leaving. Maalik Wayns will have another chance to bring Villanova to greatness, and players like Ty Johnson, JayVaughn Pinkston, James Bell and Dominic Cheek will be more mature and game-tough.