Pac 12 Tournament 2012: Keys to Colorado Taking out Arizona in the Final
March 10, 2012

Stephen Dunn/Getty Images
The Colorado Buffaloes, who were picked to finish 10th in preseason Pac-12 polls, are looking to continue their magical run today when they take on the Arizona Wildcats with an NCAA tournament berth on the line.
The Buffs have had an impressive run through the tourney, as they knocked off Oregon, arguably the league's hottest team, in the quarters and two-seeded Cal in the semis. 
It appears that Colorado is out of its funk that saw it finish the regular season 1-3. 
Here's a look at what the Buffaloes need to do to take out the talent-laden Wildcats today.
Stop the 3
Led by Kyle Fogg, Brendon Lavender and, to a lesser extent, Solomon Hill, the Wildcats are deadly from behind the arc. They lead the conference in three-pointers made and percentage (38.4).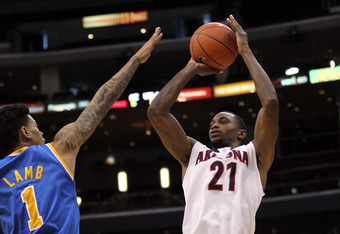 Stephen Dunn/Getty Images
It's a good thing for Colorado fans that the Buffaloes are very good at defending the long ball. The Buffs allow opponents to shoot just 32.5 percent from deep, which is second-best in the conference.
This is easily the most intriguing matchup of the game. If the Wildcats are able to knock down threes with consistency, they'll win. If Colorado stops them, it will win.
Get Carlon Brown going
Andre Roberson is Colorado's best player, but he's more of a fill-up-the-stat-sheet kind of player, as evidenced by his consistent double-doubles to go with a steal and two blocks per game.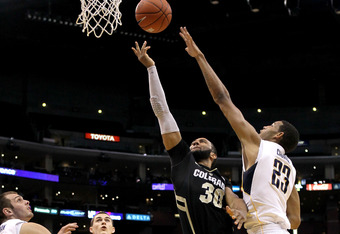 Stephen Dunn/Getty Images
He's the leader of this team, which prides itself on its defense. There's no doubt about that.
However, the Buffs won't be able to rely strictly on defense against this Arizona team that can light it up. They'll have to score too, and that's where Carlon Brown comes in.
Brown led Colorado with 12.6 PPG this season, but he's stepped up to another level in the wins over Oregon and Cal, scoring 18 and 17 points, respectively.
Brown is looking more and more like James Harden, a former Pac-12 star, and if he can continue his dominant offensive ways, the Buffaloes will roll.
Stay out of Foul Trouble
Colorado isn't what you would call a deep team, and Arizona is good at drawing fouls and getting to the line.
In the last two games, the Wildcats have gotten to the line 29 times per game and fouled out three players in the process. In fact, Arizona is one of the best teams in the nation at getting to the free-throw line, as 23.5 percent of its points come from there.
Despite missing freshman guard Josiah Turner, the Wildcats will attack the basket with reckless abandon. Colorado needs to stay straight up and avoid silly fouls.
Prediction
Colorado's defense has been too good, and Arizona will never get comfortable.
Buffaloes 66, Wildcats 62