Boston Red Sox: 4 Spring Training Stories Worth Following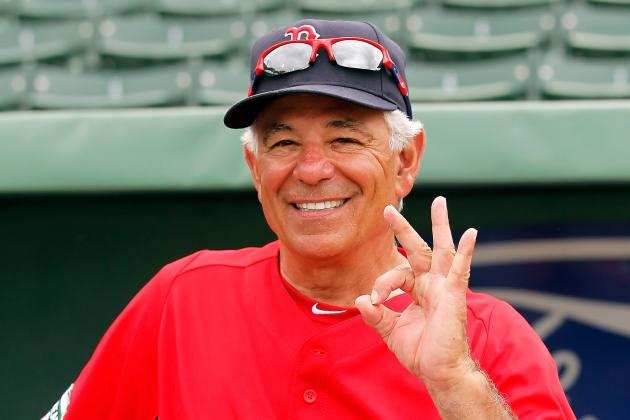 J. Meric/Getty Images
Going as planned? Bobby Valentine seems pleased so far.
Watching spring training baseball is not the most intense experience when it comes to viewing live sporting events.
The fans in the stands look relaxed, the weather is warm and sunny, the players seem laid back.
It's enough to make one forget about what exactly is taking place.
There are, after all, only so many spots available on the opening day roster of any baseball team and as the month of March ticks down toward the start of April, players are going to become aware of their presence on or off of that roster.
For some players making the team is a given. Dustin Pedroia doesn't go home at night in Fort Meyers thinking, "I sure do hope I make the club this year." That wasn't always the case though. Five years ago Dustin Pedroia was in that unenviable position.
Entering the 2007 season Pedroia had started only 24 games in the majors, and while he was the favorite to become the Red Sox second baseman, he was not assured of any type of long-term stay, unless of course he performed well enough to earn it.
Five years later after a Rookie of the Year award, an MVP, two Gold Gloves and one World Series ring, spring training is nothing more than a preseason for Pedroia.
It's not that way for everyone in Fort Meyers though. Especially not this year in the aftermath of the 2011 debacle, as there are numerous stories developing in the seemingly tranquil atmosphere of spring training.
Begin Slideshow

»
J. Meric/Getty Images
Daniel Bard will make his second start of the spring tonight.
Finding decent starting pitchers in baseball has become so difficult and so expensive that teams are now removing top pitchers from the bullpen and inserting them into the starting rotation.
This coming season, there are a number of pitchers who weren't just in the bullpen last season, but were performing quite well in that bullpen role who are now being groomed to start in the 2012 season.
Daniel Bard is one of those guys.
Bard was among the best set-up men in the American League the past few seasons. Armed with a fastball that tops out close to 100 miles per hour, Bard had the look of a man being prepped to close in the majors.
When Jonathan Papelbon left Boston as a free agent It looked even more likely that Bard would be the man finishing games for the Red Sox in 2012 and beyond.
That's not how it's panning out. By December of 2011, the Red Sox had a starting rotation with only three spots filled. As free agent pitchers inked deals, the Red Sox were not willing to overspend on starting pitchers who were taking advantage of a market in which demand was outpacing supply.
Part of the Red Sox solution to the decided lack of starting pitchers was to simply take the most talented non-starting pitcher in the organization and turn him into a starting pitcher.
No one has made an official announcement yet, but Bard is going to be the Red Sox No. 4 starter this season.
In his first start, Bard went two innings, threw 31 pitches and allowed no hits. Is that good enough to ensure him as a reliable member of the Red Sox rotation for the next few years? No, but it's good enough to ensure that the Red Sox see this transition through until Bard has amassed enough innings to determine just how viable a starter he can be.
Will Daniel Bard be a top starting pitcher in 2012, 2013 or beyond? It's too soon to tell, but it's not too soon to see that the Red Sox are determined to find out.
Jim Rogash/Getty Images
Darnell McDonald is hoping to catch-on with the 2012 Red Sox.
Darnell McDonald was one of those nice stories from an otherwise forgettable 2010 season.
That season was one in which the Red Sox suffered injuries to nearly their entire lineup. Dustin Pedroia, Kevin Youklis and Jacoby Ellsbury all missed considerable time to injury, and the Red Sox missed the playoffs.
McDonald, who was brought up to the majors early in the season to fill in for Ellsbury, did manage to make a very good impression. He was fast, he had some timely hits and he played solid outfield. His style of play endeared him to fans and management.
Last season McDonald was once again a backup outfielder in Boston, but with less inspiring results.
This season he's got some real work to do. The Red Sox may have lost both J.D. Drew and Josh Reddick, but they've also brought in Cody Ross and Ryan Sweeney. Ryan Kalish will eventually return to health, and Mike Aviles can play the outfield if needed as well. All of a sudden McDonald's spot on the 2012 Red Sox is anything but assured.
"You always have to show people what you can do,'' McDonald said. "I know that's the case now because that's always the case for me. I have something to prove every day I put the uniform on." - Boston Globe 3/10/12
McDonald is clearly aware of his circumstance, but that might not be enough. He doesn't have complete control over this situation. A nice spring by McDonald still may not be enough to assure his place on the Red Sox. Not if Sweeney and Ross both excel, not if Che-Hsuan Lin makes an impact or Jason Repko happens to catch fire.
McDonald provided some good memories in 2010, but there's no assurance he'll get that chance in 2012.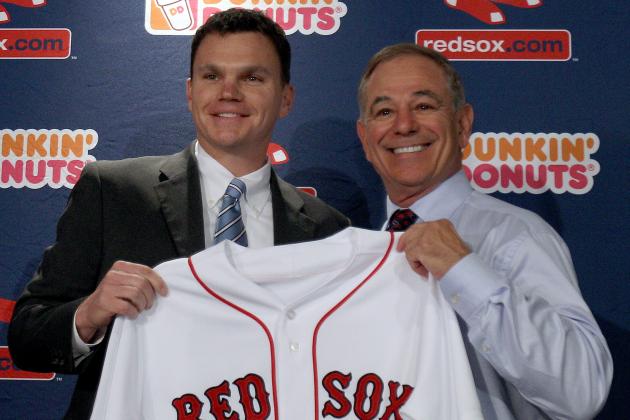 Elsa/Getty Images
New GM Ben Cherington and new manager Bobby Valentine are the men tasked with turning around the Red Sox.
While not everyone liked the results, nearly everyone seemed to like Terry Francona.
The Red Sox new skipper, Bobby Valentine, may end up with a decidedly different set of opinions about him.
Valentine is almost the complete opposite of Francona.
While Francona was not known for making brash or controversial comments, Valentine seems to enjoy the attention that follows him for his sometimes off-the-cuff commentary.
Francona ran laid back spring trainings, while Valentine seems more detail oriented and more intense.
"He cares about the little things that can help you win the game,'' - Clay Buchholz, Boston Globe 3/3/12

"We're not just going through the motions,'' added Daniel Bard. "He's really focused on doing things right.''- Boston Globe 3/3/12
Those two quotes don't explicitly say anything negative about Terry Francona, but if caring about "little things that can help you win games" is worth mentioning from an experienced player in this spring training, one has to ask "why?"
If "doing things right" is something seemingly new to players, then that's not exactly a ringing endorsement of spring trainings past.
The point is that while Valentine may be outspoken or brash and may not project as stately an image as Francona did, he also seems to be bringing a level of intensity and attention to detail that may have been lacking in the warm-ups to the past few seasons.
It's too early to know whether this will make a real difference on the amount of wins and losses for this season's Red Sox, but we know it's a definite change.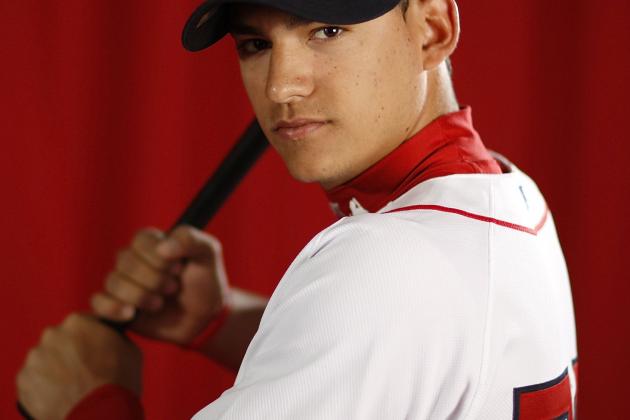 Gregory Shamus/Getty Images
Can 22 year old Jose Iglesias win the starting shortstop job in Boston?
When the Boston Red Sox took the field for the first game of the 1997 season in Anaheim against the Angels, the leadoff hitter and starting shortstop was a 23-year-old rookie shortstop named Nomar Garciaparra.
That was the beginning of a pretty nice run for Nomar and the Red Sox.
Nomar was dealt in an earth-shattering trade midway through the 2004 season, and since then the Red Sox have won two World Series and have had a revolving door at shortstop.
The position has been filled by free agent busts (Julio Lugo and Edgar Renteria) and solid but unspectacular veterans (Marco Scutaro and Alex Gonzalez).
This season looked like it was going to be another season of no shortstop in particular for the Red Sox. When spring training started, it was a three-way battle between veteran utility men Mike Aviles and Nick Punto. As spring training has progressed, it's becoming clear that the best shortstop is rookie Jose Iglesias.
Iglesias is known more for his glove than his bat.
"Yeah, he's pretty sick,'' -Josh Beckett when asked about Iglesias' glove in the Boston Globe 3/9/12
That's high praise from a veteran pitcher who has seen plenty of good shortstops over the course of his career.
Punto or Aviles both have a legitimate chance to emerge from spring training as the opening day starter. Iglesias' continued development will push both players to maintain a high level of performance during the regular season.
Iglesias seems very likely to assume the starting shortstop position in the near future. For Red Sox fans it couldn't come soon enough.