Sacramento Kings Players Adjusting to New Roles
March 10, 2012

Rob Carr/Getty Images
Sacramento Kings head coach Keith Smart has done some juggling with the lineup since taking over for Paul Westphal in January.
When the Kings started the season against the Los Angeles Lakers on December 26, they ran out a starting lineup of Tyreke Evans at the 1, Marcus Thornton at the 2, John Salmons at the 3, Chuck Hayes at the 4 and DeMarcus Cousins at the 5.
Jimmer Fredette, J.J. Hickson and Travis Outlaw were the key contributors off the bench, with each logging 18-plus minutes against the Lakers.
Now, more than halfway through the season, the Kings have made some significant changes throughout the lineup. Some players have played increasingly bigger roles, while others have seen precipitous drops in their playing time.
As the season rolls on, Keith Smart is likely to make even more changes to his rotation. For now, these are the players with the biggest increase/decrease in their roles since the start of the season.
Isaiah Thomas: Increase
When the season started, Thomas was seen as a role player. He would log minutes in almost every game, but his playing time varied. But as the season has gone on, Thomas' production has slowly increased. Not surprisingly, as his production increased so has his playing time.

Thomas has been elevated to the starting point guard over the past 10 games. Since then, he's averaged 14.7 points and 5.3 assists per game.  
John Salmons: Decrease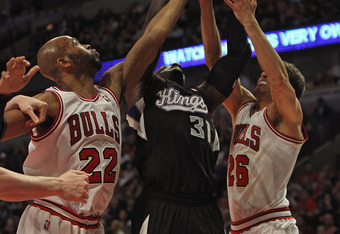 Jonathan Daniel/Getty Images
Salmons was the starting small forward for the first 28 games of the season. But due to subpar play, he has since been demoted to a reserve role.

As a starter, Salmons averaged 28.7 minutes per game and put up 7.1 points, 3.3 rebounds and 1.8 assists per game. Since he's been relegated to a back up role, he's averaged 22.8 minutes and scored 7.6 points, 2.4 rebounds and 1.8 assists per game. Interestingly enough, his overall play has improved as his minutes have decreased.
Hassan Whiteside: Increase
Whiteside played all of nine minutes in the first half of the season, so virtually any playing time would be an increase for him. That said, he's seen much more playing time in the last two games and has shown some promise in both contests. He logged 14 minutes against the Denver Nuggets and hauled in seven rebounds (five of them offensive rebounds), scored five points and blocked two shots.
The following game, against the New Orleans Hornets, Whiteside saw seven minutes of action. During that time, he scored four points, hauled in one rebound and blocked one shot. If Whiteside can keep blocking shots and providing help on the boards, then his playing time increase is likely to become a trend rather than an aberration.
J.J Hickson: Decrease

The 23-year-old power forward has seen a drop in his playing time as the season has gone on. In January, Hickson averaged 22.2 minutes per game while scoring 5.9 points and bringing in 6.3 rebounds. He's seen a decrease ever since.
In February, his playing time dropped to 14.0 minutes, while his scoring dropped to 2.9 and his rebounding dropped to 3.6 rebounds per game. Due to injury, Hickson's only played one game in March, so there's not much to go off of in terms of sample size. But unless he improves his production, his playing time isn't likely to see a dramatic increase.
Travis Outlaw: Decrease
Travis Outlaw averaged 15.8 minutes per game over the Kings' first six games. Since then, he's virtually become a ghost. He only played in five of the Kings' 13 games in February because he was a DNP-Coach's Decision most nights. He's also seen sporadic play since the second half started, playing in three of the four games and compiling a total of 23 minutes during that time.
Overall, Outlaw is playing his fewest minutes since his rookie season. But he's also been playing terrible when he gets on the court, shooting 28.9 percent from the field and 14.3 percent from three-point range.