2012 NFL Free Agents: Wesley Woodyard and Underrated LBs Who Need Re-Signing
March 11, 2012
Jamie Squire/Getty Images
When we think of the NFL elite defenses, all have a sound linebacking core that can play up to defend the run and sink into coverage.
Guys like Ray Lewis, Patrick Willis, James Harrison and Brian Cushing come to mind. To that end, each of those players have a good supporting cast as well.
And with free agency just around the corner, here are a few underrated linebackers who need re-signing.
Manny Lawson, Bengals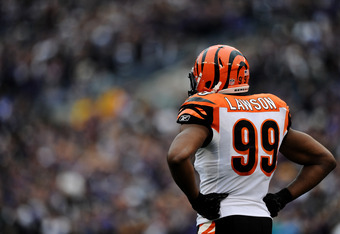 Patrick Smith/Getty Images
A consistent performer while with the San Francisco 49ers from 2006-2010, Manny Lawson was a gem for Cincinnati in 2011.
Before joining the Bengals, Lawson had compiled 281 tackles with the 49ers (not including 2007 as it was cut short due to injury), forced six fumbles and recorded 14.5 sacks. Moving across the country to Cincy this past season, Lawson collected 52 tackles, 1.5 sacks and defended four passes.
Cincinnati finished ranked No. 9 against the pass, No. 10 against the run and allowed just 316 total yards per game (ranked No. 7).
Lawson's addition clearly made an impact, and for the Bengals to have a shot at ousting Baltimore in the AFC North, retaining Lawson for his quick play recognition and reaction skills is needed.
Wesley Woodyard, Broncos
Before the 2011 season, Denver's Wesley Woodyard had an average career from 2008-2010 where he accounted for 136 tackles, one sack, one forced fumble and one interception.
However, Woodyard took his game to another level this past fall by recording 97 tackles and forcing three fumbles—both of which led The Orange Crush defense.
Obviously, the addition of Von Miller and the health of Elvis Dumervil played a major role in Woodyard having numerous opportunities to shine. That being said, Woodyard simply seized those chances and helped the Broncos win the division and a playoff game.
Keeping Woodyard a part of the Denver linebacking core is crucial, as he's only going to be 26 years old before 2012 kicks off. The Broncos front seven is building quickly, and they need reliable guys like Woodyard to maintain the structure.
Barrett Ruud, Titans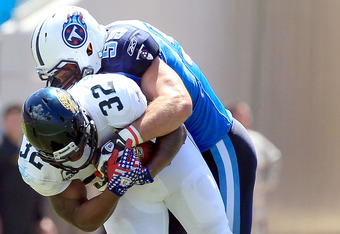 Sam Greenwood/Getty Images
A big part of why the Tennessee Titans defense allowed almost 130 rush yards per game (ranked No. 24) is because linebacker Barrett Ruud only played in nine games before getting injured.
Still, Ruud recorded 57 tackles, one pick and defended three passes. From 2005-2010 when he played in Tampa Bay, Ruud compiled 585 tackles and averaged 127 tackles per season from 2007-2010.
While in Tampa, Ruud also forced six fumbles, recovering five, recorded six interceptions and defended a total of 20 passes. Other than Ruud, the Buccaneers didn't have a solid support system, but his production against the run and walling off the intermediate routes against the pass was impressive.
Provided that he can get healthy and continue to develop (will be 29 years old before 2012 begins), Ruud can emerge as one of the better overall linebackers in the league with another opportunity.
John Rozum on Twitter.