Cody Gibson: 'I Can Compete with Guys in the UFC'
March 9, 2012

"All I do is win, win, win no matter what.."
According to up-and-coming MMA star Cody Gibson (5-2), that's exactly what he needs to do in order to arrive to his long-awaited destination, the UFC.
"As far as I'm told, all I need to do is keep stringing together wins," Gibson told Bleacher Report. "My goal is to get into the UFC by the end of this year."
And unless the price is right, don't expect Gibson to be anywhere but the UFC when his time comes.
In fact, Gibson's strong desire and goal of competing at the highest level could lead to him turning down other large promotions.
"Honestly I don't know if I want to take the Bellator route even though there's an opportunity to make a lot of money. I don't think that's for me," said Gibson. "I see myself in the UFC."
"If Bellator came to me it might be hard to turn down, but then again it might not be. The UFC is my ultimate goal so that's where I want to be," said Gibson.
However, before Gibson, also known as "The Renegade" can see his dream become a reality, he'll need to defeat Casey Olsen (13-3) in the main event of the evening at Tachi Palace Fights 12.
Olsen, who has an impressive resume of his own, will attempt to win his third consecutive bout and move closer towards the UFC waters as well.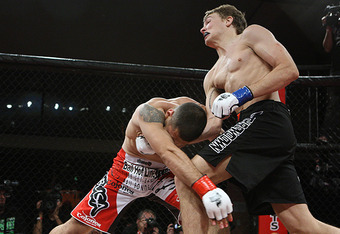 When the opening bell sounds, it will be Gibson who will want to keep action on his feet despite having a reputable background in wrestling.
"He's going to be tough to finish mainly because he has a lot of heart. He won't give up mentally that's for sure so I don't expect to be able to break him mentally.He's a strong wrestler but I think he'll be surprised when he gets in there with me and realizes he can't overpower me with his strength. I've been told I'm very strong, and a lot of my opponents are surprised by that," said Gibson. "Hopefully he is too."
"He has a big overhand right and his wrestling is his bread and butter. He'll try to take me down and lay on top so it's my goal to stop that. I think I'm a little more evolved," Gibson said. "His wrestling credentials are probably a littler better than mine but I don't think that means he'll be able to pick me up and throw me on my back. I think my stand-up will be my biggest advantage. He's kind of one-dimensional in some ways."
Win, lose or draw, there won't be any weeks off for Gibson as he's already slated for another fight in 20 days.
Gibson believes staying busy could be his boarding pass to the UFC, as long as he can display an impressive showing each time he takes the center stage.
"I've already got a fight lined up for March 30th which will be 20 days later in Anaheim. I want to win impressively and make sure I'm being recognized. I think there are a lot of guys I can compete with in the UFC," said Gibson. "I also think there are a lot of guys outside who can compete with some of the guys in there."
"I believe I'm one of them."
For additional information, follow Garrett Derr on Twitter.