Auburn Football 2012: An Early Look at the Clemson Game
March 9, 2012

Kevin C. Cox/Getty Images
In 2011 a young Auburn team traveled to Clemson and unraveled to let an inferior team come from behind and embarrass it in its first loss of the season. There were multiple reasons for this, but the majority of those had disappeared by season's end.
Clemson is a team that was humiliated by South Carolina and West Virginia in two of its last three games. The team managed only 13 points against a crippled and beat-up South Carolina team when its experienced offensive line was simply dominated. South Carolina left the Clemson quarterback on his back for the entire game.
Going into spring training, Clemson will be replacing the starting offensive tackles, one offensive guard and its primary offensive line backup player. Clemson has recruited well recently, but not at any of these positions.
Clemson has a couple of previous 4-star and several previous 3-star recruits from the last two recruiting classes that were offensive linemen. Even with these players, offensive line depth became a serious issue for Clemson in 2011.
For 2012 it appears Clemson could be starting a very shaky offensive line in the first game of the season.
Brandon Thomas has played in 23 games during his career as a backup. He will likely take over one of the open tackle positions. Depth behind him will likely be filled by a freshman.
The other tackle position could be filled by Gifford Timothy, who has played in seven games in his career. Four of these games were the last of the season in 2011. Depth behind him is sketchy and should be decided in spring training.
Reid Webster is expected to take over the open guard position. He has played in six games in his career and is considered undersized in 2011. Kalon Davis, who is thought to have weight issues, could be the leading backup prospect at guard.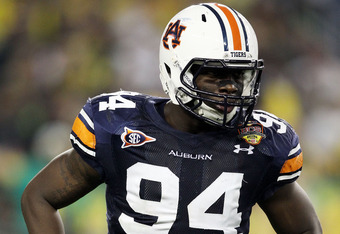 Christian Petersen/Getty Images
Clemson changed to a very aggressive spread offense in 2011. This offense requires a lot of pulling by the guards and center to make the running portion effective. It also utilizes a shadowing method of pass protection that requires nimble feet. Clemson was exposed in both areas during 2011 and it does not appear likely to improve in 2012.
Clemson is loaded on the depth chart at every other offensive position. It has an experienced quarterback, running back, receivers and tight end.
For 2011 this team brought in a new defensive coordinator from Oklahoma. Brent Venables will take over a defensive depth chart that has a lot of work to do. Clemson was simply bad at pass defense in 2011 and frequently exposed in rushing defense. The most likely reason for the poor rushing defense was a young and physically immature defensive tackle rotation. This could be less of an issue for 2012 if strength and conditioning were successful during the offseason.
The poor pass defense was due to poor technique, poor fundamentals and what at times seemed to be a lack of speed. This should not be as overwhelming an issue with Venables' scheme, but it will take time for these players to grasp his system.
Look for Clemson to have serious issues protecting the quarterback and stopping the pass early on in the season. It will likely have problems containing speed on the perimeter for the entire season.
Clemson was a very young team, playing two deep for 2011. It will become even younger in 2012 as only 14 starters return. This is a team that will improve as the season matures. It will do well in its conference, but is not yet ready on the offensive or defensive lines to compete well against more elite competition. Fortunately for Clemson, there is no elite team in the ACC for 2012.
In the season opener with Auburn, the game will likely be decided by each team's strength and conditioning program. Auburn will be the vastly more talented team, especially along both lines. Clemson has the advantage of an experienced quarterback and not much else.
Both teams will be adjusting to new defensive coordinators. The scheme change is not as apparent for Auburn as it is for Clemson, which could give Auburn a small advantage as Venables brings in a very different scheme at Clemson.
Neither offense will have problems getting information on the other team's defense. Both Brian VanGorder and Brent Venables are known coordinators with a long track record. It is likely both defenses will be improved over 2011.
The Auburn offense will be adjusting to a new scheme for 2012. This could be a factor for this early contest. Scot Loeffler is not a known coordinator and there is no long background to study and prepare for his offense. This could be good or bad for Auburn, but will certainly be a factor.
Clemson will not have a new offensive scheme for 2012. It will be in the second season of a scheme that led it to the ACC Championship in 2011.