Dale Hunter Rallies Washington Capitals to Comeback over Tampa Bay Lightning
March 9, 2012

Bruce Bennett/Getty Images
So what did Dale Hunter tell the Washington Capitals during the second intermission?
After playing one of their worst periods of hockey all season—allowing two power-play goals, taking three penalties, and generally being dominated by the Tampa Bay Lightning to trail 2-1—the Caps came out in the third period like gangbusters.
They stuck to a simple game plan, took advantage of a mistake, then persevered in overtime to record a very important two points.
Knowing that Tampa would fall back into a 1-3-1 trap, the Caps were content on playing chip-and-chase, waiting for the Lightning defenders to get tired of chasing them or make a mistake.
That mistake came with just under four minutes to play, as Dennis Wideman made a smart pinch, forcing a turnover, and got just enough push on the puck to Marcus Johansson, alone in the slot. Johansson beat goalie Dustin Tokarski, making his first NHL start, five-hole to even the game at two.
The Caps then had better of the play in overtime and finally hit pay dirt, when Dmitry Orlov found Alex Ovechkin alone at the right wing faceoff dot. Ovechkin hit the yawning goal for his second overtime game-winner of the five-game homestand.
So, again, what did Dale Hunter tell his troops?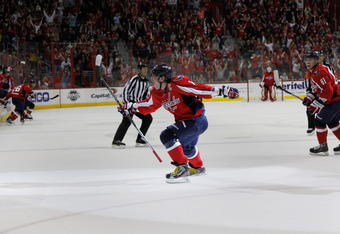 Rob Carr/Getty Images
"You know, just, we gotta go out and work hard," Hunter said with a grin, much to the amusement of the gathered media. "We just had to get the pucks in deep and work. Chip and chase."
The players told a different story.
Ovechkin said his coach gave the players a "hard time," in his postgame interview.
"His message was just to man up," defenseman Karl Alzner said. "Play hard and play as a team. He yelled at us pretty much for one of the first times that he has ever yelled at us and the guys just snapped out of it."
Capitals center Brooks Laich, who earlier missed a wide open net with a tip from the top of the crease, paraphrased Hunter's message: "He said just quit trying to use your skill and use your will a little bit more."
That message got though, at least for one night.
The Caps start a brutal stretch, with six of their next seven games—including five in a row—on the road. How they play on that road trip will determine their chances for a playoff seed. But with the win over Tampa, at least the road trip is still meaningful.