SEC Tournament 2012: Keys to Kentucky Wildcats Winning the Tournament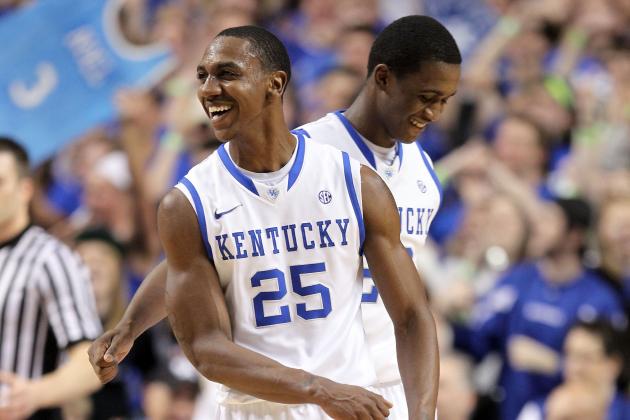 Andy Lyons/Getty Images

The Kentucky Wildcats are the prohibitive favorite to win the SEC Tournament. The team was a perfect 16-0 in conference play, a full six games ahead of the runner-up Florida Gators.
But it will be much more difficult for the Wildcats to win the SEC Tournament than it was for them to triumph in the regular season.
For one thing, every single team will be gunning for Kentucky. No one will give them a cakewalk to the championship.
And to top it off, every team has already played the Wildcats at least once. Their strategies will be that much better and the players that much hungrier.
So can Kentucky still win an SEC Tournament Championship?
Of course, but it won't be easy.
Here is what the Cats have to do.
Begin Slideshow

»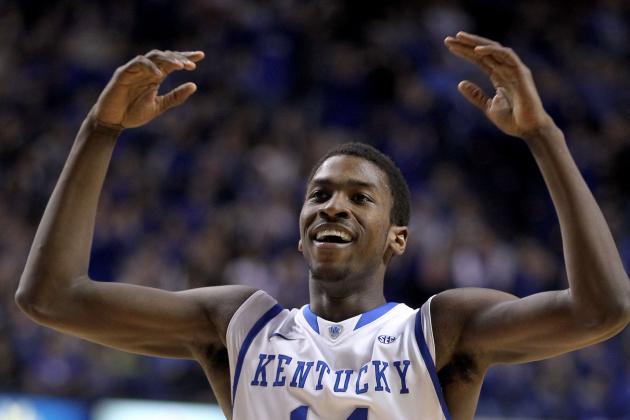 Andy Lyons/Getty Images

Wait…am I going crazy? Not just yet!
So maybe I don't exactly mean that the Kentucky Wildcats losing the SEC Tournament will help them win it, but I do think it will help them in the long run.
Simply put, I'm nervous. The Wildcats haven't lost since December 10—a 22-game winning streak that should make me quite happy, but instead, it makes disastrous scenarios dance around in my head.
It's true, Kentucky might just be that dominant—a team that can take a 22-game winning streak in the NCAA Men's Basketball Tournament and build on it instead of crumbling completely.
But what if they're not?
Don't get me wrong, I like winning SEC championships, but when a team is this dominant in the regular season, it almost seems unnecessary to even play in the tournament.
It just seems like the team is almost due for a loss, based simply on odds and my superstitions. I would just rather they lose in the SEC tournament than the NCAA tournament.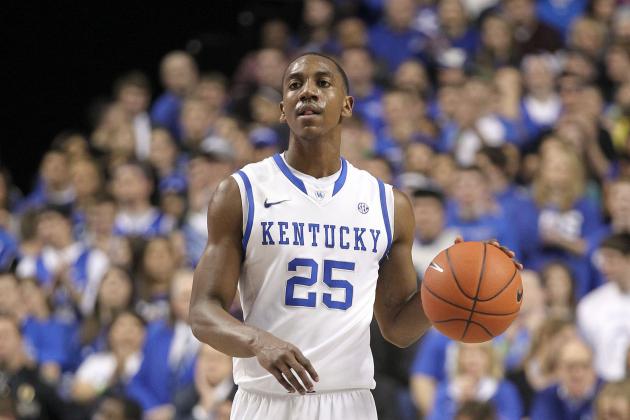 Andy Lyons/Getty Images

Slowly but surely, Marquis Teague has developed into a very serviceable point guard for the Kentucky Wildcats.
Much maligned at the beginning of the season for his turnovers and inconsistent play, it seems that Teague is finally learning his role and can thrive in Kentucky's offense.
I still think he can do better.
Let me say, I've been a Teague supporter from the beginning. I knew he would eventually grow into his role and I wasn't too worried, but now that he has made progress, I am ready for him to take his game a step further.
Teague has shown that he can be a great scorer, but at the beginning of the season, Coach Calipari seemed to insinuate that the Wildcats didn't need another scorer and that Teague should focus on passing the ball instead of shooting it.
That was true. Then.
Now? I'm ready for Teague to start scoring.
His game against the Vanderbilt Commodores (the first time the two teams played—Feb. 11) was the prototype for the player Teague can be—13 points, eight assists, four rebounds and one turnover.
From the beginning, Teague was driving into the lane and either converting layups or hitting open teammates.
Since Teague is used to being a scorer and getting into the lane, the game flows better for him when he is doing just that. If Teague can penetrate more, he will get his points while also setting up his teammates.
After all, Kentucky does run the dribble-drive offense that encourages any player to take the ball to the basket whenever there is a lane.
Teague absolutely does not have to score 20 points a night, but to keep him happy and engaged with the flow of the game, 12-14 points would be ideal.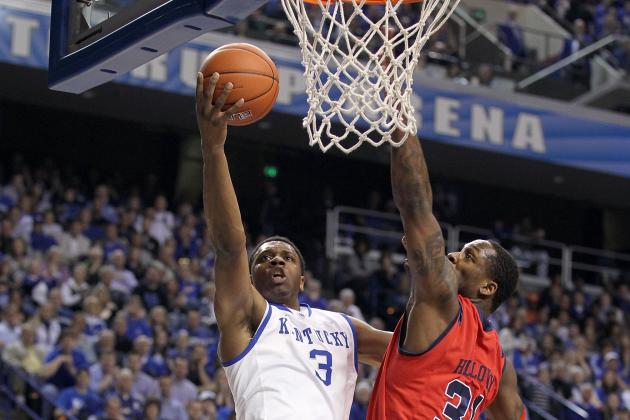 Andy Lyons/Getty Images

John Calipari has employed a new tactic in Kentucky Wildcats practices: not playing Anthony Davis.
More accurately, Calipari is trying to teach his Cats how to play and thrive without their star center.
Good call, in my opinion.
Davis has been a force of nature this season—blocking shots, converting alley-oops and just generally dominating almost every opponent.
But Davis is averaging over 30 minutes a game for Kentucky and it has become clear that the team relies on him too much.
When Davis got in foul trouble during the first half of the Wildcats' game against the Ole Miss Rebels, the team looked out of sync and unprepared. The Rebels went on a run and cut a very comfortable Kentucky lead to almost nothing.
Kentucky must learn how to play defense without relying on the lean, mean, shot-blocking machine who often lurks behind them.
Terrence Jones must assert himself as a post threat. And Kyle Wiltjer, please please please start playing some defense.
Davis does not tend to get in foul trouble much, but in preparing for tournament games in which players may get more tired and thus foul more, it is important to be prepared for everything.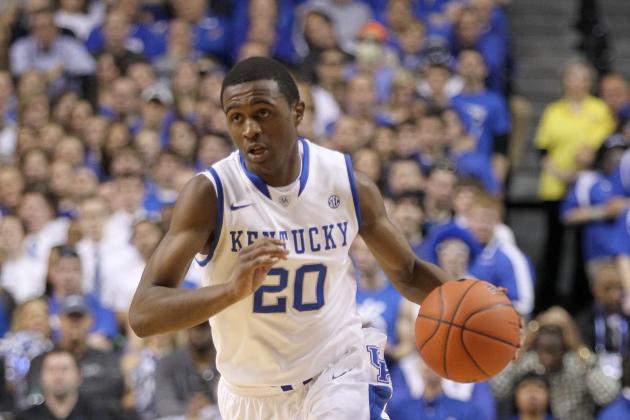 Andy Lyons/Getty Images

Doron Lamb is the Kentucky Wildcats' second-leading scorer. He has improved his scoring and rebounding from last season and is shooting 48 percent from three.
But somehow, he has managed to virtually disappear in the Wildcats offense.
Lamb is rightfully known for his great three-point shooting, but he has much more to his game. Earlier in the season, Lamb looked like the best player on the floor for Kentucky.
He would slash to the basket, converting layups, floaters and passing to open teammates. There is certainly a correlation between the fact that Lamb's season high in assists (six) came in games in which he scored 24 and 26 points, respectively, without relying solely on three-point shooting.
He is a better player when he is driving, because not only is he passing better since he is more involved in the offense, but Lamb is also freeing himself up for three-point shots.
Defenses must respect his driving ability, so even if they play just the slightest bit off of Lamb, he can rise up and hit shots from deep.
Lamb must get his early-season swagger back and start taking the ball to the rim and converting layups and mid-range jumpers.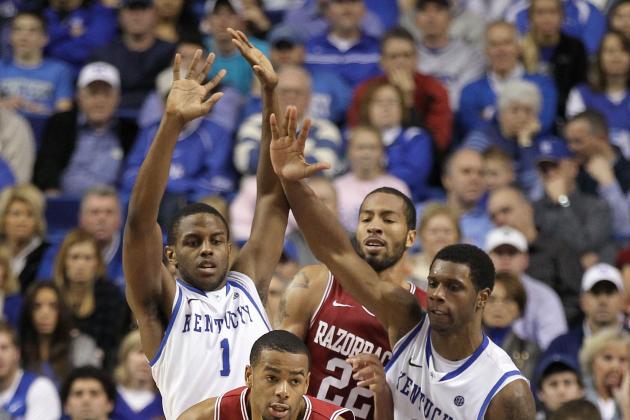 Andy Lyons/Getty Images

Simply put, at this point in the season, defense wins the majority of games. Some teams have been able to get by on offensive efficiency alone, but no longer.
Fortunately for the Kentucky Wildcats, the team is already pretty good in the defense department.
Kentucky ranks first nationally in defensive efficiency and has made a habit of holding teams scoreless in the final minutes of games to pull out a win.
The Wildcats must keep it up.
It's one thing to make a defensive stand in the regular season when there are many more games to play and the opponent is fading.
It's an entirely different experience to be playing in a single-elimination tournament, facing a hot team when all anyone wants to do is live to play another game.
Kentucky should not forget the game it plays. The team must continue to lock down defensively and, most importantly, stop teams from hitting threes.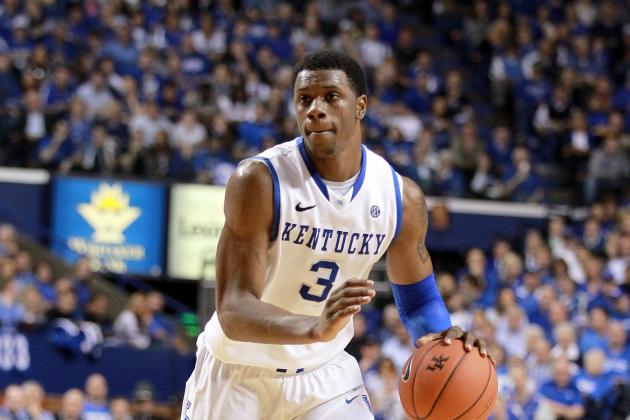 Andy Lyons/Getty Images

Ah, the enigmatic Terrence Jones. Will he or won't he show up for games?
When Jones is on his game, it makes Kentucky an entirely different team. Yes, the team is good now, but with Jones playing like an All-American, the team is great.
He can play multiple positions and really stretches defense with his driving and perimeter shooting (although I much prefer when he isn't jacking up threes).
It is really astounding that Jones has posted just one double-double this season. Yes, part of that is probably due to Anthony Davis' prowess down low, but not all.
Michael Kidd-Gilchrist has had his fair share of big rebounding games. Shouldn't Jones be grabbing at least a few of those balls?
Give John Calipari credit—he's trying almost every tactic to get Jones playing up to his potential. He has benched the star, yelled at him, questioned his toughness and coddled him, telling Jones how great he is.
So far, nothing has worked consistently.
When the NCAA Men's Basketball Tournament rolls around, Kentucky certainly hopes it has the dominant Jones instead of the one that too-often fades into the background.
The SEC Tournament would be a great place to start building Jones' confidence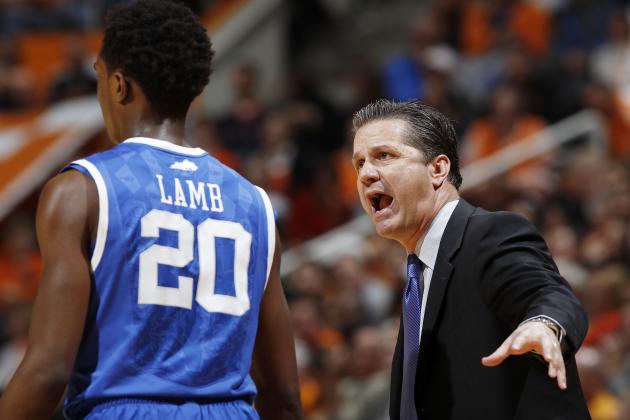 Joe Robbins/Getty Images

The Kentucky Wildcats have better athletes than many college basketball programs can dream of.
Any one player can take his defender off the dribble and make an incredible play at the basket.
The one area in which Kentucky could stand to improve is in passing. The team ranks just 123rd overall in assists per game and could use quite a bit more production—from Doron Lamb in particular.
Sometimes, the Wildcats offense looks stagnant, as the players are lackadaisical and simply pass the ball around the perimeter.
Players need to learn how to penetrate and dish or, better yet, cut to the ball to keep defenses moving.
No one on the team is selfish, but it seems that the players have not quite figured out how to combine the dribble-drive offense with efficient passing.
Since Kentucky has played every team in the SEC Tournament already, the coaches will have figured out how to best defend the Wildcats' potent offense.
Hopefully, the tournament will help teach Kentucky how to attack those defenses through sharp passing, instead of simply standing out around the three-point line and waiting for someone to make a play.